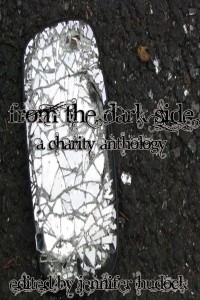 Happy Saturday!
Yesterday was a big day for those of us involved in the From the Dark Side Anthology. Why? Because it was the official release day.
Prior to yesterday, Ms. Jenny sent each of us a copy of the anthology. I haven't quite finished it yet, but I can tell you this, it's full of awesomeness. None of the stories or poems are the same, and that's what makes this anthology great.
As of last night, we had sold 29 copies. After Smashwords took their cut, we ended up with $104.34 that will be donated to The Office of Letters and Light.  Our goal is to hit 100 by the end of the day tomorrow. Yes, it's a high goal, but I think we can do it.
If you haven't purchased a copy of the Anthology yet, please do. The cost is $4.99. The links for purchase are below:
To those of you who have purchased a copy, thank you very much. Your generosity means the world to those of us involved in this project. If you know of anyone that would enjoy reading this collection, please direct them to the links above.
Thanks and have a great day!