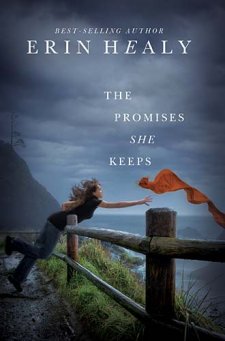 The Promises She Keeps
Erin Healy
Summary:
The Promises She Keeps revolves around three central characters: Promise, Porta and Chase.
Promise Dayton is an aspiring young singer afflicted with Cystic Fibrosis who wants to leave her mark on this world before she dies. Promises gains some notoriety for her singing abilities, but draws more attention to herself after she survives a series of accidents that would have killed most people.
Porta is an older woman and sorceress who is obsessed with finding the key to eternal life. And she believes Promise is that key following the unexplained accidents that surrounded the young woman and left her with only minor injuries.
And then there's Chase, an autistic artist in his early 30s who deals with strange visions of trees, which leads to some interesting drawings, one of which has to do with Promise, whom he eventually falls in love with.
My Reaction:
When I first read the synopsis on this book, I was instantly intrigued. The storyline sounded very interesting and right up my alley.
There were a few minor issues I had with the book, but I can't really say too much about them since it would give away too much of the storyline. And I don't want to ruin it for anyone. So I'll talk about the things I can: the characters.
Each of the characters in this book, save one or two, were extremely likeable, but not overly complex.
Though Porta was the villian, I found myself drawn to her character. She was mean, conniving, manipulative, you name it, but I found her interesting nonetheless.
The character of Promise was strong and determined. She didn't let her illness hold her back. She wasn't afraid to work hard to see her dream realized, and that I can respect since I'm no stranger to hardwork.
The character of Zach was the one I felt really bad for. He didn't have an disease or genetic issue to contend with like Promise or Chase, but he had his own share of problems to deal, most of which revolved around his mother Porta. You can feel her disdain for Zach throughout the book and as a mom, that pulled at my heartstrings.
As for the character of Chase, he was beautifully written. He didn't have an evil bone in his body. He was filled with nothing but light and love and he was the perfect contrast to Porta's darkness.
One other thing I can say about this book is that the ending left me a bit disappointed. There were a part of me that would have liked to see it end a bit differently.
In conclusion, I give this book 3 stars out of 5.
*
If you have an Amazon Kindle or don't mind reading on your computer, you can download the first chapter of The Promises She Keeps at Amazon.com. Happy reading!
*
Disclosure of Material Connection: I received this book free from the publisher through the BookSneeze®.com book review bloggers program. I was not required to write a positive review. The opinions I have expressed are my own. I am disclosing this in accordance with the Federal Trade Commission's 16 CFR, Part 255: "Guides Concerning the Use of Endorsements and Testimonials in Advertising."
This entry was posted on Friday, February 25th, 2011 at 14:54 and is filed under
Reviews
. You can follow any responses to this entry through the
RSS 2.0
feed. You can
leave a response
, or
trackback
from your own site.