Today, I'd like to introduce you all to Nicholas Denmon, an up and coming author who will be releasing For Nothing, his debut novel, in mid-May. (So stay tuned!)
I can honestly say that I enjoyed the answers Nick provided to my questions, and I'm confident you'll love them, as well, so what are you waiting for? Keep on reading.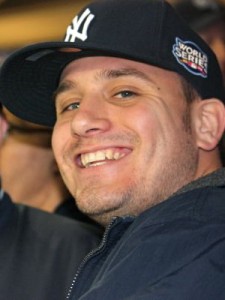 Q: To start, tell us a little bit about you? Who is Nicholas Denmon?
N: What a loaded question. I am not always a hundred percent sure I have figured that out. But we can start with the facts. I was born in Buffalo, NY in 1982, which was a time before slap-bracelets, glow-worms, and stuffing little puppies in purses. A simpler time, really.
I am a middle-ish child from a broken home with six children that came from parents, stepparents, and science experiments gone horribly awry. I'll let you decide from which group I come from. A lot of times people will say the middle child acts out, or is less loved, but that would be a lie with me. I've received an abundance of love in my life, and I found a way to be heard above the din of all my siblings by telling elaborate and intricate stories, which sometimes were true, but more often, were not. Imagine trying to get five to seven people who are smarter than you to believe something? It took practice.
My mom was sick while I was growing up. We say sick, but really it was a mental instability that we found out was schizophrenia. Because she was sick, my brothers and I were taken from her at a very young age and we had to learn a new place and adapt to a new life. Our mother is a tough person in a lot of ways, the least of which is that she can get out of bed each day with more uncertainties hanging over her than the average person. She is an inspiration for some of my stories, character bits, and the sense of longing that my characters often find themselves battling.
Other than that, I grew up in a fairly normal suburban neighborhood with two parents (my Dad and Step-Mom) who were lawyers, making it even harder to get away with story telling. I started writing short stories for quarters in grade school for the few friends I had who wanted them. I went to high school, developed insecurities, and pretended that writing was for nerds. Well, it is for nerds, only now I realize I am a monstrous nerd. In fact, some writing buddies and myself are in a group called #BNFF on twitter, so if you see that hash tag floating around my tweets or the tweets of @ChristinMowery, it just means Best Nerd Friends Forever. We are a very prestigious group and we only let the nerdiest of nerds join us. So ask, if you're interested. (I'm a self-professed word nerd. Does that make me eligible?)
Then college happened, and I got an English degree (go Gators) and in my senior year decided to write a novel, which I believe I can plug in the next question.
Q: I've read the novel samples on your site, and I love them. I can't wait to read more. For those who aren't familiar with you, can you tell them a little bit about the novels you're currently working on? When will they be available for purchase?
N: First off, thank you for reading my novel samples. I love when someone actually reads what I spew, and that is why I track my blog page hits so obsessively. By the way, that's at www.dratednovelist.blogspot.com, if you care. Shameless plug? Damn right it is. (That's okay, Nick, we love shameless plugs. So plug away!)
As for my novels, my first attempt is called For Nothing. It is a mafia crime thriller that follows an undercover cop in a quest for revenge. He traverses the underw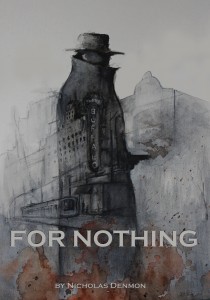 orld during a time of civil war, searching for the hitman who killed his buddy. The story also follows the perspective of the hitman, Rafael Rontego, as he carries out missions for his Don, and comes to terms with his lot in life, and hopes it doesn't lead to his plot in the ground. I am hoping to have For Nothing on the Kindle in mid May, so be on the look out!
I am also working on a fantasy trilogy that has the working title, The In-Between, which is a medieval fantasy that deals with a teenage boy from our world, who crosses a portal, setting the stage for a tale of heroes, knights, the intrigue of court, magic, monsters, and those who control the elements. It is a Young Adult novel with a dark side, maybe tilting more towards an Adult novel. I don't really pull any punches in the way of violence. Also I don't sugar coat the very adult world thirteen-year-old Daniel O'Finnegen finds he must adapt to very quickly, if he hopes to survive. The release date for the trilogy is TBD.
Q: If you were to create a soundtrack for one of the novels mentioned on your site, what songs would be on it?
N: Oh wow, that's a great question. I think For Nothing was written to a healthy dose of The Dropkick Murpheys, so "I'm Shipping Up to Boston" would have to be on there. Jay-Z's "Empire State of Mind" would make the cut and with out a doubt, "Woke Up in The Morning", from the Sopranos was played a ton.
Q: Now, for that same novel, who would you cast to play in the movie version?
N: Can we cross breed actors? (Yep, we can.) If so, I would go with Ethan Hawke's (Training Day) and Johnny Depp's (Donnie Brasco era) love child for Alex Vaughn, the undercover cop.
As for the mafia hitman, Rafael Rontego, I would pick the child of Al Pacino and Robert De Niro, but before they became caricatures of themselves. Something pre-2000's , for sure.
Q: The ideas from my stories come from a wide variety of places. Where do yours come from? Do you feel like your ideas come from within? Or from somewhere else?
N: My stories come from a healthy mix of both. Some things I glean from people who stop by the window of my life. Sometimes they tarry just a moment, and others are life-long friends. Everyone has a story. Everyone comes from somewhere. Sometimes the best novel, or chapter, or character, or character trait, is right in front of you. To be a good storyteller, you have to be a good human observer first. I like to see what makes people tick, and then make similar motivations for my characters.
The rest, I make up! It's all about struggle, so let's find a way for these characters to struggle. Do you like dragons? Take that struggle and throw in a dragon. Do you like vampires and girls who want to date them? Throw your character into that mix. Who knows what will come out the other side of that blender.
Q: Most writers, myself included, are inspired by other authors. What authors have inspired you? Is there any particular author's career that you would like to emulate?
N: Two authors that inspire me are Dennis Lehane and George R.R. Martin. Dennis Lehane, because his novels such as The Given Day, Gone Baby Gone, Mystic River, and Shutter Island have been enormously successful and he lives in my new hometown, St. Petersburg, FL. He has an uncanny ability to get into the head of the characters he writes about, and I love it.
George R.R. Martin, because he taught me a new way to look at fantasy. Instead of focusing on the epic quest, like Tolkien and Lewis and traditional fantasy writers, he focuses on the politics that push events and the motives of the individuals that decide to step into that arena.
Q: Finally, if you could pick one author to collaborate with if given the opportunity, who would you pick and why?
N: I would definitely like to collaborate with George R.R. Martin. I would love to learn his process for the intricate levels he builds into his stories. Plus, if I worked with him, I might be able to pick his brain about how his series, A Song Of Fire and Ice will end.
M: Nick, I'd like to thank you for taking the time to answer these questions and for allowing my readers to get to know you. But before we go, please let them know where they can contact you and find out more about you and your writing.
N: Nicole, Thank you so much for taking the time to have me on your blog. It was a great set of questions and hopefully I can get you to return the favor one day. (Of course, just say when!) As for finding out more about me, you can visit my blog at www.dratednovelist.blogspot.com. I can also be reached at my twitter @nicholasdenmon or at my email, nicholasdenmon08 at gmail dot com.
This entry was posted on Saturday, April 16th, 2011 at 09:59 and is filed under
Interviews
. You can follow any responses to this entry through the
RSS 2.0
feed. You can
leave a response
, or
trackback
from your own site.