It's review time again. I know it's been a little while since I posted one, but I only have so much time to read these days. I wish had more, but since I still haven't figured out how to clone myself, I have to settle with what little time I have. Oh well! Maybe one day I'll figure it out.
On with the review.
I've read more than a few Mafia crime novels over the past ten years. Some of have been real duds that have fallen short of capturing the right tone for that sort of book. However, that's not the case with Nicholas Denmon's For Nothing. It's one of the best I've read in that genre, hands down! This story is gritty and definitely captures the tone of the Mafia world, as seen in shows like The Sopranos.
From the very first page of this novel, I was hooked! The opening scene made my jaw drop because of how descriptive it was. If future authors are looking for a shining example of how to hook a reader from the very beginning, For Nothing is a novel to look at.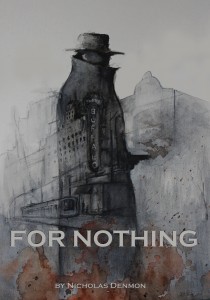 I'm beyond impressed with the skill this author possesses.
I must admit that while I wanted to hate the character of Rafael Rontego for being who he was, I couldn't bring myself to. I was completely intrigued by him, and found Mr. Denmon's depiction of him authentic and vivid. I was easily able to visualize him in my mind. In fact, I was able to visualize the entire story without much effort because of the detail included within the pages. It's obvious Mr. Denmon did his research.
So I give For Nothing a solid five stars. I honestly cannot wait to read the next installment.
If you have not taken the time to stop by Nicholas Denmon's blog, I suggest you do. He's hilarious and always has something interesting and entertaining to share.
For Nothing is currently available on Smashwords, Barnes & Noble and Amazon. If you haven't purchased a copy yet, what are you waiting for?
This entry was posted on Monday, June 6th, 2011 at 12:44 and is filed under
Reviews
. You can follow any responses to this entry through the
RSS 2.0
feed. You can
leave a response
, or
trackback
from your own site.