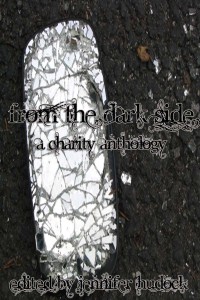 Today is a very exciting week for those of us involved in the From the Dark Side Anthology. We're all busily promoting it in many ways.
One way that I've chosen to do it is by interviewing my good friend Patrick Pillars, who, you may remember, guest blogged on this very site in May.
So, without further ado, here is my interview with Patrick Pillars.
Q: First, can you tell us a little about who Patrick Pillars is?
A: I was born in 1965 and being a part of that generation has shaded my writing as much as my life. I was a typical Michigan kid until I went to the University of Tennessee where I got an education in more then just English Lit.
I have been lucky to be married for 21 1/2 yrs and have 3 sons, the youngest being 4. I have dabbled in art, a rock band, and always writing. I have loved poetry since I was a wee lad and until the past couple years, few knew I was even writing poetry. Like most poets, I am also a frustrated short story writer and someday novelist. That is the condensed version.
Q: Can you tell the readers a little bit about Veil? What inspired it
A: Veil is my nemesis. Some poems just come right out, and I don't tinker at all with them. Some are more difficult and require some writing and tweaking. Veil was tough right out of the gate. I had a vision standing on a balcony in Traverse City, MI, looking out across the bay. With that came a scene of the vanishing woman type thing and the way I went. This poem has been floating around for awhile and I never really did much with it until the Anthology came along. Then the idea of mirrors and alternate, dream-like reality took over and I worked it for over a month. I think, much like the poem, that I never quite touch what I am looking for, and maybe that was the point. Poetry can be weird that way.
Q: How did you come to be involved in the anthology?
A: One day I was talking with Jennifer Hudock and I asked her if she ever thought about doing an anthology. She said yes, a little, what did I have in mind. So we chatted about some ideas and how to get folks who write in all kinds of genres and styles together to do an anthology, and we would do it for charity. I just kinda gave her an idea and she ran with it and did all the really hard work.
Q: What do you think is special about this anthology? What sets it apart from others?
A: I think there is a big difference between this type of combined effort and other anthology works. Most anthologies are genre specific with a theme and standard submission guidelines. For this book, the people involved are poets, podcasters, and short fiction writers from a wide variety of genres. This makes this collection unique. The response has been very good from folks willing to donate their creative effort to charity, this also makes this work special. I believe that there is something in there for everyone and for the cause of literacy makes this project fun and fulfilling.
Q: What's next for you?
A: I will have a story appearing in another Anthology this summer. I also have been submitting poetry and short stories here and there and hope to have a few more published this year. Still working on that novel too.
Q: Where can fans go to find out more about you?
A:
You can get a copy via Amazon or Smashwords this Friday, July 9th. You can catch updates here, from Nikki, or
my blog
, or from Jennifer Hudock's blog, as well. Cost is $4.99 and benefits literacy through the fine folks at
NaNoWriMo
and
The Office of Letters and Light Program
.
A big thanks to Pat Pillars for taking the time to do this interview. Now here's an exciting video for you to watch courtesy of
Jacqueline Roth
. Enjoy!