This is the third post in the Justin Scro saga. Please read parts 1 and 2 before part 3.
(WARNING: There is some profanity.)
I read a book a day while writing Waving. Something really funny happened that changed me forever in a profound ass way. As I finished Waving, I began planning Farmhouse, of which I had 20 handwritten pages years before. The funny thing was what I started to read. I read Catcher in the Rye. I read Less Than Zero. I read The Perks of Being A Wallflower. I read The Unbearable Lightness of Being. I can site every single one of those books being a direct influence on Waving not Drowning…yet I hadn't read a word of any of them before I wrote my first novel. I just laughed. If I would have known any of those, I wouldn't have ever been able to write. Really messed up, right? I got freaking lucky. The moral being: Never run towards your influences, but running away is just as bad. Just be, dudes! Sorry, I can't help myself. Isn't my indulgence here proof of that?
I wrote Waving and Farmhouse (which everyday get's changed back and forth with Temptation as its title) in August and September of 2001. I also wrote them on a freaking typewriter. I got a computer and started revising the books. It only took me about 7 years and I only edited content, not grammar (because I suck. Look at me here!).
In that meantime, Camera was born and became the sole focus of my life for the next four years. We've been well received since day one and music is the true language of art and yadda yadda yadda…it's been great.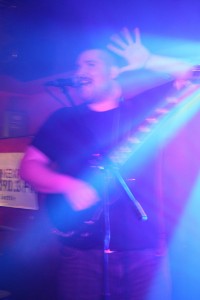 During year four of Camera, I moved home. Queue the shitty cartoon trumpet sound. My neighbor saw me one day and told me he was working for an online magazine called Cashbox. This clicked in the back of my head and gave him the one music review I ever wrote for fun. Air's 10,000hz Legend. His boss was so impressed that he made me head writer for the magazine off of the review…and yes, please keep in mind that anyone of you would have done the same thing. It was easy pickings. Anyway, they couldn't pay me, but they sent me a Hewlett-Packard Pavilion laptop ($795 value at the time) so I could write and be involved.
I'm a con man and a thief, I won't lie. I downloaded any program that I could get my hands on just to see what it was and what it did. One of them was Final Draft Pro (which I now have a registered copy of, thank you!). I suddenly went right back to screenwriting, revamping the first screenplay I'd ever written (with me chum Michael Schlau). My ex-girlfriend and still great friend Rebecca got a job working in admissions at a medical college here in Chicago. Here bosses were the actor Billy Zane's mom and dad. WHAT!
Meanwhile, a rich whacker from Canada wanted to buy Cashbox and me with it. I pitched him that I was also a musician, a novelist, and a screenwriter. I turned that around back on Billy Zane and got him to read my script, Mop Dreams. He loved it and I bounced interest back and forth until I got Billy to agree to shop some of my work around (love you, buddy! Like he's reading this, but he's been a mentor to me when no one earth knew who I was. Listen to your friend…). That lead to me being hired to write screenplays (one each) about Jimi Hendrix, Janis Joplin, and Elvis Presley…the last one being covered in depth here. Sorry this is so damned interactive, but you now have to go here and read this before moving on: My E! True Hollywood Story.
But I had a contract and money, putting me way ahead of anyone I knew doing their thing.  Not gloating, I'm just saying I didn't have a soul to talk to about this kind of stuff.  I cyber hunted down Terry Rossio, part of the writing team behind Shrek, Pirates of the Caribbean, and National Treasure.  Not exactly Tom Stoppard, but his first movie was Little Monsters, which I did a book report on the movie as a kid. He gave me a ton of great advice and was honest with me.  Meaning he told me to quit and move on!  Just kidding, but he said, "I won't tell you how I broke into the business because there is no one way.  You have to do it all, always, all of the time." Right?  That left a good impression on me for sure.  I really wanted A JOB!!!, but advice is always good too.
In the next year, I wrote 16 screenplays on that HP laptop.  My sale of Elvis's Fame and Fortune to the nut-tastic RLF Victor Productions allowed me to keep pushing, stay focused on the work, and keep writing.
After my 91 (un-contracted) drafts of Elvis, I hung up screenplays for a bit. With my trusty HP, I then wrote two more novels in the summer of 2009: Pop Star and Replicas. The band continued to solider on. We moved up to the best local venues you could play in Chicago and on the best nights. No more Thursday shows unless we're opening for…hmm, Spoon? Sure.
*
That's a wrap for today. Come back tomorrow for the last installment.
*If you're interested in writing a guest blog post for my site, please feel free to contact me at nicole@nicoleireland.com or via Twitter @NicoleLIreland. I look forward to hearing from you.