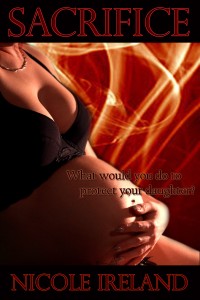 Yes, that's right. Sacrifice is now up at Smashwords and Amazon. I know, I know! I said it would be available Tuesday. SURPRISE! I honestly didn't think it would be up this fast, but it is. So yay!
The last time I uploaded a story it took a good day and a half for it to show up, I think. Not this time, though, which is good. It means that Sacrifice is available to all of you that much sooner.
I do have to give special thanks, again, to Jennifer Melzer, Heather Faville and Nicholas Denmon for their insight over the past few weeks. It's helped me a great deal.
In Other News:
I was the special guest on Podcaturday yesterday morning.
For those not familiar with Podcaturday, it's the weekly roundtable discussion between James and Jennifer Melzer and Acadia from Superficial Gallery.
While I still laughed a lot, and it's hard not to with these three, I did talk more than the previous time I was on there. I figure by this time next year, I should be able to outtalk them all. Okay, maybe not. But close. Those three are professionals when it comes to "shootin' the shit", especially Acadia. He NEVER shuts up.
What makes yesterday's Podcaturday extra special is the fact that I WASN'T nervous AT ALL. For those who don't know me well, situations like Podcaturday or public speaking usually make me very nervous to the point of  breaking out in hives. I've been working on it, though, and have been pushing myself to step outside my comfort zone and try new things. I don't want to look back on my life and regret one moment of it, so I'm trying to experience as many new things as possible. I'm trying to challenge myself. Who knows what I'll try next.
So what did we talk about yesterday? A lot: Game of Thrones, The Killing, cryptozoology, Stupid Ned Stark, Jenny's accident, James' book sales, my book launch, and Wet Hot American Summer, which I watched last night because Acadia was bitching again that we never do what he asks. And to be honest, it wasn't nearly as bad as I expected it to be. In fact, there were several moments where I laughed out loud. Plus, Bradley Cooper was in it, and who doesn't love him?
That's about it in terms of updates. I will be posting some interviews and special guest blog posts over the next few days. I meant to last week, but I never got the chance. I had to cover for my mom at work, which meant physically going to work instead of my normal routine of rolling out of bed and plopping down in a chair. I had to juggle four different jobs while trying to get Sacrifice ready for all of you. Plus, when you add in the mommy factor, it made it one CRAZY week. I honestly need a vacation now.
I hope the rest of your Sunday is fantastic. I'm off now to take my Mini Me to her first fishing tournament. Here's hoping she catches the biggest bass.