Four years ago today I welcomed my second child, Blake-Joseph Wynter, into this world in the wee hours of the morning. Since that day, he's been a whirlwind of activity, keeping me on my toes at all times. Life with him, and his sister, is never dull.
I knew from the moment I found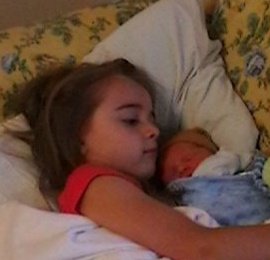 out I was pregnant with Blake that he was going to be a handful in comparison to his sister. After months of morning sickness, backaches, dehydration, kidney pain, you name it, I welcomed my handsome little boy into this world.
The first time I held him in my arms, just after he took his first breath, I was in awe…and in love. I never got the chance with his sister to hold her right after her birth due to complications in utero. And it's something that saddens me everytime I think about it. With Blake, I had that chance, and I'll never forget it.
I'll also never forget Mikala walking into that delivery room not long after her brother was born, crawling up onto that bed with me and holding her brother for the very first time. The smile that spread across her face was like a thousand little stars twinkling. I was overcome with love for my two precious angels, and there's not a day that goes by that I don't thank the powers that be for bringing them both into my life, even if they do stress me out sometimes.
So my little Binkle Bean, momma loves you so very much and I hope this next year is a great one for you. And just think, next year you start kindergarten. You're not my baby boy anymore. You're my little man, my precocious, wisecracking handful of a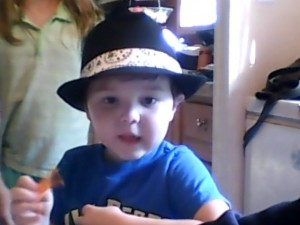 son who I would not change even if I could. I love you, handsome!
Love always and forever,
Mommy
My 29th birthday isn't until next Saturday, but I think it's close enough that I can get away with this post.
I have to admit there were times in my teen years that I never thought I'd reach 20, let alone 29, but yet here I am, still going strong, so I look forward to what comes next. I look forward to what my future holds. And I hope the coming year is filled with great moments that I will remember for the rest of my life.
Each year I take a look back to at the things I've accomplished throughout the year. To say this past year has been one of the best, but also one of the hardest, would be an understatement of epic proportions. Those closest to me know the struggles I've faced over the past year. Some days have been easier to handle than others, but with the love and support of my friends and family, I've made it through another year. And I've managed to keep my sense of humor intact, as well as my sanity.
Well, the sanity part is debatable, I suppose. It depends on who you ask. There are a few of my friends that think I'm a little nutty for working as much as I do, but that's who I am. I don't do well with downtime. I can't sit still and do nothing. I feel lazy when I do, so I have to have a full plate at all times. Call me an overachiever. Call me crazy. Call me whatever you want. I don't care. I'm happy with the person I am. And it's taken my long time to get to this point, but it's nice being in a place where I finally know who I am. I'm happy with the person I've become. That's not to say there's still not room for improvement because I know I can always get better. And I will.
What have I accomplished this year?
A LOT!!!
I released my first novelette A Second Chance back on April 12th, I believe it was. This wasn't my first time being published; I was included in the From the Dark Side Anthology. However, this time around felt like the first. I was filled with a giddy anticipation that similar to the feeling I use to get on Christmas morning.
A Second Chance underwent significant changes from its original incarnation which was included in FDSA. And whenever I look back on its growth, I feel a sense of accomplishment. I think it turned exactly as it was meant to. There isn't one thing I wouldn't change about it. NOT ONE!
In addition to A Second Chance, I also published a short story titled Sacrifice. This is another one that I'm very proud of. Sacrifice forced me to step outside my comfort zone and tackle a pretty difficult topic, and I think I did well with it. I know some have expressed disappointment over the fact it's not a novel, but I feel like I told the story as I was meant to. And as long as I feel that, I'm okay. It's when I don't think I did a story justice that I worry.
This past year also saw the launch of Frugal Maine, a website dedicated towards helping out my fellow Maine residents who are looking for information on frugal and green living, cheap entertainment options in and around Maine, frugal reads, working from home, etc. I did take a hiatus from it for awhile to focus on my personal writing, but I've since returned to it. And with the help of one of my best friends, Acadia from Superficial Gallery, I think it'll get to the point I want it at — a one-stop shop for all residents of Maine.
This year I also appeared on two episodes of Podcaturday, a weekly roundtable discussion between Jennifer and James Melzer and Acadia. While this may not seem like a big deal to some, for me it is. I'm actually incredibly shy, and I have issues with stage fright. Granted, I'm not in front of an audience when taking part in the show, but it does cause the same feelings of apprehension in me. I end up not saying much. My second time around, though, was better than my first, and I know in time I'll become more comfortable with the entire process. And to be honest, I'm quite anxious to get to that point.
Hm, what else? I did have a few new jobs over the past year that unfortunately did not work out in the long run. But that's okay because not all will.
I also started a few other side projects that I'm excited about, and I'm anxious to see how successful they turn out.
So that's it, pretty much, in terms of this year's accomplishments.
What have I learned over the past year?
This is pretty loaded question because I've learned a lot. And some of those lessons were not so pleasant.
Some people will always hurt you, no matter how much you wish it were different. So if you have to stay strong, no matter what, and keep telling yourself that things will eventually get better.
Sometimes you have to guard your heart in order to protect what matters most to you.
Sometimes you can only trust yourself to get things done. And sometimes that means leaving behind those that can't keep up.
Sometimes you have to trust others, even if you're scared to because not everyone in life will hurt you.
Sometimes you have to take a leap of faith and hope and pray that everything turns out exactly as it was meant to.
Some people truly do come into your life at certain times and for certain reasons. (While I've always known this, it was reinforced again this year.)
No one can make you feel inferior and not good enough, unless YOU allow them to. So don't give anyone that power over you. EVER!
So that's my past year in a nutshell. And here's to the coming year and whatever it brings.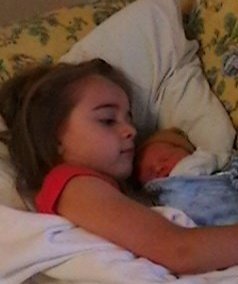 In about a week and a half, on September 2nd, my youngest will turn 3 years old. It seems like it was just yesterday that I brought Blake home from the hospital, scared and clueless about how to take care of a baby boy.
I can still remember sitting down to dinner that first night and holding him in my arms and thinking how happy I was to have him and his older sister in my life. At that moment, my life seemed perfect.
The 2nd is also a big day for someone else…Mikala.  It's her first day of third grade. But how can that possibly be?
I still remember her first day of school, and how excited and nervous we all were to send her on her way. Prior to her first day, we took her to her school, where she met her future classmates and teacher. Us parents were informed of what to expect the following day. But nothing the teachers or principal said could reassure me that my baby would be okay without me.
When she stepped on that bus for the first time to head off to school, I swear a piece of my heart broke free. My baby girl, my beautiful baby girl, was finally venturing out into the world that I had tried to protect her from from the moment she was born. I had to trust her teacher and others in her school to take care of her and protect as though she were their daughter. I had to relinquish control, and that was extremely hard for me.
It's no secret to those that know me that things haven't been easy for me for awhile now. Life has been far from perfect. But through it all, my kids have been that one constant. They're always there with smiles, hugs and laughs. Whenever I feel like crying, they're there to brighten my day and remind that things could be a heck of a lot worse.
So as Blake turns 3, and Mikala starts third grade, I hope they both realize how much I love them and how proud of them I am. I could not ask for two more beautiful children, and I'm thankful that I was given the change to be their mother.
Mikala and Blake, I love you two more than you could ever know.