I mentioned in a recent post that I did a lot of reading while the power was out thanks to Hurricane Irene's wrath. One of the stories I read was Model Agent, a thriller by Massachusetts resident and one of my fellow BNFFs Sean Sweeney.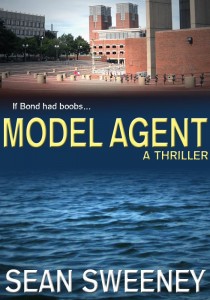 I ended up purchasing a copy of Model Agent the Friday night before the storm hit, I believe it was, knowing the hurricane was coming and would inevitably leave us without power for a few days.
Before reading Model Agent, I had read excerpts Mr. Sweeney posted from the third installment in the Jaclyn Johnson series and was greatly impressed. I had very high expectations, to say the least.
There have been very few books in recent years that have been able to capture my attention so thoroughly that I don't want to put them down. This past year I've come across some really talented authors that I've reviewed/interviewed on this blog that have been able to enthrall me when so many others haven't been able to.
Unfortunately, for some of those amazing authors that drew me in, life got in the way, and I could only read a little bit of their stories each day. (I know, it's sad.) Not this time, though. I was able to read Model Agent in record time. In fact, I visited my parents during the power outage and told my mother I had to go home because I needed to finish the book.
If you're a fan of thrillers, this story is definitely one to read. It grabs you from the very first page and doesn't let you go until the very end, and even then you're left wanting more, which, to me, is a sign of a great author.
Also, if you're a fan of the Boston area, that's another good reason to read this novel. Mr. Sweeney included many well-known landmarks and he described them with such detail that it took me back to my trips into the city over the years.
As far as characters go, my favorite was the lead, Jaclyn. While I don't want to give away too much about her, I will say that she resonated with me. I love that the author included such a strong, vibrant female who can kick ass like no other female character I've seen. She definitely stood out and I can't wait to see where her journey takes her over the next two novels. I'm rooting for her.
In conclusion, I wholeheartedly give Model Agent 5 stars.
(And Sean, sorry for the delay in posting my review.)
Amazon Description:
The human body consists of two-thirds water.
As concertgoers on a steamy day in Boston find out, water can kill as much as it gives life.
A terrorist attack at City Hall Plaza has the authorities perplexed. The government, in response, sends in a capable but young agent – an agent born from the ashes of terrorism itself – to handle it.
But as her partner dies and the terrorist strikes again, Jaclyn Johnson – code named Snapshot – finds herself in a situation she has trained a decade to face: She's up against a man with enough money to finance a war against his competition. With a deadline in place to stop him – and with a car holding enough hidden tricks to evade capture – Snapshot infiltrates his hidden installation and finds out her target's true end game, a secret that could have the world fighting over water.
MODEL AGENT is the start to a brand new thriller series. The sequel, ROGUE AGENT, is also available.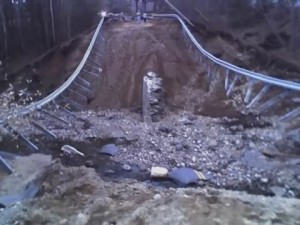 The thought of flooding from Hurricane Irene worried me because I've seen the damage it can cause firsthand, but I was a bit excited for her to hit, as twisted as that sounds. (See photo to the left of what flooding did to this area several years ago.)
I, like others I know, get a kick out of storms. I'm in awe of them. I love the way storms make the air feel. I love what they do to the sky and the way they make trees dance in the wind, so that's what I was excited to see.
Unfortunately, Irene didn't really amount to much where I live. Sure, we lost power, and a few trees got knocked down, but looking around, there was far less damage than I had originally anticipated. We receive bigger whoopings from our infamous Noreasters and spring rainstorms. This was more of a yawn, at least to me. And yes, if you feel the need to call me crazy, go ahead. I never claimed I was normal.
Anyway, that being said, losing power for almost two days SUCKED. A sponge bath just does not compare to a shower.
Our power was finally restored this morning, and I could not have been happier. I hate to admit it, but I was tired of reading. I did, however, read a fantastic story. Model Agent by Sean Sweeney was a very enjoyable read and I did not want to put it down. (Review coming soon.)
So to those of you still without power, I empathize and hope it is restored soon.