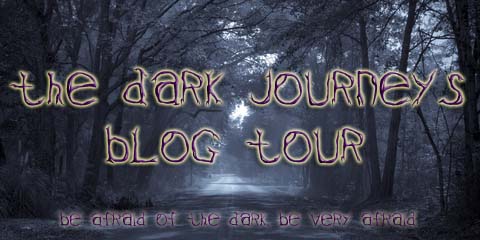 So somehow in my Benadryl-induced haze, I mixed up the date of when Jennifer Hudock was stopping by here to answer some questions regarding her Dark Journeys story collection.
For some reason I thought it was the 19th, which gave me a false sense of security since I thought I still had time to come to terms with the fact that I'm recording the interview. Imagine my surprise when I realized it was a week from today. And now that I think about it, I purposefully scheduled  on the 2nd because it was one month from my birthday. It amazes me that I can even function on a day-to-day basis.
So anyway, here's the updated Dark Journeys Blog Tour list. Jenny still has one open date, so if you're interested in interviewing her, stop by her site and let her know.
May 14, 2010: Jim – Yes, THAT Jim
May 17, 2010: Edward G. Talbot
May 19, 2010: Morgan Elektra of Trickster Moon Productions
May 21, 2010: James Melzer's UNLEASHED
May 21, 2010: Ramblings of English with Chandra Jenkins
May 24, 2010: Paddy's Wanderings with Patrick Pillars
May 27, 2010: Drew Beatty
May 29, 2010: Scrivener's Circle with David Sobkowiak and Laura Frechette
June 2, 2010: Nicole Ireland (That's me)
June 4, 2010: Mary Rajotte
June 7, 2010: Scott Roche
June 9, 2010: Superficial Gallery
June 11, 2010: OPEN
June 14, 2010: Slushpilehero
June 16, 2010: Jason Warden of ShadowCast Audio
June 18, 2010: The Feckless Goblin
WAIT! Don't go! I have one more piece of Jennifer Hudock news to share with you. She will be releasing the ninth story in the Dark Journeys collection, titled The Gentle Sound of Tapping on Friday, May 28th.