Tonight, I would like to introduce you to my  first guest blogger, Patrick Pillars who can be found over at Paddy's Wanderings. He's a fellow TCA member and all around good guy. Once you're finished reading Patrick's post, please take some time to stop by his site and show him the love. I know he'd appreciate it.
Now read and enjoy. Momma says so!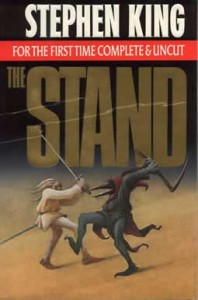 I discovered Stephen King through the movies before the books. I saw The Shining first, then Carrie. I really did not like either one. I have since read The Shining and it was meh. I never did finish Carrie.
Then I saw Christine, and I liked it. And then I read the book, which I really liked. I watched Stand by Me and The Running Man, both of which I liked. But I am here to tell ya, I was not a fan in any way.
Then I met Steph, she who would become better 1/2. She was a huge fan. I mean huge! She pestered me about how I should try other books by Stephen King. I said yeah well.. only if you will really listen to the Beatles — really give em a try. She was not a Beatles fan. I know, how is that possible? Then again, I was not a fan of Stephen King, how could that be possible, as well?
Well, we were fans of each other at this point, so we decided to trade an album for a book. She got the White Album. I got IT.
She did become a fan of the Beatles, although she likes Paul, and I kinda always liked John. I became a fan of Mr. King and we argue which is better, IT or The Stand. Good thing is, we are still fans of each other in spite of our differences. I may not have ever given any of his stuff a real chance if I had not been prodded along, and I would have missed an awful lot.
I am a short story nut, and I love his short stories. They just do it for me. I also like his older work much more so then his latest stuff. I think that The Long Walk may be my favorite novel, and I believe he wrote that in college. I also like The Gunslinger and the beginning of The Dark Tower series, all written early in his career, like The Stand and IT. There is a rawness, if you will, an abandon which seems to be missing from his later work. The Green Mile and Shawshank Redemption are two others I really like.
I fancy myself a writer, or at the very least, an educated wannabe, and what strikes me about King is his style. The stories are easy to slip into, to be a part of the story. That is what grabs readers and takes them on the journey and that, to me, is good writing. Whether confronting the Walking Dude or Pennywise, both improbable situations, the reader is right there with the characters, and it is believable. That is the magic. That is stuff I strive to do myself and what has made me a fan.
This entry was posted on Sunday, May 16th, 2010 at 19:49 and is filed under
Guest Blogs
. You can follow any responses to this entry through the
RSS 2.0
feed. You can
leave a response
, or
trackback
from your own site.