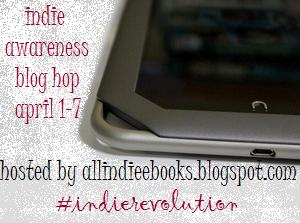 If this is your first time visiting my humble abode, welcome. If you're a returning reader,  I apologize for the lack of updates since the end of October. There has been a lot going on in my personal life and I've been really busy, but that story can wait for another time. Back to the reason you're reading this post.
As you can see, I am participating in the Indie Blog Hop because I believe that Indie authors need to be heard. We are just as worthy of recognition and success as those authors who are published by one of the Big Six. The Big Six being the six major publishing houses that most of us yearn to sign with at some point in our writing careers.
If you're an indie author, the success of the #indierevolution should be important to you because this is your livelihood at stake.
As a thank you for stopping by my site, I am giving away a copy of A Second Chance and a copy of Sacrifice, two stories written by yours truly. To win, leave a comment below, with your email address, and two winners will be chosen at random.
April is Indie Awareness Month. To find out more about the Indie Revolution Movement, please stop by the AllIndieEbooks website.
Thanks again for stopping by.
This entry was posted on Sunday, April 1st, 2012 at 09:00 and is filed under
Blog
,
Writing
. You can follow any responses to this entry through the
RSS 2.0
feed. You can
leave a response
, or
trackback
from your own site.