*whispers* For those Jersey Shore fans, I totally just said that like "It's t-shirt time!" LOL! I couldn't help myself.
Anyway, it's been hella crazy lately. As some of you know, my mom has been dealing with back issues, which means I've been fairly busy helping her out when she needs. That includes physically going into work and covering for her since, as she says, I'm her Mini Me. In fact, next week I'll be at work while she's at home getting some much-needed rest. It'll be a long week because I'll also be juggling my three other job besides that one. But as one of my astute friends likes to point out, I'm crazy, so that's normal for me.
For those who don't know, I recently began working as an IC for Ranker.com.  I have to say it…I LOVE THIS JOB!!! It involves writing and research. The writing part is really fun, and I'm allowed to show my true personality, which is a plus. Sometimes I get the impression that some people think I'm really stuffy, but I'm not, so it's nice to let my hair down and be Nikki, the slightly nerdy country girl with a quirky personality. (If you'd like to read my first list for Ranker, it's here.)
Now onto the story writing-side of things.
You've probably noticed that I still haven't published Sacrifice yet. There's a couple of reasons for that.
Aside from the fact that I'm stretched pretty thin lately and have a lot going on in my personal life, I've been busy adding some additional scenes to Sacrifice which are taking me a little bit of time because I want them to be perfect. If I don't, my internal editor, aka The Bitch, will rear her ugly head, and well, we all know how THAT goes. (See here.)
Those additional scenes I've been working on would not have come about without the guidance of my editor, author Nicholas Denmon and book reviewer Heather Faville from Doubleshot Reviews. Their help is appreciated more than they know.
I'm actually trying to focus some of today on Sacrifice, so hopefully I can wrap up the rest of it. *crosses fingers*
Sales Talk Time!
So the other day I noticed an increase in sales. Not an "OH MY GOD, I'M RICH, I CAN RETIRE" increase, but a large enough one that it shoved me into the #84 position on Amazon for occult books. When I saw that on my screen I nearly peed my pants with excitement. I was included on a list with Stephen King, JA Konrath, Katie Salidas and Amanda Hocking. Pretty sweet, right? Seriously, I was so struck with giddyness, I couldn't hold still. The little kid in me was all kinds of excited. What a great feeling. I hope it's just the first of many times that happens.
*
One last thing before I go. I was interviewed by author Suzy Turner for her website, so please take a moment and check it out. In the interview I reveal who I would cast as Annabelle and Jason. SQUEE!
Have a great and safe Memorial Day, everyone!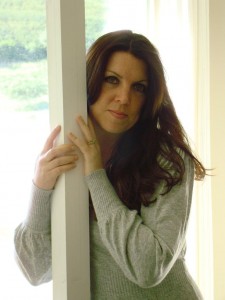 Today's guest blog post on ePublishing comes from author Suzy Turner. Her debut YA novel, Raven, will be available for purchase through Amazon in the near future. To read an excerpt from Raven, please visit her official site.
*
About a month ago I had an epiphany. A light bulb illuminated inside my head… 'epublish your book', it said.
I know in the past, many indie authors have had a bad name but times, they are a changing, and authors are doing it for themselves (isn't that a song?). So why not jump on the bandwagon, so to speak?
Like many (if not all) authors before me, I have received my fair share of rejections, but I've also received my fair share of compliments about my style of writing (and my over active imagination, but that's another story altogether), enough to make me think 'why shouldn't I try and do it my way?'
So I began to read up about the process of epublishing and, to be honest, I can't find a reason why I shouldn't do it.
Provided your book is the best it can be and it has been edited and proofread to within an inch of its life, then there is no reason why you can't try and make a go of it yourself. You keep the profits. You maintain integrity over your project. You choose the cover, etc, etc.
My YA novel, Raven, will be my first ebook. The first person to read it was a friend who also happens to teach kids at a London school. She helped me improve the story by pointing out inconsistencies, anything that was just plain wrong and spelling mistakes. She also suggested I make a few changes to my main character (she was too naïve to be 16 so I made her a little younger, for example). I have since completed the revision and the book is now in the hands of four other friends – all, except one – in the editing / publishing industry so I trust what they will have to say.
While I wait for them to finish (with full time jobs, it's taking a little longer than I'd hoped), I am working on the cover art. I'd love to pay someone to do this for me but as this is my first book, I simply can't afford it at the moment. However, I do believe my cover image is coming along quite nicely. Taking the picture was fun…although I'm 35 and no longer the shape of a teenager, I donned my best teenlike clothes and my husband and I drove up to the nearby mountains to get a shot of me running into a forest. When we got back, I chose the best photo and then went to work. Not having Photoshop on my laptop, I used an online image editing site (http://pixlr.com) to tweak the image, reducing the size of my curves (!) to make me appear to be much (much) younger, and making the image darker and eerier. I posted the initial image on my blog to gauge response and was pleasantly surprised. It just needs a little more alteration and then it will be ready. Not bad for a first timer, I guess.
To follow my journey, visit http://suzyturner.com.
*
If you would like to guest blog on my site, please email me at nicole@nicoleireland.com for more information. I look forward to hearing from you.