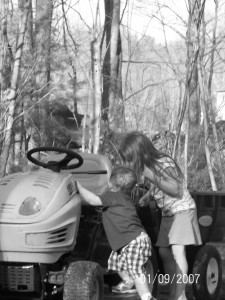 Whenever I sit down to write a blog post, I try desperately to find something really funny to say, but who the hell am I kidding? I'm not some comedic genius filled with profound insight and an ability to make everyone laugh. It's just not me, and I've come to accept that. Don't get me wrong, if any of you have some magical dust that you could sprinkle on me that would make everyone laugh at my jokes, great. Let me know.
Now my kids, on the other hand, are a completely different story. They're incredibly funny, and I'm not just saying that because they're my kids. They seriously are. My dad's wittiness skipped me and was passed onto them.
So today, I'm going to regal you with a couple of stories about these two because, well, I can. I'm their momma and extremely proud of them, so if you don't like reading stories about kids, GO AWAY!
The first stories I'm going to share with you are about my 8-year-old daughter. I love her to pieces, but she is seriously the most warped child I have ever met. I don't mean that she walks around looking for mice or whatever to roast on a spicket. I mean, she finds things funny at her age that most adults don't find amusing. Just ask my mom.
Ms. Thing also has the knack for cracking jokes that leave the rest of us looking at her, wondering where the hell it came from. We then, usually, start laughing to the point we have tears in our eyes and the need to pee.
So sit back and enjoy!
Story number 1: Just a couple of weeks ago, my mom, dad, Mini Me and I all went to New Hampshire to visit my brother and his boy toy. So we decided we'd go to the park not too far from the mall. As we driving through Dover Point to get there, we passed a cemetery, which inspired my daughter to say, "Oh look, a dead zone."
The truck got real quiet while we stared at her and then we just started laughing. She looked at us, all straight faced and said, "What did I say?"
Now that may sound like a really corny joke to all of you, but you have to remember, she's only eight, and the timing was perfect.
Story number 2: About a year and a half after my son's birth my daughter came up to me and asked if we could return her brother to CVS. (At the time I was standing in my mom's kitchen chatting with her about nothing.) My mom and I just looked at each other, trying to figure out where the conversation was headed because, when it comes to my daughter, there's just no telling.
I finally asked my daughter, "Why do you want to return your brother to CVS?"
And I will NEVER forget her response or her logic. "Since that's the place that you bought the white stick to pee on so you could get pregnant, that's where he came from. So we should be able to return him."
I was stunned. I've always been amazed by the way a child's mind works. The way they connect ideas is amazing to me, so the fact that she thought I got pregnant from a pregnancy test from CVS cracks me up.
Of course, I returned with, "Well, we could try. But I think that return policy expired 30 days after he was born."
The last two stories are much shorter and have to do with my son.
Story number 3: Over the past six months, my son's vocabulary has flourished, and I'm a bit ashamed to say that some of his new words aren't appropriate.
I have a horrible potty mouth when I drop or spill things. Usually "son of a bitch" comes out. Well, Mr. Smarty Pants figured out quite easily how to say it, so one day, he accidentally spilled some juice or milk on the kitchen floor. He looked at it and said "Oh, son of a bitch."
I tried really hard not to laugh, but the look on his face after he said it was priceless, so I, of course, couldn't control my laughter.
From that day on, I've really had to watch what I say around him because he has no problem with swear words.
Story number 4: I, like a lot of moms these days, attempted to breast feed my son. Long story short, I made it about two weeks before the doctor's said to me it was best if I stopped because I wasn't producing enough milk to feed the little monster. Ever since then, though, he's been a bit obsessed with my chest, which according to other mom's that I've talked to is pretty normal.
Yesterday, I was sitting on the floor, playing with his trains with him. He looked at me, patted me on the boob and said, "Lake likes yo boobs." (Lake is how he refers to himself since his first name is Blake.)
When he said that, I could not stop laughing. So I guess that's a good sign that he's going to be a boob man when he's older.