And the Flood Gates Have Opened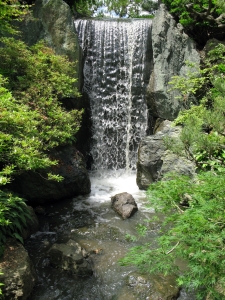 I know. I know. I haven't written in a few days, but it's not because I haven't been busy. I have been. I have a ton of stuff on my plate right now, and I'm trying to get it all done. But I wouldn't have it any other way.
Today,  after weeks of arguing with my short story's main character about the story was headed in, the flood gates opened, and I was hit with a diluge of ideas. They hit me one after another, and I couldn't type fast enough. It felt like the words were pouring from my fingers like a rushing waterfall. What a great feeling it was. I felt productive and alive.
I think part of the reason I've felt blocked and was having such a hard time with the plot was because I wasn't allowing myself to step out of my comfort zone and immerse myself in the world that I was creating in the story.
Part of me was afraid to open up because this story is the total opposite of Second Chances. Where SC was filled with hope and love, this story is darker, grittier and filled with images that are a bit disturbing, at times.
Now that I've allowed the ideas to pour forth, I feel calmer and like I can truly bring this story to life. I knew the potential was there before, but I also knew I needed some kind of breakthrough in order for the story to reach its full potential.
I think, knock on wood, that I'll have the first draft done by my birthday on July 2nd. After that, I'll tackle another short story that's sitting on my desk, begging me to finish it.
But for now, my sole focus is on my current short story. I want to hold that story in my hands and feel the weight of it.  I want to see the end result. Am I scared by how it may turn out. Absolutely, but I'm also filled with anticipation because this story is unlike any other that I've written. So here's to progress. Hopefully tomorrow is as productive as today was.
18 Responses to And the Flood Gates Have Opened