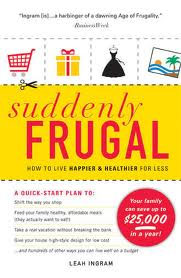 Over the past six months or so I've taken many steps towards living a more frugal life. During that time, I've learned a lot of valuable information from many people — information that I will carry with me forever.
Though I've learned a lot over the past six months, I know there's still a lot more to learn, so when an opportunity arises to read a book on living frugally, I take it.
Shortly before Christmas, I was in Ocean State with my mom when I came across Suddenly Frugal by Leah Ingram for $2.99. For that price, there was NO WAY I was passing it up since I knew at Amazon, B&N, etc. it would be way more. And what better way to practice frugality than by not buying books at full -price, which I admit, I've always done. Bad, bad me!
When I first started reading Suddenly Frugal, I was excited but a bit skeptical. The front of the book clearly states that you could potentially save your family up to $25,000 a year! Yes, that's right, $25,000 a year. That's a substantial amount. Is it really possible?
While I was skeptical, I knew there were many areas in my life that could use significant cutbacks, so I was willing to give her book a chance.
Throughout Suddenly Frugal, Ms. Ingram offers up a bevy of helpful frugal living tips on home repairs, car repairs, family entertainment, grocery shopping and more. She left no stone unturned, which I loved. I'm a stickler for details, so the more information given to me, the better. And this book was most definitely filled with it.
Another aspect of Ms. Ingram's book that I loved was the Total Savings section at the end of each chapter. It was astounding to see how much we could save every year by following her advice. By the end of the book, it totaled $25,000 in savings. So to answer my earlier question, yes, it's possible to save that amount. And I for one know it would help my family if we could save even half of that.
When I finally finished Suddenly Frugal, I was upset because I wanted to keep reading what Ms. Ingram had to say.  Her writing style is easy to follow and not condescending in any way. I detest reading books that make you feel stupid. If anything, Ms. Ingram's book builds you up and shows you that no matter what lifestyle you're accustomed to, you can live a more frugal life with a little time and effort.
So if you're looking for a great read on living frugally, Suddenly Frugal is a wonderful choice.
If you're interested in learning more about Leah Ingram and her frugal living tips, make sure to stop by her Suddenly Frugal Blog. And don't forget to bookmark it.
*If you are interested in having me review your book, please feel free to email me at nicole@nicoleireland.com. Thank you!
This entry was posted on Tuesday, January 18th, 2011 at 19:52 and is filed under
Reviews
. You can follow any responses to this entry through the
RSS 2.0
feed. You can
leave a response
, or
trackback
from your own site.