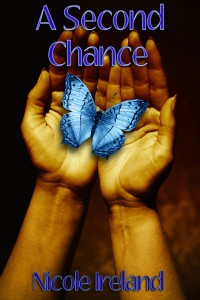 Last night, after many months of hardwork, I finally uploaded A Second Chance to Amazon, Smashwords and PubIt!. As of right now, it's available on Smashwords for $.99.
Even though my baby is out of my hands now, there is a huge part of me that is still scared beyond belief for how it'll fair, even though many of my friends have told me it'll be fine and to stop worrying. Deep down inside, I know they're right, but that nasty internal editor of mine just won't shut her mouth. She's been quite boisterous over the past couple of days. So much so, in fact, that I found my pointer finger hovering over the delete key at one point. She almost had me convinced that I shouldn't put my work out there. She kept telling me I wasn't good enough, that I'd fail, etc.
Thankfully, I was able to ignore her with the help of my friends. Without them cheering me on and encouraging me, I wouldn't have made it to this point. They've been my cheerleaders and my confidants. Whenever I'm feeling frazzled or at wit's end, I know I can turn to them for advice and a shoulder to lean on. Or for a swift kick in the butt, as was the case last week.
I owe each one of them a HUGE thank you for sticking by me and believing in me, even when I had days when I had a hard time believing in myself. So, before I close, I'd like to thank the following people for helping to make my dreams a reality. (And yes, in typical Nikki fashion, I'm crying.)
These are not the only people that have helped me along the way. I'd also like to thank my mom, dad and brother for sticking by me throughout everything I've put them through over the years. They're not only my family, they're my best friends. They've accepted me, quirks and all, and I love them for that.
And last but not least I have to thank my sixth grade teacher Ms. Clarrage for encouraging me and for helping me to realize just how much I enjoy writing. When I look back on my school years, she was the best teacher I had, hands down. She made school fun while still teaching us what we needed to know. I know that had I had not had her for a teacher, I wouldn't be where I am. So thank you, Ms. Clarrage, for everything.
Each and every person I've mentioned here has played a crucial part in getting me to this point. I can't thank them all enough for everything they've done.
THANK YOU GUYS!