A Review of Kings of the Dead by Tony Faville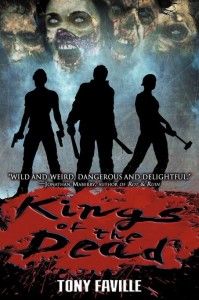 Before I delve into my review of Tony Faville's Kings of the Dead, I must admit I haven't read many zombie stories, so my knowledge of them is fairly limited, but I am an avid reader, so I still know what makes a great read, at least to me.
I like a story that draws me in and holds my attention to the very end. I like characters that I can relate to and who resonate with me. I also love stories that make me feel something — that touch my heart. And if they make me ask questions…even better.
Kings of the Dead accomplished all of that and more.
I started reading the book Saturday night around 7pm, and I read through until 11:30 or so before turning in for the night. By that time I was already 53% done with the book. I finished reading it yesterday afternoon.
Once I started reading it, I couldn't stop. The story sucked me in from the very first page, and it didn't let me go until the end.
What I Loved About Kings of the Dead:
I loved the journal format.
I loved all the details on weaponry used to deal with the zombies and other problems the Kings faced.
I loved the way all the characters interacted with each other.
I also loved reading about all the stockpiling of food and equipment.
For those who don't know, I'm a huge advocate of stockpiling and preparing for the worst. I also am a huge advocate of learning how to be self-sufficient and live off the land, so Kings of the Dead definitely has a leg up on the competition, at least in my book. (I'd like to think that if faced with the same scenario, I would be a part of a group like the Kings.)
Now, I must ask, who actually cries when reading a zombie novel? Well, this chick, that's who. Go ahead and laugh if you want, but it's true. There were parts of the book that made me cry. I don't want to give away too much, so I'll leave it at that.
I highly recommend Kings of the Dead to all zombie fans. It's a quick, fast-paced, entertaining story that will leave you wishing there was more to read.
Total stars: FIVE!
I, for one, cannot wait to read Tony's second book Slow Burn. If Kings of the Dead is any indication of what this author is capable of, I think it's going to be fantastic.
When the H1N1 "Swine Flu" virus mutates it begins to not only kill those who have received the vaccination, but also bring on the unthinkable: the dead reanimate. Cole Helman and his friends are not only survival experts, they've spent hours discussing and preparing for just this event and quickly head to the hills before the cities become clogged with looting and riots. But the group knows all too well that the living dead are just the beginning of their problems, and they'll eventually have to deal with the worst qualities of the living-desperation, greed, selfishness, and cruelty-in this new post-apocalyptic world. And a chance encounter at a secret military installation may reveal a conspiracy bigger than any of them had imagined… Straight out of the apocalypse comes the chronicle of one small group and their experiences with life and death, survival and loss. In a world of the living dead, is one man capable of maintaining not only his community, but his own sanity?
4 Responses to A Review of Kings of the Dead by Tony Faville