This is the fourth and final installment of Justin Scro's guest blog post for my site. If you haven't read the previous three installments (1, 2, 3), please do so before tackling this one.
*
While I'm living at home and working on the screenplays, we put out an ad for a guitar player/keyboardist on Craigslist.  Enter ambient music mainstay Vir Unis.  Good old Vir (aka John Strate-Hootman) found our ad and said that he wasn't interested in playing with the band, but that he loved our music and wanted to produce it.  This isn't the 60's.  Sleazy producers don't find you on Craigslist and try to offer you money for your soul.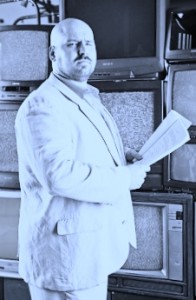 He came out and made some demos at our practice space and then he told us he and his production partner would come and see us (conveniently) at our huge Saturday night show at the Metro (where R.E.M., Nirvana, Bob Dylan, and Guided by Voices all played).  It turns out that his partner is this guy: Matthew McDonough , the drummer from Sony Record's Mudvayne.  Not our sound by a million miles, but he loved us!  We loved him!  It was an awesome love fest!  All of a sudden the big break we never tried for was on our lap!  Matt made several promises that, 'this can go right to the vice-president of Sony' though he always added 'but that might not be what's best'.  Fair enough!  Whatever enough!
We didn't go out and buy anything!  In fact, we actually had to pay for the studio time, but it was nothing considering we had a crack team of producers.  Recording was an awesome time.  Matt and John were always good fun, always encouraging our ideas, and it was one of the best times of my life.  For a few weekends every other month, I could shed Clark Kent and truly be Superman.  Life sucks.  I savor my victories.
Time went on and worldwide Mudvayne tours slowed us down, but after two years, we were finally going to hear what John and Matt had done to our music (which we were very curious because we essentially produce our own music with Ryan our bass player and our friend Steve at the helm).  It was not good.  Not only was the core of our sound gone, but it was more Linkin Park than Nirvana or Roxy Music.  More so, we were locked out of the creative process suddenly.  There were blatant and rampant mistakes throughout, like the vocals shifted in two songs so they were milliseconds off.  They didn't care.  I was dumbfounded.  I consider these guys friends.  We had put two years and a lot of stock into this going to Sony or somewhere at least.  And we walked.
We fucking walked and decided to immediately rehire the sound engineer for those sessions, the uber-nu-super brilliant Paul A. Vnuk, Jr. and continue on our own immediately with new, better material.  Those two years, like the bullshit screenwriting stuff, had more lessons than we could imagine.  We had confidence because of Matt and John.  They were super pros and understood us and our music (to an extent).  Because of that, we wrote 4x beter songs 10x faster than ever before.  That's why when Camera's The Panic and the Permanence comes out this summer you're going to shit your pants.  I'm not kidding.  I am the hardest on our music and this is going to be our Nevermind our Velvet Underground and Nico, our Is This It…
Hmm, now where was I?  Oh!  We're getting close! We're all the way up to last summer.  Holy shit, and this is the quickest way.  During last summer I was also hired to write a novel called PreLife with my now good friend Jeff Rosenberg.  PreLife's first draft was written in 24 hours so I could afford to go record with Camera.  See how this works?  Being broke doesn't mean not having spending money, people!
Now we're creeping up on the climax.
I got a Kodak Sport HD camera in October.  I started making videos again, much like I had in high school (okay, I forgot about that phase.  I would make and edit videos to stave off the munchies).  I made this first:

See the date on that cracker?  February 2nd.  I made that with footage I found on my camera with a program for editing that came for free.
Shortly after February 2nd, I had a huge idea delivered to me all at once.  I don't want to give it away here because it's the video that's launching the company!  But I will say this, it's a spoof on Call of Duty and after reading all of this I would hope you know that I wouldn't do anything that simple…right? Slow Graffiti Productions was officially conceived that day. I stood up, took the camera, pitched my idea right into it, and I emailed it right off to my business partner Sean Hoffman, now COO of Slow Graffiti. He loved it and amended the plan we had started working on together in 2007 that had us making one film for 8 million dollars to launching a company that could sustain itself with a certain amount of film and audio equipment.
While I'm making another stoned video pitch in my garage to an investor (my first and only.  He's now Chief Investment Officer or Judge Dredd or something), I got a check in the mail from Amazon.com for $13.46.  I didn't know what it was for, but I assumed it was a refund or something.  I spend all of my poor and loving girlfriend Sherman's money on blu rays, so it made sense.  But it wasn't a refund.  I got a Kindle when I got my camera and I wanted to put my own novels on it so I could read them.  That lead me to putting them up on Amazon simple so I could convert them.  I figured if anyone found them, cool.
$13.46 worth of them did!  I decided right away to start pushing for this and trying to really make a go at it.  I read about Amanda Hocking and John Locke and other eReader sensations.  Then I read their work and I knew that there was room for me. I started taking Twitter seriously the last week of March and I've sold 114 copies of my 4 novels just from hanging out and conversing.  I don't really push them anywhere else, but it blows my mind!  114 word of mouth copies in under a month…I would love to make a living writing, but I've just always wanted to share and give back to the world of books that has given me so much.  Ya' dig?
Tic-toc tic-toc…
The investor was interested.  My Call of Duty spoof will be joined by the one-minute series NARC (about a narcoleptic hard edged narcotics officer), the above reality series The Manny Diaries, and Answer the Call, a Dark Knight/Watchmen spoof.  Here's the wardrobe test I turned into a teaser:

While all of this is going on, I get contacted by a good friend that's in law school.  Her mentor has been Eminem's manager (a girl from my high school is married to him) and she wants to make a career out of being my agent as far as my screenplays are concerned.  And she will incur all the costs to solicit them.  That's a lot of scratch and what's always held me back.  You can't be a starving artist and really go for it.  Try living at home with your broke parents and sending out your manuscript the way you're supposed to!
May 1st, all of the film, sound, and editing equipment will arrive at the 809. My novels are all being recoded, edited, and getting some pimp ass cover art.  My first blast of screenplays will hit the market shortly before my 31st birthday.  Camera's The Panic and the Permanence will be out at the end of the summer (our PR is being handled by the always reliable Team Claremont.  They rep R.E.M., M83, Modest Mouse, god knows who else…but all quality).
Slow Graffiti will be based around comedic web clips based off of ideas that I already had.  They just happen to appeal to a wide and specific enough audience where I could devise a marketing strategy to get big money big business people interested.  Now that they are and I own my own company, I have finally arrived at the feet of where I thought I was going to be when I was, like, oh, 17 or something.  Every step of the journey is so important, considering my journey is just beginning.
I'm exhausted and you have no doubt given up long ago.  I leave with this: Create purely for yourself, just do it enough to where you'll be ready when opportunity aligns itself with…wait, Terry Rossio was right!  Just do whatever it takes!  Quality will penetrate!  Avenge me!  Avenge me!
Yikes.
*
I want to thank Justin for taking the time to write out this guest blog post. I thought I was long-winded, but Justin has me beat. If you've enjoyed Justin's post, please stop by his official site. Also, if you're so inclined, feel free to head on over to Amazon.com and purchase some of Justin's novels.
*
*If you're interested in writing a guest blog post for my site, please feel free to contact me at nicole@nicoleireland.com or via Twitter @NicoleLIreland. I look forward to hearing from you.
This is the third post in the Justin Scro saga. Please read parts 1 and 2 before part 3.
(WARNING: There is some profanity.)
I read a book a day while writing Waving. Something really funny happened that changed me forever in a profound ass way. As I finished Waving, I began planning Farmhouse, of which I had 20 handwritten pages years before. The funny thing was what I started to read. I read Catcher in the Rye. I read Less Than Zero. I read The Perks of Being A Wallflower. I read The Unbearable Lightness of Being. I can site every single one of those books being a direct influence on Waving not Drowning…yet I hadn't read a word of any of them before I wrote my first novel. I just laughed. If I would have known any of those, I wouldn't have ever been able to write. Really messed up, right? I got freaking lucky. The moral being: Never run towards your influences, but running away is just as bad. Just be, dudes! Sorry, I can't help myself. Isn't my indulgence here proof of that?
I wrote Waving and Farmhouse (which everyday get's changed back and forth with Temptation as its title) in August and September of 2001. I also wrote them on a freaking typewriter. I got a computer and started revising the books. It only took me about 7 years and I only edited content, not grammar (because I suck. Look at me here!).
In that meantime, Camera was born and became the sole focus of my life for the next four years. We've been well received since day one and music is the true language of art and yadda yadda yadda…it's been great.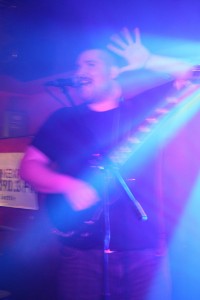 During year four of Camera, I moved home. Queue the shitty cartoon trumpet sound. My neighbor saw me one day and told me he was working for an online magazine called Cashbox. This clicked in the back of my head and gave him the one music review I ever wrote for fun. Air's 10,000hz Legend. His boss was so impressed that he made me head writer for the magazine off of the review…and yes, please keep in mind that anyone of you would have done the same thing. It was easy pickings. Anyway, they couldn't pay me, but they sent me a Hewlett-Packard Pavilion laptop ($795 value at the time) so I could write and be involved.
I'm a con man and a thief, I won't lie. I downloaded any program that I could get my hands on just to see what it was and what it did. One of them was Final Draft Pro (which I now have a registered copy of, thank you!). I suddenly went right back to screenwriting, revamping the first screenplay I'd ever written (with me chum Michael Schlau). My ex-girlfriend and still great friend Rebecca got a job working in admissions at a medical college here in Chicago. Here bosses were the actor Billy Zane's mom and dad. WHAT!
Meanwhile, a rich whacker from Canada wanted to buy Cashbox and me with it. I pitched him that I was also a musician, a novelist, and a screenwriter. I turned that around back on Billy Zane and got him to read my script, Mop Dreams. He loved it and I bounced interest back and forth until I got Billy to agree to shop some of my work around (love you, buddy! Like he's reading this, but he's been a mentor to me when no one earth knew who I was. Listen to your friend…). That lead to me being hired to write screenplays (one each) about Jimi Hendrix, Janis Joplin, and Elvis Presley…the last one being covered in depth here. Sorry this is so damned interactive, but you now have to go here and read this before moving on: My E! True Hollywood Story.
But I had a contract and money, putting me way ahead of anyone I knew doing their thing.  Not gloating, I'm just saying I didn't have a soul to talk to about this kind of stuff.  I cyber hunted down Terry Rossio, part of the writing team behind Shrek, Pirates of the Caribbean, and National Treasure.  Not exactly Tom Stoppard, but his first movie was Little Monsters, which I did a book report on the movie as a kid. He gave me a ton of great advice and was honest with me.  Meaning he told me to quit and move on!  Just kidding, but he said, "I won't tell you how I broke into the business because there is no one way.  You have to do it all, always, all of the time." Right?  That left a good impression on me for sure.  I really wanted A JOB!!!, but advice is always good too.
In the next year, I wrote 16 screenplays on that HP laptop.  My sale of Elvis's Fame and Fortune to the nut-tastic RLF Victor Productions allowed me to keep pushing, stay focused on the work, and keep writing.
After my 91 (un-contracted) drafts of Elvis, I hung up screenplays for a bit. With my trusty HP, I then wrote two more novels in the summer of 2009: Pop Star and Replicas. The band continued to solider on. We moved up to the best local venues you could play in Chicago and on the best nights. No more Thursday shows unless we're opening for…hmm, Spoon? Sure.
*
That's a wrap for today. Come back tomorrow for the last installment.
*If you're interested in writing a guest blog post for my site, please feel free to contact me at nicole@nicoleireland.com or via Twitter @NicoleLIreland. I look forward to hearing from you.
Here is the 2nd part to Justin Scro's guest blog post.
(WARNING: There is some profanity.)
In case you missed it, part 1 can be found here.
***
BANANA! The film stuff was serious. I took shoddy cinema class my high school offered (run brilliantly by the great Karl Barons), that lead to me taken a serious class at Columbia College (I believe Kubrick's heir apparent Bret Ratner studied there) during the summer between my junior and senior year of high school. It was a great class, three days a week for six weeks and I got to make my own film. This was in the summer of 1997, so know that for me film school was film, cutting, tape, razors, and all that shit. We'll get back around that later.
All the while I was learning about film, I played the guitar at least an hour a day as part of the normal back drop of my life. It comes into play after I graduate high school, go to Southern Illinois University for one year long hallucination, drop out, become a full blown alcoholic, and begin taking music more seriously than anything in my creative life.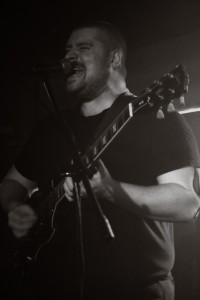 I discover 'jamming' and my life is forever changed. Don't worry, it's covered in Justin Scro and The Jam That Wouldn't End. Anyway, this was the first time I learned that you don't have to mimic or other people's pieces of music or writing or anything else. This took a 13 year old kid that would rewrite The Terminator and Aliens over and over in his own way and turned him into the creative freak show you're stuck to right now! It quickly poured over into my writing and everything else.
I was a keyboard player so I could smoke and drink wine non-stop, but this was the beginning of what would become my honestly acclaimed band Camera.
****cue the person thinking, "edit yourself, mate!" Hey, this is a blog. Does 'blog' sound like a tidy word to you? It sounds like a wordburp to me!
For two years, I would drink all night & day while playing music at the aforementioned 809. I was a drunk, almost as fat as I was as an early teen (I went from 250lb at 14 to 175lb at 16 to 240lb at 20), and I was smoking two packs of Marlboro Lights a day (I started on Newport's, so don't give me any shit about Lights). I was at the gym one day and a stupid poster had all these reasons to run a marathon. The last one was, 'why not?' Screwed. I decided then and there that I would go to Europe to see my friends with nothing for two months and then when I came back I would go clean and sober after my 21st birthday, take a year to train and do it. And I did exactly that.
Going sober wasn't rough at all. I like to indulge, so I indulged in sobriety. A friend introduced me to something that summer. Something I'd never had the chance to get it into, which was weird because I've always been encyclopedic with music and movies…Something that all of you have been into for a long time while I picked my nose…books. FREAKING BOOKS! I didn't read a book from cover to cover for pure pleasure until I was 21 years old! What an ass, I thought. I started reading a book a day during my leisurely summer (I had been a waiter this entire time, from 19-27 with four years in the middle as a 1:1 assistant to exceptional children).
I read High Fidelity by Nick Hornby (first lesson, an okay movie can come from an amazing novel), Brave New World by good ol' Aldo Huxley (science fiction = freedom), and On the Road, a novel that I had read half of as a junior in high school. I shit you not, this is a quote directly from my journal in 1997: "I don't need to read ten pages about how a burrito smells. On the Road says nothing to me yet I just read Howard (who I hate) Stern's bio Private Parts in eight hours straight and loved every second of it."
Why is that so important to say? Because changing your mind about something is the greatest freaking thing in the world. Fuck that. I tell the truth. It's the greatest fucking thing in the world. Sorry for the profanity, but it comes with the profundity. In other words:

After reading the book, I then read the preface (can we fix that shit? Really…) about how Kerouac wrote On the Road on one spool of paper while drinking cough medicine non-stop. Aha! I could be a junky again after all! I had been writing by hand, but my penmanship…well, you can only imagine. I have notes that say things like "Nickoloamm, maybe 9 hjuit? Find out!". We're getting hotter here, I promise. I knew that I needed a typewriter. I would look at my handwriting and every instinct I have new it was the writing of an idiot. Computers, while I never had one, offered way too much editing for me to every get anywhere. Yes, I was the bumpkin asshole who would write instead of download music when I would be near a friend computer when we were hanging out. It amused me. Now, shit. Now it owns me.
I got an IBM Selectric II, my first baby. Three days after reading my third novel, I wrote my first, Waving Not Drowning. My mind was blown. I had always been more of a screenwriter, but that became stupid when I found out you're writing something to ask, 'hey, can I have millions?' With the typewriter, I couldn't edit. I had to push. I would put on headphones listening to Can, Neu!, Buddy Holly, At the Drive-In, and all the new music that I could blast my thoughts away and get rid of that pesky top layer of thought that ruins us all. It worked.
*
Thanks again for stopping. Part 3 will be posted tomorrow.
*If you're interested in writing a guest blog post for my site, please feel free to contact me at nicole@nicoleireland.com or via Twitter @NicoleLIreland. I look forward to hearing from you.
As I mentioned a couple of weeks ago, I'd like to feature guest bloggers on my site on a regular basis. I love the advice fellow authors give, and I love reading about their struggles and all they've overcome to achieve their dreams. I find their stories inspiring.
Recently, I began chatting with Justin Scro, a fellow author and screenwriter, as well as musician, and all around cool guy. The other day I asked him if he'd be interested in writing up a guest blog post for my site. Little did I know, he was going to write a lengthy missive to the tune of 3,900+ words, but that's okay. I found his entire piece fun to read, as I hope all of you will too. Because of its length, I'll be spacing the post out over the next few days, so I hope you'll come back each day and read the next section.
Without further ado, here you go.
FROM MY PARENT'S BASEMENT
The 809 Walden Court
25 miles outside of Chicago
As I near 31, I have my own fully funded online video production company set to launch (November 15th, Slow Graffiti represent!), my Roxy Music meets Nirvana indie band Camera (of ten years) is set to release our debut LP, my four fiction novels are selling like warm cakes on Amazon, my podcast has more listeners than I would imagine (like, 86, but that's a lot to me!), and the amazing Jinan Hamood just found me and asked to represent my screenwriting work…
One year ago, as I neared 30 none of things seemed possible.
This is my dramatic, over italicized trailer for…
Justin Scro
and
The Hewlitt-Packard Laptop of Destiny
Or
The Rant That Drowned Chicago
This is a freakin' Dickensian tale if there's ever been one.  Poor whittle old me, saddled with a pure grip on the human condition and privy nothing more.  I have to use the word 'poor' up there because while I have never been homeless or gone hungry, I am and have been lower middle class my entire life.  I try not to be a class warrior, but it is very important to understand how I had to make mountains out of every molehill I came across in order to create opportunity, not just find it or 'look into it'.
Here we go.
Blah, blah, blah…I started writing around the time you learn how to use pencils, loved to draw but horrible at it, always a big fan of movies and music, and then I turned five.  From five it became stand-up comedy, acting, wanting to work with kids, and baseball.
Then, around the arrival of both Reservoir Dogs and Nirvana's Nevermind my world was blown.  I was between eleven and twelve years old but I wanted to become a film director and a musician immediately.  That's where you get the mixture right here:

I wasn't kidding! During the part that I'm wearing the Red Hot Chili Pepper's BloodSugarSexMajik tee shirt I am guaranteed-dilly 11 years old.  I  didn't put that clip up to try and get hits or to show how shameless and cool I am.  I put that thing up there to show that I was, I am, and I always will be.  That's right.  I'm like pure gangsta philosopher.  The only two books I could buy into as a jaded ass youth were Fear and Loathing in Las Vegas and The Naked Soul of Iceberg Slim (just because Irvine Welsh of Trainspotting fame was quoted on the front and I liked the movie they made out of his book I didn't read…a real culture vulture!).
*It is at this point that I would like to apologize for being a parenthetical nightmare (I blog like I talk.  My novels only glean the best of this style of madness, I assure you!).
** I would also like to point out that we are currently mid-digression from me taking you through my creative life as quickly as possible.  When you read the word: BANANA, we will resume.
Many years later and a full life's education (bumming in Europe, a few true loves, playing the brightest venues in Chicago, living on my own, Billy Zane…), this is the exact same house where I lived only a few days ago.

Why did I take you through all of that before even sticking in the tip of my story?  To let you know you can trust me.  Capice?
(Please stop by tomorrow to read the second part of Justin's post.)
*If you're interested in writing a guest blog post for my site, please feel free to contact me at nicole@nicoleireland.com or via Twitter @NicoleLIreland. I look forward to hearing from you.
Well, color me surprised! My good friend Acadia, one of the head honcho's over at The Superficial Gallery, volunteered tonight to write a post for my site. He's quite the movie aficionado and is always telling me what shows and movies I MUST watch, so please take a moment and read his review of AMC's The Killing. And if you feel inclined, please feel free to leave  a comment on your thoughts on the show. I have not seen it yet, so I'm leaving it up to all of you to decide whether or not I should take the time and watch it.
ENJOY!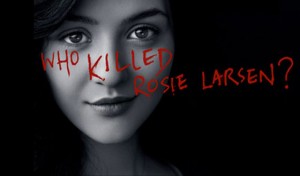 I'm three episodes into AMC's The Killing and I've decided that I'm going to stick with it. That said, I have some issues. Not anything you haven't heard before, probably. "Who Killed Rosie Larsen" (and why), the tag line is pretty much the same as "Who Killed Laura Palmer" from Twin Peaks. It's even set in the same state (Washington). So what's different? Well, without David Lynch, I'm pretty sure that there isn't going to be anyone carrying a log around but there are still a hell of a lot of things that I find too similar to be an accident.
If you want to see what I mean, then do the following.
1: Watch the first hour of The Killing. You can get it at AMC. Now, this might be a spoiler, but the girl in the show dies. And the girl has parents. So at one point, the parents find out their daughter is dead. That scene is one of the most wrenching I've seen in a while.
2: Watch the beginning of Twin Peaks (it's on Netflix Instant). Watch the parents find out that their daughter is dead.
3: Say WTF?!?!?!?!?!?!?
So, now I have to wonder just how similar they will end up. I know that AMC fashions itself as basic cable's HBO, but the spy thing (Rubicon) ended up being so convoluted that people got sick of it, and if people do a little research on Twin Peaks, they would find out that people sort of got sick of wondering about who killed Laura Palmer, too. I have my doubts. Involving politicians and revealing that the victim was up to more than met the eye is a tactic that I sort of saw coming, and I'm no TV genius. So I guess I'm saying they better do something to get me excited really fast. Maybe some Madchen Amick!
I'm not saying it isn't well acted (it is) or that there is no potential (there is) but I'm worried that I'm not going to get something every week to keep me all riled up. And that brings me to what I am comparing the show to: Harper's Island. Remember that show? It was on in the summer and it was a locked room mystery set on an island? And every week someone new got killed until the end when the number of suspects was crazy small? THAT'S how you do a mystery. Don't worry about having to give the characters depth. Just kill them. Nothing enters the plot unless it helps people try to figure it out or it kills someone.
So, as of now I'm giving The Killing three out of five knives. That's based on three episodes. I wish it was called "The Killing of Someone Every Week" but it isn't. So I will continue to watch the somber-faced ginger detective and wallow in the sadness of everyone involved in the case. I will check back with you in a couple weeks to let you know how I think it's progressing. I'd also like to know what you think. Did you see Twin Peaks? Compare them! Or compare it to Wipeout. I don't give a crap. It's not my site. ZING!
Tonight, I would like to introduce you to my  first guest blogger, Patrick Pillars who can be found over at Paddy's Wanderings. He's a fellow TCA member and all around good guy. Once you're finished reading Patrick's post, please take some time to stop by his site and show him the love. I know he'd appreciate it.
Now read and enjoy. Momma says so!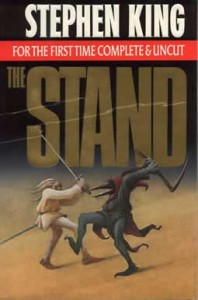 I discovered Stephen King through the movies before the books. I saw The Shining first, then Carrie. I really did not like either one. I have since read The Shining and it was meh. I never did finish Carrie.
Then I saw Christine, and I liked it. And then I read the book, which I really liked. I watched Stand by Me and The Running Man, both of which I liked. But I am here to tell ya, I was not a fan in any way.
Then I met Steph, she who would become better 1/2. She was a huge fan. I mean huge! She pestered me about how I should try other books by Stephen King. I said yeah well.. only if you will really listen to the Beatles — really give em a try. She was not a Beatles fan. I know, how is that possible? Then again, I was not a fan of Stephen King, how could that be possible, as well?
Well, we were fans of each other at this point, so we decided to trade an album for a book. She got the White Album. I got IT.
She did become a fan of the Beatles, although she likes Paul, and I kinda always liked John. I became a fan of Mr. King and we argue which is better, IT or The Stand. Good thing is, we are still fans of each other in spite of our differences. I may not have ever given any of his stuff a real chance if I had not been prodded along, and I would have missed an awful lot.
I am a short story nut, and I love his short stories. They just do it for me. I also like his older work much more so then his latest stuff. I think that The Long Walk may be my favorite novel, and I believe he wrote that in college. I also like The Gunslinger and the beginning of The Dark Tower series, all written early in his career, like The Stand and IT. There is a rawness, if you will, an abandon which seems to be missing from his later work. The Green Mile and Shawshank Redemption are two others I really like.
I fancy myself a writer, or at the very least, an educated wannabe, and what strikes me about King is his style. The stories are easy to slip into, to be a part of the story. That is what grabs readers and takes them on the journey and that, to me, is good writing. Whether confronting the Walking Dude or Pennywise, both improbable situations, the reader is right there with the characters, and it is believable. That is the magic. That is stuff I strive to do myself and what has made me a fan.