This is the third post in the Justin Scro saga. Please read parts 1 and 2 before part 3.
(WARNING: There is some profanity.)
I read a book a day while writing Waving. Something really funny happened that changed me forever in a profound ass way. As I finished Waving, I began planning Farmhouse, of which I had 20 handwritten pages years before. The funny thing was what I started to read. I read Catcher in the Rye. I read Less Than Zero. I read The Perks of Being A Wallflower. I read The Unbearable Lightness of Being. I can site every single one of those books being a direct influence on Waving not Drowning…yet I hadn't read a word of any of them before I wrote my first novel. I just laughed. If I would have known any of those, I wouldn't have ever been able to write. Really messed up, right? I got freaking lucky. The moral being: Never run towards your influences, but running away is just as bad. Just be, dudes! Sorry, I can't help myself. Isn't my indulgence here proof of that?
I wrote Waving and Farmhouse (which everyday get's changed back and forth with Temptation as its title) in August and September of 2001. I also wrote them on a freaking typewriter. I got a computer and started revising the books. It only took me about 7 years and I only edited content, not grammar (because I suck. Look at me here!).
In that meantime, Camera was born and became the sole focus of my life for the next four years. We've been well received since day one and music is the true language of art and yadda yadda yadda…it's been great.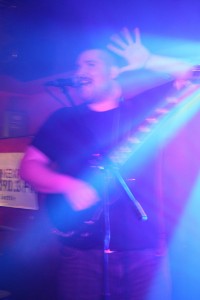 During year four of Camera, I moved home. Queue the shitty cartoon trumpet sound. My neighbor saw me one day and told me he was working for an online magazine called Cashbox. This clicked in the back of my head and gave him the one music review I ever wrote for fun. Air's 10,000hz Legend. His boss was so impressed that he made me head writer for the magazine off of the review…and yes, please keep in mind that anyone of you would have done the same thing. It was easy pickings. Anyway, they couldn't pay me, but they sent me a Hewlett-Packard Pavilion laptop ($795 value at the time) so I could write and be involved.
I'm a con man and a thief, I won't lie. I downloaded any program that I could get my hands on just to see what it was and what it did. One of them was Final Draft Pro (which I now have a registered copy of, thank you!). I suddenly went right back to screenwriting, revamping the first screenplay I'd ever written (with me chum Michael Schlau). My ex-girlfriend and still great friend Rebecca got a job working in admissions at a medical college here in Chicago. Here bosses were the actor Billy Zane's mom and dad. WHAT!
Meanwhile, a rich whacker from Canada wanted to buy Cashbox and me with it. I pitched him that I was also a musician, a novelist, and a screenwriter. I turned that around back on Billy Zane and got him to read my script, Mop Dreams. He loved it and I bounced interest back and forth until I got Billy to agree to shop some of my work around (love you, buddy! Like he's reading this, but he's been a mentor to me when no one earth knew who I was. Listen to your friend…). That lead to me being hired to write screenplays (one each) about Jimi Hendrix, Janis Joplin, and Elvis Presley…the last one being covered in depth here. Sorry this is so damned interactive, but you now have to go here and read this before moving on: My E! True Hollywood Story.
But I had a contract and money, putting me way ahead of anyone I knew doing their thing.  Not gloating, I'm just saying I didn't have a soul to talk to about this kind of stuff.  I cyber hunted down Terry Rossio, part of the writing team behind Shrek, Pirates of the Caribbean, and National Treasure.  Not exactly Tom Stoppard, but his first movie was Little Monsters, which I did a book report on the movie as a kid. He gave me a ton of great advice and was honest with me.  Meaning he told me to quit and move on!  Just kidding, but he said, "I won't tell you how I broke into the business because there is no one way.  You have to do it all, always, all of the time." Right?  That left a good impression on me for sure.  I really wanted A JOB!!!, but advice is always good too.
In the next year, I wrote 16 screenplays on that HP laptop.  My sale of Elvis's Fame and Fortune to the nut-tastic RLF Victor Productions allowed me to keep pushing, stay focused on the work, and keep writing.
After my 91 (un-contracted) drafts of Elvis, I hung up screenplays for a bit. With my trusty HP, I then wrote two more novels in the summer of 2009: Pop Star and Replicas. The band continued to solider on. We moved up to the best local venues you could play in Chicago and on the best nights. No more Thursday shows unless we're opening for…hmm, Spoon? Sure.
*
That's a wrap for today. Come back tomorrow for the last installment.
*If you're interested in writing a guest blog post for my site, please feel free to contact me at nicole@nicoleireland.com or via Twitter @NicoleLIreland. I look forward to hearing from you.
Here is the 2nd part to Justin Scro's guest blog post.
(WARNING: There is some profanity.)
In case you missed it, part 1 can be found here.
***
BANANA! The film stuff was serious. I took shoddy cinema class my high school offered (run brilliantly by the great Karl Barons), that lead to me taken a serious class at Columbia College (I believe Kubrick's heir apparent Bret Ratner studied there) during the summer between my junior and senior year of high school. It was a great class, three days a week for six weeks and I got to make my own film. This was in the summer of 1997, so know that for me film school was film, cutting, tape, razors, and all that shit. We'll get back around that later.
All the while I was learning about film, I played the guitar at least an hour a day as part of the normal back drop of my life. It comes into play after I graduate high school, go to Southern Illinois University for one year long hallucination, drop out, become a full blown alcoholic, and begin taking music more seriously than anything in my creative life.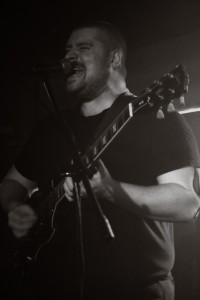 I discover 'jamming' and my life is forever changed. Don't worry, it's covered in Justin Scro and The Jam That Wouldn't End. Anyway, this was the first time I learned that you don't have to mimic or other people's pieces of music or writing or anything else. This took a 13 year old kid that would rewrite The Terminator and Aliens over and over in his own way and turned him into the creative freak show you're stuck to right now! It quickly poured over into my writing and everything else.
I was a keyboard player so I could smoke and drink wine non-stop, but this was the beginning of what would become my honestly acclaimed band Camera.
****cue the person thinking, "edit yourself, mate!" Hey, this is a blog. Does 'blog' sound like a tidy word to you? It sounds like a wordburp to me!
For two years, I would drink all night & day while playing music at the aforementioned 809. I was a drunk, almost as fat as I was as an early teen (I went from 250lb at 14 to 175lb at 16 to 240lb at 20), and I was smoking two packs of Marlboro Lights a day (I started on Newport's, so don't give me any shit about Lights). I was at the gym one day and a stupid poster had all these reasons to run a marathon. The last one was, 'why not?' Screwed. I decided then and there that I would go to Europe to see my friends with nothing for two months and then when I came back I would go clean and sober after my 21st birthday, take a year to train and do it. And I did exactly that.
Going sober wasn't rough at all. I like to indulge, so I indulged in sobriety. A friend introduced me to something that summer. Something I'd never had the chance to get it into, which was weird because I've always been encyclopedic with music and movies…Something that all of you have been into for a long time while I picked my nose…books. FREAKING BOOKS! I didn't read a book from cover to cover for pure pleasure until I was 21 years old! What an ass, I thought. I started reading a book a day during my leisurely summer (I had been a waiter this entire time, from 19-27 with four years in the middle as a 1:1 assistant to exceptional children).
I read High Fidelity by Nick Hornby (first lesson, an okay movie can come from an amazing novel), Brave New World by good ol' Aldo Huxley (science fiction = freedom), and On the Road, a novel that I had read half of as a junior in high school. I shit you not, this is a quote directly from my journal in 1997: "I don't need to read ten pages about how a burrito smells. On the Road says nothing to me yet I just read Howard (who I hate) Stern's bio Private Parts in eight hours straight and loved every second of it."
Why is that so important to say? Because changing your mind about something is the greatest freaking thing in the world. Fuck that. I tell the truth. It's the greatest fucking thing in the world. Sorry for the profanity, but it comes with the profundity. In other words:

After reading the book, I then read the preface (can we fix that shit? Really…) about how Kerouac wrote On the Road on one spool of paper while drinking cough medicine non-stop. Aha! I could be a junky again after all! I had been writing by hand, but my penmanship…well, you can only imagine. I have notes that say things like "Nickoloamm, maybe 9 hjuit? Find out!". We're getting hotter here, I promise. I knew that I needed a typewriter. I would look at my handwriting and every instinct I have new it was the writing of an idiot. Computers, while I never had one, offered way too much editing for me to every get anywhere. Yes, I was the bumpkin asshole who would write instead of download music when I would be near a friend computer when we were hanging out. It amused me. Now, shit. Now it owns me.
I got an IBM Selectric II, my first baby. Three days after reading my third novel, I wrote my first, Waving Not Drowning. My mind was blown. I had always been more of a screenwriter, but that became stupid when I found out you're writing something to ask, 'hey, can I have millions?' With the typewriter, I couldn't edit. I had to push. I would put on headphones listening to Can, Neu!, Buddy Holly, At the Drive-In, and all the new music that I could blast my thoughts away and get rid of that pesky top layer of thought that ruins us all. It worked.
*
Thanks again for stopping. Part 3 will be posted tomorrow.
*If you're interested in writing a guest blog post for my site, please feel free to contact me at nicole@nicoleireland.com or via Twitter @NicoleLIreland. I look forward to hearing from you.