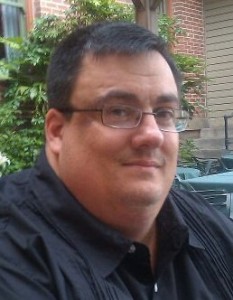 Good day, fine people. I'm back with yet another great interview. Check it out!
Q: Today, I'd like to welcome Kings of the Dead author Tony Faville to The Evolution of Nikki. Tony, could you please take a moment and tell us a little bit about you and your background. Please include five unique things about you.
T: Well, I have a varied background, US Navy from 88-91 when I was discharged for a neck injury, worked in the Federal Government for a few years, spent several years working in the Computer Industry, then I spent several years working as a Chef, and now my day job is spent doing medical records and I write part time.
Five unique things about me? I have a tattoo of Anthony Bourdain as a zombie Chef on the inside of my right forearm, I spent 10 years without a drivers license because of a corrupt township in Ohio called New Rome (read the wiki on it, fascinating read on corruption), I have held a concealed handgun license in my state since 1993 and have taken countless classes on the legalities of the use of lethal force (I made the decision to not be a victim a long time ago), I once made tacos for Sam Kinison, I have travelled all over Italy and would kill to make a return trip.
Q: As you know, I'm a huge fan of Kings of the Dead. For those who aren't familiar with it, can you tell them a little bit about it?
T: Kings of the Dead is a zombie journal that is actually presented in a true journal format. The most popular zombie journal out there is not even really a true journal. Now, I don't know about you, but when I keep a journal, I don't actually transcribe entire conversations. This journal is written by the protagonist, a guy named Cole Helman. Cole and his friends are actually zombie nuts and interested in the survival aspect of the genre, so when an actual zombie outbreak occurs, they are relatively ready for it to happen.
Q: Where did the idea for Kings of the Dead come from?
T: I will just say that there is a lot of my circle of friends in the Kings of the Dead. We all love zombie films, love talking about survival and the apocalypse. The old adage of "write what you know" is so very true.
Q: How did you sign on with Permuted Press?
T: They actually came looking for me after Kings had been available as a self-published piece of work for over a year. They came and asked me if I would be willing to expand the original piece of work, and then they would consider signing the book. After an expansion that added 30% to the story, and not just 30% of ifs, ands or buts, but actually adding to the story, they liked it enough they wanted to sign it.
Q: What comes next? Are you working on something new?
T: I am currently working on a project titled Avery Nolan: Private Dick of the Dead. It is a set piece from 1959, Private Investigators, Dames, Broads, Feds, KGB, Cold War, Zombies, etc. I am going for the whole dime store, pulp fiction paperback style from the writing to the size of the book to the cover art.
Q: What is your writing process like?
T: Hope that my mind is no fried from work, that my friends respect my writing time, that my neck and shoulders will not be in too much pain to allow me to write, and then hope my fingers will do the writing I would like them to do. Honestly, with my current day job, I just write every chance I can as having a schedule to write just isn't happening.
Trust me, there are many, many days that being an unemployed writer hanging out in a coffee shop desperately trying to put together enough words to be able to sell even a short story sounds better than my current job.
Q: What has been your most rewarding experience as an author?
T: I have a young man out on the east coast that is a huge fan. His mom always talked about how he loved my book, and would read a chapter every night before he did his homework. At first I thought maybe he was a little young for it, but then I found out he has Aspberger's Syndrome and has connected with three things: Cooking (I was a Chef), military (I was in the Navy), and zombies (I write about zombies). When his mom thanked me and told me that I had been able to give her and her baby the first genuine smiles she had seen in years, it was more than I could stand. I got everyone together that was involved with Kings and I had them all sign a copy of the book and we sent it to him. The pictures are worth a million copies sold.
Q: What has been the hardest thing to deal with?
T: When I released Kings, it was right on the cusp of self-publishing being accepted. I faced a lot of personal attacks because the book was self-published. Let me tell you, there are some arrogant and ignorant people out there that are still unwilling to accept the fact that the publishing industry is changing, and has changed.
Q: Who are your inspirations? What authors' careers would you like to emulate?
T: Don Pendleton was one of my favorite authors for many years, and I think a lot of my writing is very similar to his. With that being said, if I could hone my writing skills to the likes of someone like Jonathan Maberry who seems to be able to punch out 2 to 3 large novels a year, wow, that would be cool.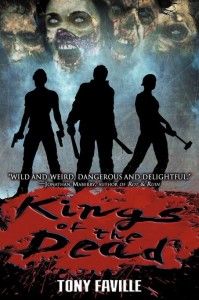 Q: If you could pick one author to collaborate with, who would it be and why?
T: To be honest with you, I am still working on honing my own skills, let alone work with someone else. The whole concept of co-writing a book is still like speaking Mandarin to me. Maybe someday, but I would like to get a little better known than I currently am now.
Q: Where do you see yourself in five years? Ten?
T: Still trudging along with a day job, writing when I can. In ten years? It sure would be nice to be in a part time job and spending more time writing.
Q: What advice do you have for other aspiring authors?
T: Write! And when you think you have written enough, write some more! Never ever underestimate the value of a good editor. You cannot be your own editor, you HAVE to have an uninvested individual look at your work. Oh, and not EVERY book has to be the first part of a trilogy. Try writing one book and see if it sells before setting out your grand "trilogy" scheme.
The Fun Stuff:
Q: If you were to create a soundtrack for one of your novels/stories, what songs would be on it?
T: Highway to Hell by AC/DC, Sympathy for the Devil covered by Guns and Roses, In My Life covered by Johnny Cash, The Man Comes Around by Johnny Cash, Rooster by Alice in Chains, For What It's Worth by Buffalo Springfield, Born in the USA by Bruce Springsteen
Q: Who would you cast as the lead character in your story?
T: Jeffrey Dean Morgan, and no, I have not put any thought at all into this. 😉
Q: Where can people find out more information about you?
T: Google always works, and if that is not enough, http://tonyfaville.com should suffice.
Q: What books are you currently reading?
T: Oh no! Right now I am not really reading anything as I am scared to death that part of what I am reading will wind up in what I am writing. I want absolutely nothing to influence my writing, so I find the best way to do that is to ignore all other written words.
Q: Where can readers purchase your book?
T: It is available in both paperback and ebook at amazon.com, and barnesandnoble.com. Ebook copies can be purchased at the Apple iBook store and Smashwords.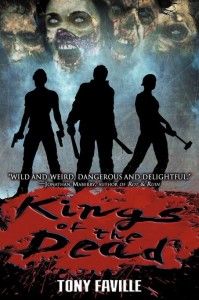 Before I delve into my review of Tony Faville's Kings of the Dead, I must admit I haven't read many zombie stories, so my knowledge of them is fairly limited, but I am an avid reader, so I still know what makes a great read, at least to me.
I like a story that draws me in and holds my attention to the very end. I like characters that I can relate to and who resonate with me. I also love stories that make me feel something — that touch my heart. And if they make me ask questions…even better.
Kings of the Dead accomplished all of that and more.
I started reading the book Saturday night around 7pm, and I read through until 11:30 or so before turning in for the night. By that time I was already 53% done with the book. I finished reading it yesterday afternoon.
Once I started reading it, I couldn't stop. The story sucked me in from the very first page, and it didn't let me go until the end.
What I Loved About Kings of the Dead:
I loved the journal format.
I loved all the details on weaponry used to deal with the zombies and other problems the Kings faced.
I loved the way all the characters interacted with each other.
I also loved reading about all the stockpiling of food and equipment.
For those who don't know, I'm a huge advocate of stockpiling and preparing for the worst. I also am a huge advocate of learning how to be self-sufficient and live off the land, so Kings of the Dead definitely has a leg up on the competition, at least in my book. (I'd like to think that if faced with the same scenario, I would be a part of a group like the Kings.)
Now, I must ask, who actually cries when reading a zombie novel? Well, this chick, that's who. Go ahead and laugh if you want, but it's true. There were parts of the book that made me cry. I don't want to give away too much, so I'll leave it at that.
I highly recommend Kings of the Dead to all zombie fans. It's a quick, fast-paced, entertaining story that will leave you wishing there was more to read.
Total stars: FIVE!
I, for one, cannot wait to read Tony's second book Slow Burn. If Kings of the Dead is any indication of what this author is capable of, I think it's going to be fantastic.
When the H1N1 "Swine Flu" virus mutates it begins to not only kill those who have received the vaccination, but also bring on the unthinkable: the dead reanimate. Cole Helman and his friends are not only survival experts, they've spent hours discussing and preparing for just this event and quickly head to the hills before the cities become clogged with looting and riots. But the group knows all too well that the living dead are just the beginning of their problems, and they'll eventually have to deal with the worst qualities of the living-desperation, greed, selfishness, and cruelty-in this new post-apocalyptic world. And a chance encounter at a secret military installation may reveal a conspiracy bigger than any of them had imagined… Straight out of the apocalypse comes the chronicle of one small group and their experiences with life and death, survival and loss. In a world of the living dead, is one man capable of maintaining not only his community, but his own sanity?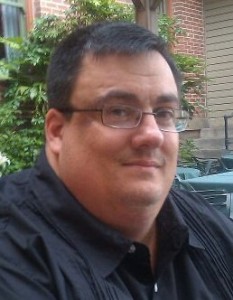 Today I'd like to welcome friend and fellow author Tony Faville to The Evolution of Nikki. Tony is the author of the post-zombie apocalypse novel Kings of the Dead, currently available on Amazon. If you'd like to get in touch with Tony, you can find him on Twitter and Facebook or you can visit his official website.
Now sit back and enjoy what Tony had to say about music and how it can, at times, inspire our writing. (It definitely inspires mine as you'll see in a future post.)
*
Music (noun) – 1. The art or science of combining vocal or instrumental sounds (or both) to produce beauty of form, harmony, and expression of emotion.
For some people, music is more than just a noun, it is a way of life. You can see them all over the place, dancing, singing or just moving like they do not have a care in the world. All they feel at that point in time, is the music.
For some people, myself included, the right song can be like a time machine, instantly transporting you back through the very fibers of space and time to an event in life that helped form them into who they are today. For example:
Journey, Frontiers, Faithfully, it's 1983 and I am in Colorado Springs, Colorado sitting across the pool from a young lady that I thought I was in love with. A year later I would do something to her that I will spend the rest of my life wishing I could find her just so I could apologize to her for what I did.
We are the World, 1985 and I am having one of the best summers of my life in San Diego, California
Kenny Loggins, Danger Zone, it is 1986, I am 16 years old drving my 1967 VW 21 Window Deluxe Microbus up to Seattle for the day while being seriously hotboxed by my buddies.
Guns and Roses, Appetite for Destruction, Sweet Child of Mine….Axl is sliding his feet left and right, Slash may or may not be awake, Izzy is doing his best Ronnie Woods impersonation, Duff was wailing on the bass, and Steven was pounding the hell out of the drums. It is 1988 and I am not quite 19 years old, in the US Navy driving a piece of crap 1970 Datsun 240z at well over 100 miles per hour through the southern California high desert while smoking filterless Pall Mall cigarettes like they are going out of style.
Alanis Morissette, You Ought To Know, it's 1996, I have asked for a divorce from a loveless marriage and my brain is inundated with this song every minute of every day u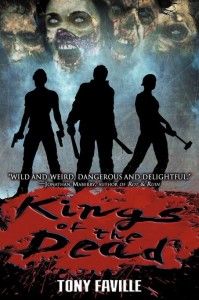 ntil she finally moves out.
In My Life, The Beatles, it is 1998 and I am getting married to my soulmate this time, and the song is sung by a friend of ours. Since originally sung by The Beatles, it has been covered by multiple other singers, but my absolute favorite version is Johnny Cash with a close second by Ozzy Osbourne.
Eros Ramazotti, 9, Un Attimo di Pace, in 2003 my wife and I took a long two week dream vacation to Italy and truly had the trip of a lifetime. Upon our arrival in Roma, there was a transportation strike and we had to walk from the train station to our hotel on the other side of Largo di Torre Argentina. As we walked we found armed Carbineri blocking the road ahead as there were protests taking place ahead at the base of the Vittorio Emanuelle National Monument. By the time we got there, the crowd had grown to easily a hundred thousand angry Romans, and we had to pass through the crowd. A pair of American tourists, at a time when American tourists were hated more than ever. This song was playing everywhere along our route to the hotel, which we arrived at safely.
See what I mean? All I have to do is hear any of those songs and I am instantly transported through space and time and I either get to, or have to live through those moments in time once more.
As writers, many of us have used past experiences for our writing. Now, I am not saying we necessarily write down specific experiences that have happened in our lives, At least not always, but sometimes the feelings that remain from the things we have experienced do in fact come through in our writing. When this happens, it can certainly affect the tone of what we put down on paper.
These days when I sit down and start writing, I find myself listening to a lot of Mister Johnny Cash as I find it helps me be a little more retrospective than if I were to be listening to Duran Duran, or Metallica, or the Rolling Stones. As I sit their and listen to The Man Comes Around, or We'll Meet Again, I begin to feel what he may have felt while singing the songs. While he sings, I start to remember, and I start to feel, and I start to write. Sometimes what I wrote works, and sometimes it does not. That is just the way things go sometimes.
When the writing works though, it really works.
*
If you'd like to guest blog on my site, please contact me via email at nicole@nicoleireland.com for more information. I look forward to hearing from you.