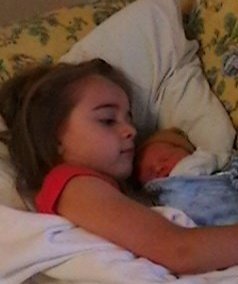 In about a week and a half, on September 2nd, my youngest will turn 3 years old. It seems like it was just yesterday that I brought Blake home from the hospital, scared and clueless about how to take care of a baby boy.
I can still remember sitting down to dinner that first night and holding him in my arms and thinking how happy I was to have him and his older sister in my life. At that moment, my life seemed perfect.
The 2nd is also a big day for someone else…Mikala.  It's her first day of third grade. But how can that possibly be?
I still remember her first day of school, and how excited and nervous we all were to send her on her way. Prior to her first day, we took her to her school, where she met her future classmates and teacher. Us parents were informed of what to expect the following day. But nothing the teachers or principal said could reassure me that my baby would be okay without me.
When she stepped on that bus for the first time to head off to school, I swear a piece of my heart broke free. My baby girl, my beautiful baby girl, was finally venturing out into the world that I had tried to protect her from from the moment she was born. I had to trust her teacher and others in her school to take care of her and protect as though she were their daughter. I had to relinquish control, and that was extremely hard for me.
It's no secret to those that know me that things haven't been easy for me for awhile now. Life has been far from perfect. But through it all, my kids have been that one constant. They're always there with smiles, hugs and laughs. Whenever I feel like crying, they're there to brighten my day and remind that things could be a heck of a lot worse.
So as Blake turns 3, and Mikala starts third grade, I hope they both realize how much I love them and how proud of them I am. I could not ask for two more beautiful children, and I'm thankful that I was given the change to be their mother.
Mikala and Blake, I love you two more than you could ever know.