Working for Home – Is it Right For You?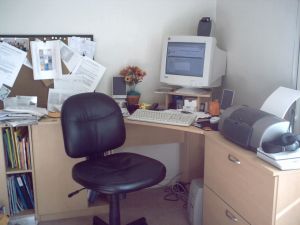 From here on out, I plan on posting one blog post per week on working from home. I'm not making promises, but that's my goal, so if you have a question or an idea for a blog post, please feel free to contact me at nicole@nicoleireland.com
*
So the question for today is whether or not working from home is the right choice for you.
I'm not going to lie to you and tell you that working from home is easy because it's not. There are many factors and questions to take into consideration before you start your work-at-home journey. You don't want to go into it unprepared. Knowledge is power.
First, are you in need of instant money? The truth is, when you start looking for a job, whether it be as an employee or as an independent contractor, it can take a lot of time and submission of resumes before you hear anything back. I know people that have waited a good six months before landing their first work-at-home job. It's those long wait times that can discourage a person, but you have to be diligent and keep at it and eventually it will pay off.
If you're looking for instant money,  you're going to have a hard time. There are some money-making opportunities online, but you won't see money from them instantly. They still require some time, so if you do need a steady income right away, you may want to rethink working from home. Or, at the very last, try finding parttime work outside of the house to help compensate.
Second, are you willing to research jobs that are right for you? There are two great work-at-home sites/forums that I have frequented over the years: Work Place Like Home and WAHM.
Of those two, my personal favorite is WPLH because of the wealth of information that can be found there if you're willing to read through it all and take notes, which I strongly recommend.
There is nothing more irritating to those who have done their research and found jobs on their own than to have a newbie come in and say "I don't have time to look at all the information, so just tell me what jobs are hiring." Big no no!
Let me tell you a little secret. We are ALL busy. Many of us are moms and dads that stay home with our children, with some of us even homeschooling. There are some of us who work outside jobs in addition to our work-at-home ones. And some of us have other responsibilities that keep us busy, so don't come in and say you are too busy. We are too, and we found time, as should you.
On the otherhand, if you do your research and read through the forums, and you still have questions, you won't find a better group of people willing to help you because we understand what you're going through. We've been there, and we're proof that hardwork and dedication does pay off in the long run.
Third, do you have self-discipline? If not, you're going to have a very hard time making a work-at-home job work for you. In most cases, save for a few exceptions, you'll be an independent contractor, which means you're your own boss. You are responsibility for keeping yourself motivated and focused. No one else is.
Fourth, are you willing to get up early and work later hours? While working from home affords you more flexibility in terms of scheduling, many of us start work early or end up working very late because we have families to take care of.  But since we can work our hours around our schedules, we're willing to make those sacrifices when needed.
Now that you've had a chance to think about the above, do you still think working from home is right for you? If so, then go get 'em! You can do this. Have faith in yourself and believe in your abilities. Good luck!
Remember, if you have any questions, I'm more than happy to try and answer them, so please drop me an email or leave a comment below.
21 Responses to Working for Home – Is it Right For You?