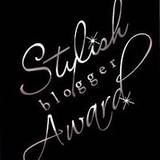 One of my fellow WPLHers, Crystal, from The Self-Employed Writer, so graciously awarded me and 14 others with the Stylish Blog Award yesterday, which was really, really sweet. It's nice to know she thinks my blog is worthy enough to be included alongside such other great reads.
I'm continuing the trend here at my blog by including a list of my 15 favorite blogs that YOU MUST check out. Some of these people are good friends of mine that I've known for quite some time. Others are people from WPLH who I consider to be my co-workers and people I can vent to when I'm frustrated about the direction my writing or goals are taking, among other things.
So here are the rules to getting this award.
1- Thank and Link back to the person who awarded you the award.
2- Share 7 things about yourself.
3- Award 15 other Bloggers.
4- Contact these Bloggers and tell them about the award.
7 Things About Me
I love to cook but hate the cleanup. Maid, please!
My favorite place to visit is the White Mountains in New Hampshire. The land in that area is beautiful. The air is crisp. And when I'm there, I feel like I'm home.
I'm currently working on my first ebook. I can't wait to see the end result.
I'm secretly, or not so secretly, crushing on Josh Gates of Destination Truth. (But that's okay because he's probably seen my blog posts over at The Superficial Gallery that say as much.)
I'm the oldest grandchild on both sides of my family.
I'm the Reality TV Curator for MySpace.
I'm a book junkie. And since I got my Pandigital Novel, I've become an ebook junkie.
Now onto my 15 blog choices for the Stylish Blog Award
Until tomorrow my friends, have a good one and happy reading!