A New Puppy For Our Family: Welcome Miss Katie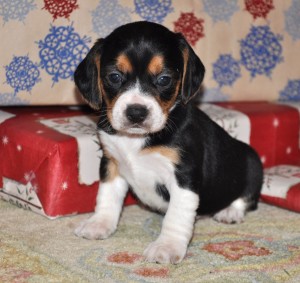 My post is very late today, but there's a good reason for that. I spent this morning working and a portion of this afternoon running errands and acquainting myself with the newest addition to our family…Katie, the mini beagle. (She lives with my parents, as do Chloe and Sadie, but we claim we have joint custody.)
Katie was supposed to arrive yesterday via Delta Airlines, but when my parents and daughter went to pick her up at Portland International Airport, they found out that her flight had been cancelled due to a mechanical failure with her plane, which meant our precious little pup was in stranded in Detroit. Needless to say, we all were on pins and needles all night, worrying about the welfare of Katie. Luckily, the airline has policies in place in the event a pet is stranded like that. Phew!
At about 9:00 this morning, my parents and Mikala set out for the airport once more, hoping and praying she made it onto her flight. All of our fears about her missing her flight were alleviated at about 12:15 or so when Katie's puppy crate was placed into my parents anxiously awaiting hands.
As a "nice to meet you" present, Katie promptly pooped in her crate, which meant her smell just delightful. So you can guess what my job was this evening after running errands with my mom; I got the pleasure of bathing the pooch. Let me tell you, that little cutie grunted and groaned her way through the whole thing. It was just too darn cute! She then curled up on Blake's lap and fell asleep. Her bath wore her out.
Well, that's it for today's post. Now I'm off to finish work and watch Despicable Me with my kiddos.
8 Responses to A New Puppy For Our Family: Welcome Miss Katie