Portland, Maine Hometown Pride Update at The Superficial Gallery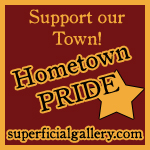 As some of my readers know, I ocassionally guest blog over at The Superficial Gallery, usually about my love for Destination Truth and Josh Gates.
Recently, Acadia and Vange, the sites kickass owners, started a new Hometown Pride Contest. Since I'm from Maine, my city of choice was Portland. I can't use Lebanon because, a: it's not a city, and b: it's pretty much a podunk town.
Anyway, if you're a fan of Portland, please hop on over to The Superficial Gallery to check out the newest update to the Portland page. And feel free to leave a comment on why you think Portland, Maine is great.
One Response to Portland, Maine Hometown Pride Update at The Superficial Gallery