It's been five days since my last writing update, and there's definitely been quite a bit of progress.
You may recall that I mentioned in my last post that my editor thought I should try and get my word count for Second Chances up to 11,000, which is about 4,500 more than what I started out with. I actually broke 11,000 just minutes ago. Yippee!
I still have several pages of edits to go through, as well as one more readthrough and edit before sending it back to my editor for another editing session on her end. So, I'm hoping I'll hit about 12,000 words by the end.
Other Changes
One of the ideas I've been playing with for about a week is changing the name of my story. I wasn't sure that was the right move to make, at first, but I finally decided that it was necessary to change the title a tiny bit. I'm changing it from Second Chances to A Second Chance. I think the name change is a more accurate reflection of what the story is about.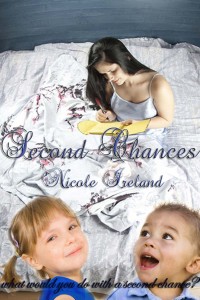 I'm also having my editor create me a new piece of cover art. Some of you may remember the original cover art. If not, it's right here ————->
The reason I'm having Jenny design me a new one is because of the additional scenes I've added to the story. There's one scene in particular that I feel would make a great cover. I have a very detailed image in my head of what I want it to look like, and I'd really like to see Jenny make that happen.
I'm a huge, HUGE fan of Jenny's coverart for her novel The Goblin Market. There's something about it that speaks to me. And I know Jenny will create a new one for me that is just as great as that one. I have faith in her abilities.
One other area that I'm going to be working very hard on is promoting. I've seen what Jenny has done with guest bloggers on her site, as well guest blogging on other fellow indie author's sites. I admire all the hardwork she's put in, and I'd like follow in her footsteps. I'm actually hoping to have some fellow authors stop by here, including Jenny and maybe even her sidekick James. Who knows!
Other News
There are a few other pieces of news that I'd like to share before closing.
As I mentioned in the second half of my interview with Amanda Rosenblatt, I had the chance to talk to Josh Gates on Thursday night. If you'd like to listen to the show, you can find it here.
On Sunday, I made an appearance on a special voicemail edition of Podcaturday. It was a twofer this week. It was my first time stopping by, so I didn't contribute much. However, I did laugh a lot, which is not hard since Jenny, Acadia and James are HILARIOUS! (If you'd like to listen in on Sunday's edition, please visit one of their sites.)
I also had the chance to discuss my conversation with Josh, which is great. I'll jump at any chance to talk about one of my favorite TV personalities.
And last but not, a new Destination Truth post will be up at The Superficial Gallery within the next day or so, so make sure to stop by and check it out.