Good morning, everyone!
It's a beautiful day here in southern Maine. The sun is shining. The birds are chirping. And I'm outside writing. I couldn't ask for a more perfect day. (Well, the day will officially be perfect this evening when I'm devouring grilled ribs and chicken wings. YUM!)
Anyway, I wanted to share something special with all of you.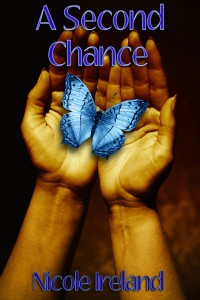 Over the past couple of days, I've been in an internal debate with myself over whether or not to share the cover for A Second Chance with all of you before the story is published. Half of me wanted to surprise everyone with it; the other half was so pleased and excited that it didn't want to wait. I was able to hold off the little kid in me for a few days, but unfortunately, or fortunately, depending on how you look at it, my inner child has won out. So here it, the cover for A Second Chance.
The original cover featured the name Second Chances, but with the name change and new scene additions, the story evolved into something new and beautiful. And as a result, I needed to have a new cover designed. I'm very pleased with how it came out since I feel it truly captures a very special moment in A Second Chance.
Before I close, I must give a special thanks to Jenny for creating the cover art for me.
Jenny, thank you SO much for taking the time to do this. You've been an amazing friend throughout this journey, and I'm truly grateful for all the help you've provided. I wouldn't have reached the point I'm at now without your help and support, so thank you.
Finally, if all goes well this week, I will be posting an excerpt from A Second Chance, so please keep an eye out for it.
This entry was posted on Sunday, April 10th, 2011 at 11:31 and is filed under
Writing
. You can follow any responses to this entry through the
RSS 2.0
feed. You can
leave a response
, or
trackback
from your own site.