A Review of The Prodigal Hour by Will Entrekin
A couple of months ago I read Meets Girl by Will Entrekin and became an instant fan of his work. I jokingly said in my review that if he needed someone to review The Prodigal Hour, his forthcoming novel, to holler. Well, he took me seriously. (YAY!)
A few weeks ago Will sent me an email with his new baby attached. I was very eager to begin reading it. I had grandiose plans to read it all in one sitting but life has a way of catching up with you, as we all know. Things have been extremely hectic for me with work, kids and the family, so there were times that I could only read for 10-15 minutes before duty called. But during each of those sessions, I was pulled into the world that Will created — a world where time travel exists.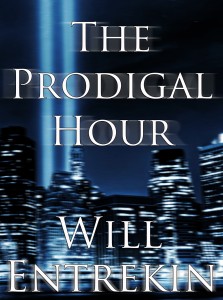 Last night I sat down and finished the last third of The Prodigal Hour. After I was done I sat back and stared off into space for a few minutes with my mouth hanging open a little bit as I absorbed what I'd just read. (I'm sure I was quite the sight.) In my mind I kept saying "WOW" because it was that great of a story. By the end, I had completely fallen in love with the characters and was rooting for all of them to have a happy ending.
Yes, The Prodigal Hour is COMPLETELY different than Meets Girl, but that difference is not a bad thing. I can honestly say this is Will's best work. One cannot read it and not see the amount of time and effort that was put into it. It's obvious how important this story was to him. I, for one, know that I could never write something like this. That's not me searching for compliments. Anyone that says I can is just kissing my butt. I know what I'm capable of, and I cannot hold a candle to the talent that Will Entrekin possesses.
So, in conclusion, I gave Will a solid five stars. (And would give him more if I could.)
If you would like to The Prodigal Hour, it's now available at Amazon for $2.99. So head on over and purchase a copy. You won't be disappointed. It's worth every penny. (I think Will could charge even more, and it would still be worth it.)
*
Amazon Description:
"Chance Sowin hoped only for a new beginning."
On October 31st, 2001, six weeks after escaping the World Trade Center attacks, Chance Sowin moves back home, hoping for familiarity and security. Instead, he interrupts a burglary during which his father, Dennis, is shot and killed.
What begins as a homicide investigation escalates when the Joint Terrorism Task Force arrives. Where he hoped for solutions, Chance finds only more questions: who killed his father, and why? Was his father–a physicist at Princeton's Institute for Advanced Study–working on dangerous research? Why did Dennis build a secret laboratory in his basement?
Chance might not know the answers, but Cassie Lackesis, Dennis' research assistant, thinks she does. She isn't certain Dennis discovered a way to time travel, but she knows who told her: Chance.
Together with Cassie, Chance will go on a journey across time and space that will challenge his every notion of ideas like "right" and "good." One young man's desire to make a difference will become, instead, a race against time as he tries to prevent forces he could never understand from not just destroying the universe but rendering it nonexistent.
When every action has a reaction, every force its counter, Chance will find that the truest measure of his character is not what he wants but what he will do when the prodigal hour returns.