Newsflash: OUR ECONOMY SUCKS! But you probably already knew that. Last night, I found out firsthand how much it truly blows.
This month started out fantastic but it went to hell real quick like. And while I could easily bitch about the unexpected turn of events that last night delivered to me, I'm not going to. Sure, it sucked to lose a job that I really liked, but I at least still have something to fall back on. It's not a lot, but it's more than some people have, so I'm counting my blessings. Unfortunately, my buddy James Melzer, along with others, was not so lucky.
When I was told the news last night I was upset, but my thoughts instantly turned to James and his fiance Jenny, who is one of my best friends. See, these two want to get married, but it's not as simple for them as it is for most of us. Jenny is from the U.S. while James is from Canada, which means he has to jump through hoops in order to marry the woman he loves.
Due to last night's unexpected turn of events, it looks like their dream of marrying may have to be pushed back.  I love these two to pieces. They've made me laugh when I've felt like crying. They've accepted me the way I am and have not asked me to change, so I can't sit idly by and allow them to go through this without some help from me.  I know money is tight for many of us, so any way that you can help would be appreciated.
If you are interested, there are several ways that you can help them out. Please check both of their sites, jamesmelzer.net and jennybeans.net for more info.
Thanks!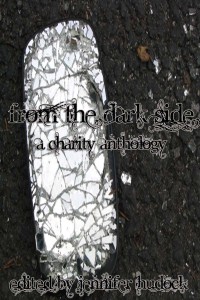 Today is a very exciting week for those of us involved in the From the Dark Side Anthology. We're all busily promoting it in many ways.
One way that I've chosen to do it is by interviewing my good friend Patrick Pillars, who, you may remember, guest blogged on this very site in May.
So, without further ado, here is my interview with Patrick Pillars.
Q: First, can you tell us a little about who Patrick Pillars is?
A: I was born in 1965 and being a part of that generation has shaded my writing as much as my life. I was a typical Michigan kid until I went to the University of Tennessee where I got an education in more then just English Lit.
I have been lucky to be married for 21 1/2 yrs and have 3 sons, the youngest being 4. I have dabbled in art, a rock band, and always writing. I have loved poetry since I was a wee lad and until the past couple years, few knew I was even writing poetry. Like most poets, I am also a frustrated short story writer and someday novelist. That is the condensed version.
Q: Can you tell the readers a little bit about Veil? What inspired it
A: Veil is my nemesis. Some poems just come right out, and I don't tinker at all with them. Some are more difficult and require some writing and tweaking. Veil was tough right out of the gate. I had a vision standing on a balcony in Traverse City, MI, looking out across the bay. With that came a scene of the vanishing woman type thing and the way I went. This poem has been floating around for awhile and I never really did much with it until the Anthology came along. Then the idea of mirrors and alternate, dream-like reality took over and I worked it for over a month. I think, much like the poem, that I never quite touch what I am looking for, and maybe that was the point. Poetry can be weird that way.
Q: How did you come to be involved in the anthology?
A: One day I was talking with Jennifer Hudock and I asked her if she ever thought about doing an anthology. She said yes, a little, what did I have in mind. So we chatted about some ideas and how to get folks who write in all kinds of genres and styles together to do an anthology, and we would do it for charity. I just kinda gave her an idea and she ran with it and did all the really hard work.
Q: What do you think is special about this anthology? What sets it apart from others?
A: I think there is a big difference between this type of combined effort and other anthology works. Most anthologies are genre specific with a theme and standard submission guidelines. For this book, the people involved are poets, podcasters, and short fiction writers from a wide variety of genres. This makes this collection unique. The response has been very good from folks willing to donate their creative effort to charity, this also makes this work special. I believe that there is something in there for everyone and for the cause of literacy makes this project fun and fulfilling.
Q: What's next for you?
A: I will have a story appearing in another Anthology this summer. I also have been submitting poetry and short stories here and there and hope to have a few more published this year. Still working on that novel too.
Q: Where can fans go to find out more about you?
A:
You can get a copy via Amazon or Smashwords this Friday, July 9th. You can catch updates here, from Nikki, or
my blog
, or from Jennifer Hudock's blog, as well. Cost is $4.99 and benefits literacy through the fine folks at
NaNoWriMo
and
The Office of Letters and Light Program
.
A big thanks to Pat Pillars for taking the time to do this interview. Now here's an exciting video for you to watch courtesy of
Jacqueline Roth
. Enjoy!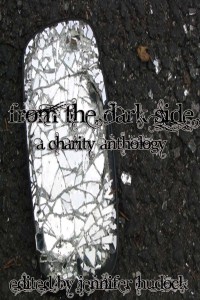 As many of you know by now, Friday is the release date of the From the Dark Side Anthology. And I have to say, I'm VERY excited. This is the first time I've had a short story published, so it's a big deal for me. How lucky am I to be included in a group of such amazingly talented people? (I've actually been battling a "I'm not worthy" feeling.)
So, if you were wondering what cool peeps are included in the anthology, here you go:
If you would like more information on the From the Dark Side Anthology, you can visit Jennifer Hudock's site or you can read the press release below:
From the Dark Side: A Charity Anthology
In March 2010, a group of creative types got together in search of ways to showcase their work. There were talks of collaboration which evolved into the From the Dark Side Anthology. Because there were so many people involved in the project, an equal distribution of earnings seemed silly, and so those who gave birth to the idea decided to ask contributors to donate their work.
A worthwhile cause creative-types could stand behind was not hard to find. We turned our attention to the Letters and Light Organization, a non-profit charity that promotes youth creativity.
Since most creative people have a special memory of someone who encouraged and supported them, nurtured their gift and inspired them to pursue their dreams, it seemed like an obvious choice to donate all the proceeds earned from this charity endeavor to The Letters and Light Organization.
Details: Will go on sale electronically July 9, 2010 on Amazon and Smashwords for $4.99 per copy.
Readers do NOT need an eReader in order to download and read the anthology. Amazon offers a download of their Kindle software for PCs and Macs, as well as the iPhone and iTouch. Smashwords has a wide variety of downloadable mediums, from direct browser html and PDF to eReader and Kindle, just to name a few.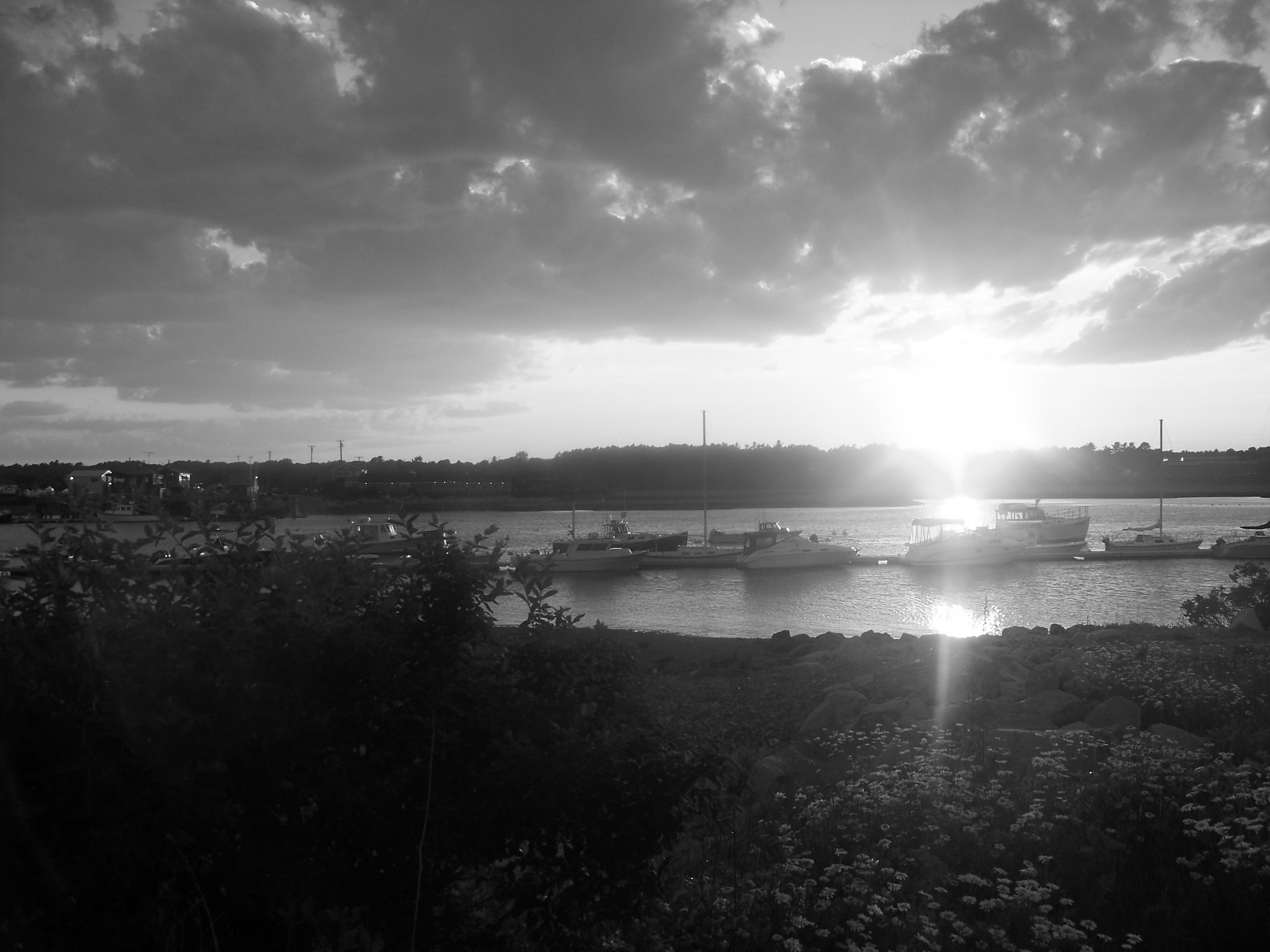 Today, when I woke up, I was greeted by quite a few birthday wishes. It was a nice way to wake up and begin the day. As I've thanked those who have wished me a great birthday, I've had time to reflect back on the past year.
As those closest to me know, it hasn't been easy year. In fact, suffice it to say, it's been one of the toughest. I spent the first six months of my 27th year with very limited use of my left hand. It was a very frustrating time for me.
Last Christmas, though, I was the lucky recipient of a miracle, of sorts, by way of my parents Wii. (Don't ask.)
My injury was just one problem I dealt with this year. While I won't post info on my other trials, I can say that there have been days that I've wanted to stay in bed, pull the covers over my head and cry. It hasn't gotten easier to handle, though, in recent months.
It was back in March, or thereabouts, that I started writing again following my hiatus due to my hand injury. It was slow going, at first, but what really got me motivated was The Creative Alliance, created by author James Melzer.
TCA has given me so much over the past few months. I'm surrounded by a group of insanely talented people who accept me just the way I am. They provide me with support and laughs when I need it.
Because of their support and love, I want to take the time today to thank those who made the second half of this year better than the first.
Jenny, you have been such an amazing friend to me over the past couple of years. You've believed in me and helped me to grow. You've been a shoulder when I needed one. So thank you for that and thank you for allowing me to be a part of such an amazing anthology.
James, thank you for starting TCA. Without it, I wouldn't have accomplished what I have the past few months.
Acadia, I know it cramps your style and makes you look less tough, but thank you for believing in me and for nagging me about this site. I've made myself accessible to a lot more people because of you. I owe you one.
Pat, thanks for being a great friend and allowing me to guest blog on your site. It was a blast, and we must do it again.
Edit: yesterday, I forgot to include the most important person at The Superificial Gallery — Vange. (We just allow Acadia to think he is.)
So Vange, thank you for reminding me every week to floss my teeth. 🙂 I'd be lost without you.
And as a whole, I must thank Jenny, Leslie, Jackie, Mary Lou and Annie for your time, friendship and support of Second Chances. I truly appreciate it.
Before I forget, as cheesy as it sounds, thank you, Lee, for your Slumberland album. Without it, I would never have figured out my lead character's name.
As always, I must also thank my mom, dad and brother for their support. They've seen me at my worst and yet, they still love me. I love you guys!
OH! One more thing, to commemorate today, here's a look at the cover for Second Chances, which, as most of you know, is part of the From the Dark Side Anthology. Enjoy!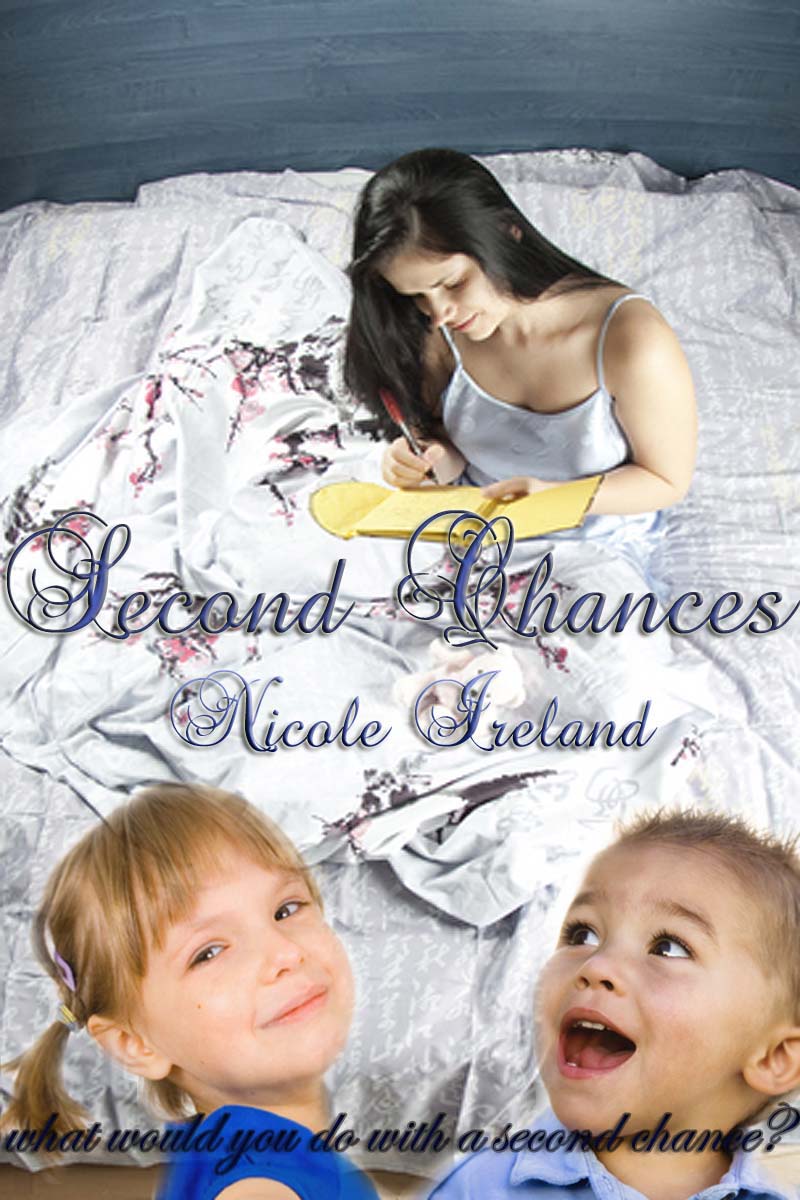 Thanks to Jennifer Hudock for creating this beautiful cover.
So, tonight I received a message on FB requesting my help. As some of you know by now, I'm the Lee DeWyze Examiner, which is great. I've met some truly nice people since starting this new topic.
One of the people that I've had the opportunity to get to know is Brian Friedopfer, a very good friend of Lee DeWyze. When we first started talking, I told him if he ever needed help with anything to just holler. Tonight he took me up on that offer.
Brian is trying to become the first MTV TJ, but in order to do that, he needs to be nominated, so right now we're encouraging people to vote for him.
I even wrote up an article that includes some questions I posed to Brian so those voting for him would have the chance to get to know him more. (An excerpt from the article can be found below.)
I would like to take a minute, though, and thank Brian for asking to me help out.  I truly enjoy helping others, and I want to make a difference and pay forward all the good deeds that have been done for me.
Over the past few months, I've received a tremendous amount of support and guidance from my fellow TCA members, like Jenny and Acadia. There's no words to describe how grateful I am for all the help they've done for me, so this was another way for me to thank them.
And Brian, seriously, it was fun working with you on this. I truly hope this works out and you get that fresh start that you need and want. You know I'm rooting for you.
Article excerpt:
Q: Why do you want to win?
A: I feel like I've already sort of stepped into a similar role, and this would give me a better foundation. It would definitely be a better opportunity to bring more to the fans, which is really what's important. I think I can bring a different perspective to the entertainment world. I'd watch me!
Q: What would winning mean to you?
A: It would mean a huge step forward for me!! Things haven't been so easy for me lately. I'm currently unemployed and have been looking for work for 4 months now, and it's really hard out there. The economy is in really bad shape. This could be a fresh start for me — a chance to show the world who I am!! I'm excited just thinking about it!
You can read the rest of the article here.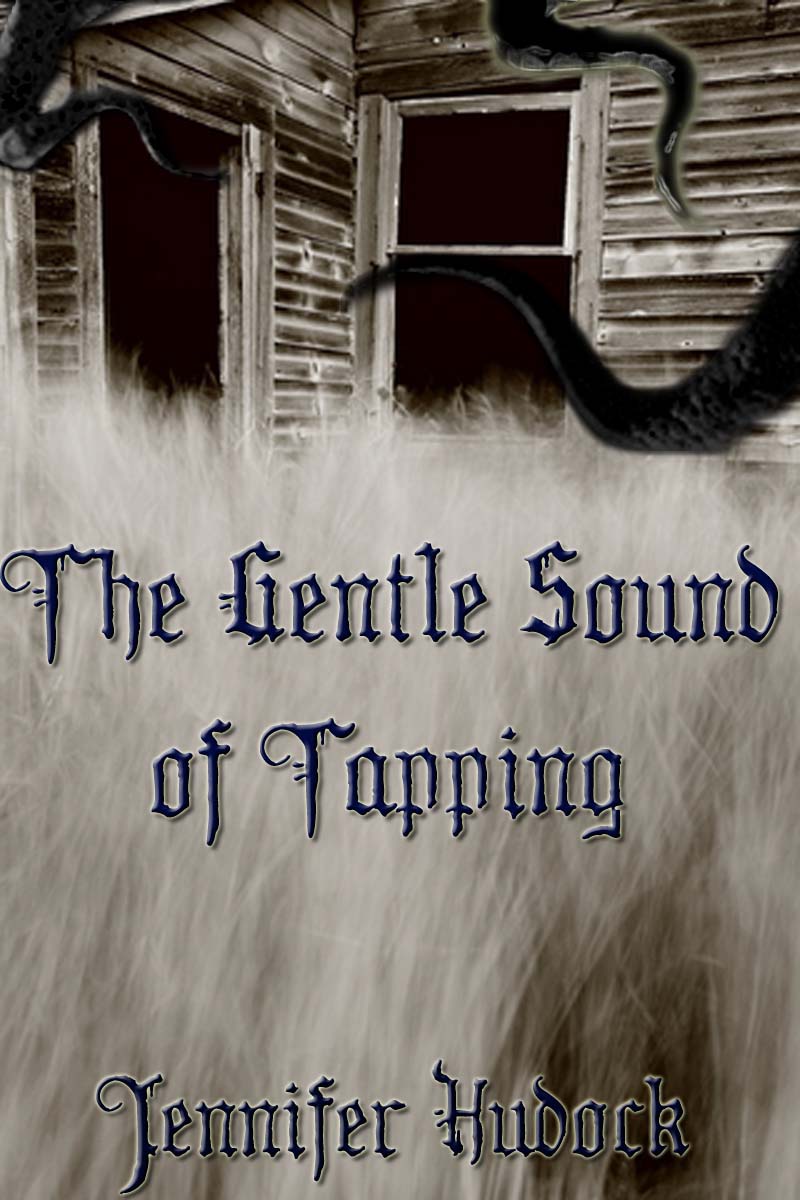 As you all know by now, author Jennifer Hudock has been touring the blog world, allowing us all the chance to get to know her and her work a little better.
If you're not familiar with Ms. Hudock's work, you can visit her official site, which is loaded with lots of goodies, including reviews, short story excerpts and podcasts of the ever popular Podcaturday and Goblin Market.
So without further ado, let me introduce you to one of my best buds Ms. Jennifer Hudock.
Q- I know you have been asked this question tons of times already, but could you tell us a little about the Dark Journeys stories?
A- The Dark Journeys Collection are a series of stories I wrote over the last five years. They are completely unrelated to one another, save that they are all characters on a dark journey in life. They are available currently on Amazon and Smashwords for $.99-$1.99, and will eventually be combined into an anthology collection I hope to put into print.
Q- What about Goblin Market? What's that about?
A- My free serialized podcast novel, Goblin Market, is a story about a young woman who spent her life taking care of her younger sister. When her sister is abducted by the king of the goblins, Meredith ventures Underground to save her and bring her back home again. While there, she discovers the truth about who she is, and that in order to preserve everything she's ever loved, she must make the ultimate sacrifice: herself.
Q- Can you tell us a little about the sequel to Goblin Market?
A- The sequel to Goblin Market, Jack in the Green, takes place about seventeen years after the original story. The main characters are Meredith's two sons, Jack and Krayven. One grew up in the Upland, and the other as a prince. Heartbroken and devastated by the events in her past, Meredith hasn't exactly been the picture perfect mother, and her son, Prince Krayven will do anything to win her love, including venture Upland to bring her son Jack home to her. But Krayven has a wicked agenda, for he is his father's son.
Jack in the Green is set to kick off as a free podcast on my website this July, but you'll definitely want to check out Goblin Market first.
Q- For those who don't know, where can they find your work?
A- Goblin Market, as well as a few other projects, including short audio stories from time to time, and a weekly roundtable chat podcast called Podcaturday are all available for download on iTunes and my official website: http://jennybeans.net.
Q- Do you have any messages for your fans?
A- Thank you for believing in and supporting me. It means a lot to me to know there are people out there who enjoy and look forward to my work.
Q- How can people stay in touch with you?
A- Aside from my website, please feel free to add me on:
The next set of questions are some different ones that I thought all of you would love the answers to. Enjoy!
Q- Of all the Dark Journeys stories, which one is your favorite and why?
A- This is a really hard question because I really love them all. I become incredibly attached to my characters when I'm writing, but if I had to choose, my favorite story is one that hasn't been published yet. It's called Two Weeks and it will be the thirteenth story added to the full collection once I publish it this July.
Q- If you could take one of your Dark Journeys stories to make a movie out of, which one would you choose and why?
A- I would love to see Black Velveteen turned into a short movie because it is one of my all time favorite stories. It was the first time I'd ever delved into science fiction writing, and I was so happy with how it turned out.
Q- If you had the chance to pick the cast for said story, who would you pick and why?
A- I would love to see Edward James Olmos to play Detective Proctor. He is one of my favorite actors, and I think he would do the character justice.
Meagan Good would probably be able to do justice to Velvet.
Q- Which songs would make a good soundtrack for the movie?
A- "Black Velveteen" by Lenny Kravitz, which inspired the story would be a perfect song for the soundtrack.
* Now here is a chance for all of you to voice your opinions. If you've have an opinion on which Dark Journeys story you would like to see made into a movie, leave a comment below along with your reason why. Make sure to include who you would love to see star in it. The person with the best answer will win a copy of the next installment in the Dark Journeys series.
Now remember, be creative and thorough with your answer because Ms. Hudock will be the one judging them.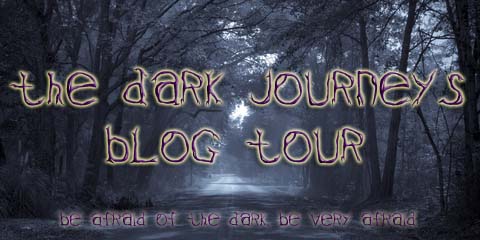 So somehow in my Benadryl-induced haze, I mixed up the date of when Jennifer Hudock was stopping by here to answer some questions regarding her Dark Journeys story collection.
For some reason I thought it was the 19th, which gave me a false sense of security since I thought I still had time to come to terms with the fact that I'm recording the interview. Imagine my surprise when I realized it was a week from today. And now that I think about it, I purposefully scheduled  on the 2nd because it was one month from my birthday. It amazes me that I can even function on a day-to-day basis.
So anyway, here's the updated Dark Journeys Blog Tour list. Jenny still has one open date, so if you're interested in interviewing her, stop by her site and let her know.
May 14, 2010: Jim – Yes, THAT Jim
May 17, 2010: Edward G. Talbot
May 19, 2010: Morgan Elektra of Trickster Moon Productions
May 21, 2010: James Melzer's UNLEASHED
May 21, 2010: Ramblings of English with Chandra Jenkins
May 24, 2010: Paddy's Wanderings with Patrick Pillars
May 27, 2010: Drew Beatty
May 29, 2010: Scrivener's Circle with David Sobkowiak and Laura Frechette
June 2, 2010: Nicole Ireland (That's me)
June 4, 2010: Mary Rajotte
June 7, 2010: Scott Roche
June 9, 2010: Superficial Gallery
June 11, 2010: OPEN
June 14, 2010: Slushpilehero
June 16, 2010: Jason Warden of ShadowCast Audio
June 18, 2010: The Feckless Goblin
WAIT! Don't go! I have one more piece of Jennifer Hudock news to share with you. She will be releasing the ninth story in the Dark Journeys collection, titled The Gentle Sound of Tapping on Friday, May 28th.
Things have been really busy around here, which is a good thing. If I had too much free time on my hands, I'd start to obsess about things in my life that are hard to deal with. Instead, I've been putting a lot of time and energy into this new site, my writing, work, my family and helping my friends out in any way that I can.
Thanks to some very special people, I've managed to get a lot accomplished, which is a great feeling. I don't feel like I'm letting life pass me by anymore.
One of the most exciting things to come about in recent weeks is this new site. Had it not been for Acadia and his prodding (i.e. nagging), I wouldn't have this new site up yet. (Thanks dude!)
Second, I wrote my first guest blog, which you can find over at Paddy's Wanderings. (You can find Patrick's guest blog here.)
Third, I will be interviewing Ms. Jennifer Hudock in a few weeks as part of her Dark Journeys Blog Tour. The hard part about this particular interview is that I'm actually going to record it. I'm not real comfortable with the sound of my own voice, so it'll be trainwreck, but Jenny's a good sport, so I'm sure her and I will have a good laugh over it afterwards.
Fourth, several weeks ago I did a written interview with Dream Wanderers author Paula Brown, which I feel turned out great. She offered some great insight and advice into writing, following your dreams and more.
Fifth, I've posted a few pieces of poetry that mean a lot to me and reflect things I'm going through in my own life that I hope others can relate to in some way. (And from what I've heard, I've succeeded, which is always my goal.)
Well, that's it for now, but I'm sure I'll have another update soon, so can an eye out.
One of my goals in life is to help other's find success and see their dreams realized. It's important to me to pay good deeds forward, so that is one I'm doing today.
If you've never read a
Jennifer Hudock
story, you don't know what you're missing. She is one of the most talented and gifted people that I know, and I've been hooked on her writing since the first time I read one of her short stories. I'm not ashamed to say that I'm a huge fan of hers and will do what I can to support her.
If you're looking for something new and exciting to read, then here is your chance! Ms. Hudock just added
Dark Journeys #6 'The Faerie's Kiss'
to
Amazon
and
Smashwords
for $.99. If you purchase a copy of 'The Faerie's Kiss' and take a snapshot of your receipt, she'll even grant you access to the podcast version of the upcoming seventh installment in the Dark Journeys series.
If you would like more information on the
Dark Journeys
short story collection, please visit Ms. Hudock's site where you'll find links and information on the previous installments in the collection.