One of my side blogging gigs is writing for The Superficial Gallery, which I love.

Everyone over there is crazy as heck, but I love them. And I fit right in.
The great thing about writing for Acadia and Vange, the sites' owners, is that I can let my hair down and let the other side of Nikki shine through — the side that's less reserved and more fun. On here, I don't swear or say anything untoward, but over there, I do let lose a little bit and talk about my TV obsessions and my current pretend boyfriends.
So if you're a fan of True Blood or Alexander Skarsgard, make sure to stop by there and check the post out. I know Acadia and Vange would love to see you there, as would I.
FYI, in about a month, I'll be resuming my Destination Truth posts since DT starts back up on March 17th. (I can't wait. Team DT will be conducting a live investigation as they search for banshees.)
If you have an idea for a post you'd like to see me write for them, please let me know, I'm open to ideas.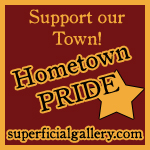 As some of my readers know, I ocassionally guest blog over at The Superficial Gallery, usually about my love for Destination Truth and Josh Gates.
Recently, Acadia and Vange, the sites kickass owners, started a new Hometown Pride Contest. Since I'm from Maine, my city of choice was Portland. I can't use Lebanon because, a: it's not a city, and b: it's pretty much a podunk town.
Anyway, if you're a fan of Portland, please hop on over to The Superficial Gallery to check out the newest update to the Portland page. And feel free to leave a comment on why you think Portland, Maine is great.