Oh yes, True Blood is back, and I, for one, could not be happier.
As you may recall, I was late jumping on the True Blood bandwagon, but thanks to Beans and a site I shall not name, I watched the first three seasons in record time a few short months ago. Since then, I've been chomping at the bit like all Truebies, waiting for season four to begin.
And now it has! SQUEE!
I'm not going to write a indepth recap of last night's episode because it would take too long, and I'm lazy. Plus, momma has money to make so I'm just going to highlight some of the moments from the first episode.
Sookie returns to fairyland where she refuses to partake of the light fruit. Anything that glows that much must have something wrong with it. (Personally, the whole light fruit thing reminded me of a scene from Percy Jackson. It wasn't really a new concept.)
While in fairyland, Sookie meets her granddaddy Earl, long thought to be lost.
Things soon take a turn for the worst for Sookie, as so often happens. That girl is a shitstorm magnet.
Sookie and GDaddy Earl return to Bon Temps where he dies because he ate the fruit and fairyland and wasn't supposed to leave w/Sookie. She ends up crying in the cemetary…AGAIN! Girlfriend is so predictable.
12 1/2 months have passed in Bon Temps, which means a lot of shit has gone on.
Jason sold Sookie's house and is now a cop.
Andy Bellefleur is hooked on V and is pissed over the amount of money spent trying to find Sookie when she disappeared.
Bill and Eric show up at Sookie's house after she returns, and Eric states he's the only one that believed she'd come back.
Lafayette and his boy toy Jesus make a visit to the Moon Goddess Emporium where he meets Marni, who channels Eddie, the vampire Lafayette once got V from. Weird, I know.
Arlene and Terry got married and are now the proud parents of little Mikey who has a penchant for tearing the heads off of Barbie dolls.
Jessica and Hoyt are still together but their relationship is a bit…stressed since Jessica only consumes blood and dammit, Hoyt wants some food…real food
Tara is no longer in Bon Temps. She's now living as a woman named Toni. But that's not all! She's also hooking up with…wait for it…a chick!
Sam's new group of friends are shapeshifters, one of whom is Luna, rumored to be his new love interest. After partaking of some wine, the four shapeshifters turn into…horses and gallop off into the night together, presumably for some freaky horse sex. Maybe.
Tommy, Sam's brother, who he shot last season, appears to have been taken in by Hoyt's crazyass mother. Can you say odd?
Portia Bellefleur meets with Sookie because Sookie wants to keep her house. (In the books Portia sounds way frumpier than she is on the show.)
Pam attempts to record a PSA, but, well, she's not exactly people-friendly so Eric jumps in and turns on the charm.
One of the new witches, Katie, meets with the Vampire King…Bill..Hm, didn't see that coming.
Jason takes a trip to Hot Shot to deliver food. And gets conked on the head and shoved in a freezer.
Sookie discovers that the new owner of her house is none other than Eric, which means he can come and go as he pleases. The look he gives her makes me PRAY PRAY PRAY that the shower scene between Eric and Sookie will be included this season. IT HAS TO BE!
And that's a wrap.
(Side note: This post was supposed to be on Superficial Gallery, but Acadia forgot the convo we had about me writing a recap. In his defense, it was weeks ago, and his back has been hurting, so he was probably loaded up on pain meds. To check out his recap, which I admit is funny, click here.)
My 29th birthday isn't until next Saturday, but I think it's close enough that I can get away with this post.
I have to admit there were times in my teen years that I never thought I'd reach 20, let alone 29, but yet here I am, still going strong, so I look forward to what comes next. I look forward to what my future holds. And I hope the coming year is filled with great moments that I will remember for the rest of my life.
Each year I take a look back to at the things I've accomplished throughout the year. To say this past year has been one of the best, but also one of the hardest, would be an understatement of epic proportions. Those closest to me know the struggles I've faced over the past year. Some days have been easier to handle than others, but with the love and support of my friends and family, I've made it through another year. And I've managed to keep my sense of humor intact, as well as my sanity.
Well, the sanity part is debatable, I suppose. It depends on who you ask. There are a few of my friends that think I'm a little nutty for working as much as I do, but that's who I am. I don't do well with downtime. I can't sit still and do nothing. I feel lazy when I do, so I have to have a full plate at all times. Call me an overachiever. Call me crazy. Call me whatever you want. I don't care. I'm happy with the person I am. And it's taken my long time to get to this point, but it's nice being in a place where I finally know who I am. I'm happy with the person I've become. That's not to say there's still not room for improvement because I know I can always get better. And I will.
What have I accomplished this year?
A LOT!!!
I released my first novelette A Second Chance back on April 12th, I believe it was. This wasn't my first time being published; I was included in the From the Dark Side Anthology. However, this time around felt like the first. I was filled with a giddy anticipation that similar to the feeling I use to get on Christmas morning.
A Second Chance underwent significant changes from its original incarnation which was included in FDSA. And whenever I look back on its growth, I feel a sense of accomplishment. I think it turned exactly as it was meant to. There isn't one thing I wouldn't change about it. NOT ONE!
In addition to A Second Chance, I also published a short story titled Sacrifice. This is another one that I'm very proud of. Sacrifice forced me to step outside my comfort zone and tackle a pretty difficult topic, and I think I did well with it. I know some have expressed disappointment over the fact it's not a novel, but I feel like I told the story as I was meant to. And as long as I feel that, I'm okay. It's when I don't think I did a story justice that I worry.
This past year also saw the launch of Frugal Maine, a website dedicated towards helping out my fellow Maine residents who are looking for information on frugal and green living, cheap entertainment options in and around Maine, frugal reads, working from home, etc. I did take a hiatus from it for awhile to focus on my personal writing, but I've since returned to it. And with the help of one of my best friends, Acadia from Superficial Gallery, I think it'll get to the point I want it at — a one-stop shop for all residents of Maine.
This year I also appeared on two episodes of Podcaturday, a weekly roundtable discussion between Jennifer and James Melzer and Acadia. While this may not seem like a big deal to some, for me it is. I'm actually incredibly shy, and I have issues with stage fright. Granted, I'm not in front of an audience when taking part in the show, but it does cause the same feelings of apprehension in me. I end up not saying much. My second time around, though, was better than my first, and I know in time I'll become more comfortable with the entire process. And to be honest, I'm quite anxious to get to that point.
Hm, what else? I did have a few new jobs over the past year that unfortunately did not work out in the long run. But that's okay because not all will.
I also started a few other side projects that I'm excited about, and I'm anxious to see how successful they turn out.
So that's it, pretty much, in terms of this year's accomplishments.
What have I learned over the past year?
This is pretty loaded question because I've learned a lot. And some of those lessons were not so pleasant.
Some people will always hurt you, no matter how much you wish it were different. So if you have to stay strong, no matter what, and keep telling yourself that things will eventually get better.
Sometimes you have to guard your heart in order to protect what matters most to you.
Sometimes you can only trust yourself to get things done. And sometimes that means leaving behind those that can't keep up.
Sometimes you have to trust others, even if you're scared to because not everyone in life will hurt you.
Sometimes you have to take a leap of faith and hope and pray that everything turns out exactly as it was meant to.
Some people truly do come into your life at certain times and for certain reasons. (While I've always known this, it was reinforced again this year.)
No one can make you feel inferior and not good enough, unless YOU allow them to. So don't give anyone that power over you. EVER!
So that's my past year in a nutshell. And here's to the coming year and whatever it brings.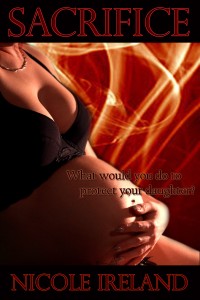 Yes, that's right. Sacrifice is now up at Smashwords and Amazon. I know, I know! I said it would be available Tuesday. SURPRISE! I honestly didn't think it would be up this fast, but it is. So yay!
The last time I uploaded a story it took a good day and a half for it to show up, I think. Not this time, though, which is good. It means that Sacrifice is available to all of you that much sooner.
I do have to give special thanks, again, to Jennifer Melzer, Heather Faville and Nicholas Denmon for their insight over the past few weeks. It's helped me a great deal.
In Other News:
I was the special guest on Podcaturday yesterday morning.
For those not familiar with Podcaturday, it's the weekly roundtable discussion between James and Jennifer Melzer and Acadia from Superficial Gallery.
While I still laughed a lot, and it's hard not to with these three, I did talk more than the previous time I was on there. I figure by this time next year, I should be able to outtalk them all. Okay, maybe not. But close. Those three are professionals when it comes to "shootin' the shit", especially Acadia. He NEVER shuts up.
What makes yesterday's Podcaturday extra special is the fact that I WASN'T nervous AT ALL. For those who don't know me well, situations like Podcaturday or public speaking usually make me very nervous to the point of  breaking out in hives. I've been working on it, though, and have been pushing myself to step outside my comfort zone and try new things. I don't want to look back on my life and regret one moment of it, so I'm trying to experience as many new things as possible. I'm trying to challenge myself. Who knows what I'll try next.
So what did we talk about yesterday? A lot: Game of Thrones, The Killing, cryptozoology, Stupid Ned Stark, Jenny's accident, James' book sales, my book launch, and Wet Hot American Summer, which I watched last night because Acadia was bitching again that we never do what he asks. And to be honest, it wasn't nearly as bad as I expected it to be. In fact, there were several moments where I laughed out loud. Plus, Bradley Cooper was in it, and who doesn't love him?
That's about it in terms of updates. I will be posting some interviews and special guest blog posts over the next few days. I meant to last week, but I never got the chance. I had to cover for my mom at work, which meant physically going to work instead of my normal routine of rolling out of bed and plopping down in a chair. I had to juggle four different jobs while trying to get Sacrifice ready for all of you. Plus, when you add in the mommy factor, it made it one CRAZY week. I honestly need a vacation now.
I hope the rest of your Sunday is fantastic. I'm off now to take my Mini Me to her first fishing tournament. Here's hoping she catches the biggest bass.
*whispers* For those Jersey Shore fans, I totally just said that like "It's t-shirt time!" LOL! I couldn't help myself.
Anyway, it's been hella crazy lately. As some of you know, my mom has been dealing with back issues, which means I've been fairly busy helping her out when she needs. That includes physically going into work and covering for her since, as she says, I'm her Mini Me. In fact, next week I'll be at work while she's at home getting some much-needed rest. It'll be a long week because I'll also be juggling my three other job besides that one. But as one of my astute friends likes to point out, I'm crazy, so that's normal for me.
For those who don't know, I recently began working as an IC for Ranker.com.  I have to say it…I LOVE THIS JOB!!! It involves writing and research. The writing part is really fun, and I'm allowed to show my true personality, which is a plus. Sometimes I get the impression that some people think I'm really stuffy, but I'm not, so it's nice to let my hair down and be Nikki, the slightly nerdy country girl with a quirky personality. (If you'd like to read my first list for Ranker, it's here.)
Now onto the story writing-side of things.
You've probably noticed that I still haven't published Sacrifice yet. There's a couple of reasons for that.
Aside from the fact that I'm stretched pretty thin lately and have a lot going on in my personal life, I've been busy adding some additional scenes to Sacrifice which are taking me a little bit of time because I want them to be perfect. If I don't, my internal editor, aka The Bitch, will rear her ugly head, and well, we all know how THAT goes. (See here.)
Those additional scenes I've been working on would not have come about without the guidance of my editor, author Nicholas Denmon and book reviewer Heather Faville from Doubleshot Reviews. Their help is appreciated more than they know.
I'm actually trying to focus some of today on Sacrifice, so hopefully I can wrap up the rest of it. *crosses fingers*
Sales Talk Time!
So the other day I noticed an increase in sales. Not an "OH MY GOD, I'M RICH, I CAN RETIRE" increase, but a large enough one that it shoved me into the #84 position on Amazon for occult books. When I saw that on my screen I nearly peed my pants with excitement. I was included on a list with Stephen King, JA Konrath, Katie Salidas and Amanda Hocking. Pretty sweet, right? Seriously, I was so struck with giddyness, I couldn't hold still. The little kid in me was all kinds of excited. What a great feeling. I hope it's just the first of many times that happens.
*
One last thing before I go. I was interviewed by author Suzy Turner for her website, so please take a moment and check it out. In the interview I reveal who I would cast as Annabelle and Jason. SQUEE!
Have a great and safe Memorial Day, everyone!
Today my friend Jenny wrote a great blog post on how one author's success is success for all and how we should help each other. For the most part I'm in complete agreement with her. I, too, feel that when one of us achieves success, we all do. I also feel that if we want others to support us and our dreams, we have to be willing to do the same, which I'm okay with.
My problem is this:
I'm a very helpful person…to a fault. I've let people walk all over for me for years without standing up for myself. I let people hurt and use me because I didn't have enough confidence in myself to think I deserved better. I know now, though, that I do. I deserve just as much respect as the next person. No less.
Now that I'm in a position where I can help others achieve success while trying to achieve my own, I'm faced with a difficult dilemma. What I'm already noticing is that there are people who are more than willing to take advantage of my helpful nature, which SUCKS! I don't mind helping others; I enjoy it, just ask my closest friends. But I don't enjoy when others treat me like a doormat. When I feel like nothing I say or do matters, it really bothers me because I'm so willing to give, and I don't understand why some people will knowingly take advantage of that.
So my question I'm posing to all of you is this: Where do I draw the line?
One of my greatest pleasures in life is it to watch my children flex their creative muscle. I'm a very creative person, as is my dad, so when we see my son and daughter drawing or writing/telling a story, we're beyond thrilled.
Today, my very precocious three-year-old decided to share one of his tall tales with his Bampi, aka my father. And I thought I'd share it with all of you because it's just too cute not to.
My son Blake told my father that he lost a tooth on Thursday night while at a train station. He was then given gifts by Hot Honey. (I don't know who Hot Honey is, but my dad says she sounds like a stripper. And I must concur.) Of course, none of this happened. Blake was home with us all night long.
This is actually the second story Blake's told us this week. His first one involved him being carried away by a moose down a path to Cabellas. The moose eventually returned him home to his bedroom. What happened in between being abducted and returned home is a mystery to me, but I'm sure in his mind, it was an adventure.
As you can see, Blake has a very wild imagination. It reminds me of his sister when she was that age and talking about her invisible friend Blue Kitty.
If you're the parent of creative child, please feel free to leave a comment about some of their tallest tales. I love the way little minds work.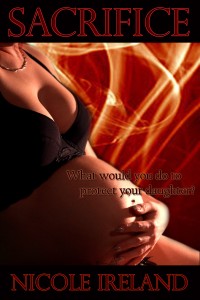 If you've taken the time to look around my site over the past week, or are on my friends list on Facebook, then you've probably seen the cover for Sacrifice. (If not, it's to the left.) I'm extremely pleased with how it turned out, and I think Jenny did a great job putting it together.
I'm also proud of how the story itself turned out. It's the first time in a long time that I've sat down to write a story like this. It wasn't easy for me to write because I had to push myself beyond my comfort zone, but I think the end result is exactly what I was hoping for. Sure, the ending will leave readers with some unanswered questions, but it was intentional on my part. I didn't want a clear cut ending. I wanted to leave it open to the readers' interpretation.
If my editor's reaction to Sacrifice is anything to go by, I think the story will do well. She told me it's creepy and has a vibe similar to The Entity. And no, when I first started this story, I had never seen that movie. I did finally watch it about four or five months, and I enjoyed its creepiness factor, so to have my editor say that to me was a compliment. When you write  a story like this one, you want people to react that way. You don't want to hear the same kind of compliments you'd get from a tearjerker. So score for me.
Aside from the new cover, I can also reveal that Sacrifice is nearly done. I sent it off to one of my readers last night. Hopefully she doesn't hate it. And I plan on sending it to another one this morning.
As for the release, I'm hoping, if all goes well, it'll be within the next week or two. I still need me editor to go through it one more time and make sure I addressed areas that needed some work. From there it still needs to be formatted and then uploaded. So cross your fingers for me that all goes well.
Up until the other day I didn't realize readers could ask for a refund on eBooks they've purchased. I was quite surprised when I saw others mentioning it on the Kindle Boards. I then felt a sick sense of dread.
"Your day is coming," my internal editor maliciously whispered in my ear.
I then told her to shut up. I wanted to believe when it happened to me, I would handle it well. HA! Yeah, that didn't happen.
Today started out wonderfully. I managed to accomplish a lot, as well as spend some time with my brother, which is rare. When I got home I checked my stats on Amazon and found that another copy of A Second Chance had been purchased. YAY!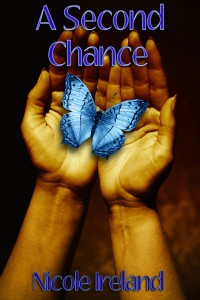 Then my eyes moved to the right and I saw Units Refunded – 1. And my head imploded. Well, not really. But it felt like it was going to. I felt like my entire body was about to collapse in on its self. My self-confidence was crushed.
And of course my bitchy ass internal editor couldn't contain herself. She gleefully jumped up and started in on me because, you know, kicking someone while they're down is just too much fun to pass up.
Her choice of words:
"You suck!"
"Give up while you're ahead."
"Keep your day job."
"Did you honestly think you were any good?"
"What were you thinking? You shouldn't be doing this."
"Who are you trying to fool?"
"What made you think you're talented enough to do something like this?"
"You're a stupid bitch."
And on.
And on.
And on.
Needless to say, she made me cry, which made me want to punch her in the face.
Let's just hope next time I don't get so worked up. I know there's a strong possibility that someone bought it by mistake when they meant to sample it, but I can't say for sure. And that's what really bothers me…the not knowing. Did I do something wrong? Is it really bad and no one's told me the truth? Is there issues with formatting? If at least knew the problem, I could try and fix it.
There's nothing I can do now, though, other than find a way to deal with the next one that will inevitably pop up at some point.