This is the third post in the Justin Scro saga. Please read parts 1 and 2 before part 3.
(WARNING: There is some profanity.)
I read a book a day while writing Waving. Something really funny happened that changed me forever in a profound ass way. As I finished Waving, I began planning Farmhouse, of which I had 20 handwritten pages years before. The funny thing was what I started to read. I read Catcher in the Rye. I read Less Than Zero. I read The Perks of Being A Wallflower. I read The Unbearable Lightness of Being. I can site every single one of those books being a direct influence on Waving not Drowning…yet I hadn't read a word of any of them before I wrote my first novel. I just laughed. If I would have known any of those, I wouldn't have ever been able to write. Really messed up, right? I got freaking lucky. The moral being: Never run towards your influences, but running away is just as bad. Just be, dudes! Sorry, I can't help myself. Isn't my indulgence here proof of that?
I wrote Waving and Farmhouse (which everyday get's changed back and forth with Temptation as its title) in August and September of 2001. I also wrote them on a freaking typewriter. I got a computer and started revising the books. It only took me about 7 years and I only edited content, not grammar (because I suck. Look at me here!).
In that meantime, Camera was born and became the sole focus of my life for the next four years. We've been well received since day one and music is the true language of art and yadda yadda yadda…it's been great.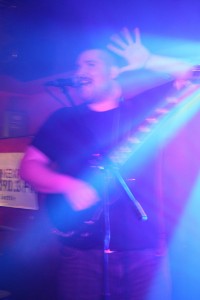 During year four of Camera, I moved home. Queue the shitty cartoon trumpet sound. My neighbor saw me one day and told me he was working for an online magazine called Cashbox. This clicked in the back of my head and gave him the one music review I ever wrote for fun. Air's 10,000hz Legend. His boss was so impressed that he made me head writer for the magazine off of the review…and yes, please keep in mind that anyone of you would have done the same thing. It was easy pickings. Anyway, they couldn't pay me, but they sent me a Hewlett-Packard Pavilion laptop ($795 value at the time) so I could write and be involved.
I'm a con man and a thief, I won't lie. I downloaded any program that I could get my hands on just to see what it was and what it did. One of them was Final Draft Pro (which I now have a registered copy of, thank you!). I suddenly went right back to screenwriting, revamping the first screenplay I'd ever written (with me chum Michael Schlau). My ex-girlfriend and still great friend Rebecca got a job working in admissions at a medical college here in Chicago. Here bosses were the actor Billy Zane's mom and dad. WHAT!
Meanwhile, a rich whacker from Canada wanted to buy Cashbox and me with it. I pitched him that I was also a musician, a novelist, and a screenwriter. I turned that around back on Billy Zane and got him to read my script, Mop Dreams. He loved it and I bounced interest back and forth until I got Billy to agree to shop some of my work around (love you, buddy! Like he's reading this, but he's been a mentor to me when no one earth knew who I was. Listen to your friend…). That lead to me being hired to write screenplays (one each) about Jimi Hendrix, Janis Joplin, and Elvis Presley…the last one being covered in depth here. Sorry this is so damned interactive, but you now have to go here and read this before moving on: My E! True Hollywood Story.
But I had a contract and money, putting me way ahead of anyone I knew doing their thing.  Not gloating, I'm just saying I didn't have a soul to talk to about this kind of stuff.  I cyber hunted down Terry Rossio, part of the writing team behind Shrek, Pirates of the Caribbean, and National Treasure.  Not exactly Tom Stoppard, but his first movie was Little Monsters, which I did a book report on the movie as a kid. He gave me a ton of great advice and was honest with me.  Meaning he told me to quit and move on!  Just kidding, but he said, "I won't tell you how I broke into the business because there is no one way.  You have to do it all, always, all of the time." Right?  That left a good impression on me for sure.  I really wanted A JOB!!!, but advice is always good too.
In the next year, I wrote 16 screenplays on that HP laptop.  My sale of Elvis's Fame and Fortune to the nut-tastic RLF Victor Productions allowed me to keep pushing, stay focused on the work, and keep writing.
After my 91 (un-contracted) drafts of Elvis, I hung up screenplays for a bit. With my trusty HP, I then wrote two more novels in the summer of 2009: Pop Star and Replicas. The band continued to solider on. We moved up to the best local venues you could play in Chicago and on the best nights. No more Thursday shows unless we're opening for…hmm, Spoon? Sure.
*
That's a wrap for today. Come back tomorrow for the last installment.
*If you're interested in writing a guest blog post for my site, please feel free to contact me at nicole@nicoleireland.com or via Twitter @NicoleLIreland. I look forward to hearing from you.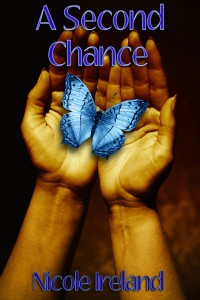 Last night, after many months of hardwork, I finally uploaded A Second Chance to Amazon, Smashwords and PubIt!. As of right now, it's available on Smashwords for $.99.
Even though my baby is out of my hands now, there is a huge part of me that is still scared beyond belief for how it'll fair, even though many of my friends have told me it'll be fine and to stop worrying. Deep down inside, I know they're right, but that nasty internal editor of mine just won't shut her mouth. She's been quite boisterous over the past couple of days. So much so, in fact, that I found my pointer finger hovering over the delete key at one point. She almost had me convinced that I shouldn't put my work out there. She kept telling me I wasn't good enough, that I'd fail, etc.
Thankfully, I was able to ignore her with the help of my friends. Without them cheering me on and encouraging me, I wouldn't have made it to this point. They've been my cheerleaders and my confidants. Whenever I'm feeling frazzled or at wit's end, I know I can turn to them for advice and a shoulder to lean on. Or for a swift kick in the butt, as was the case last week.
I owe each one of them a HUGE thank you for sticking by me and believing in me, even when I had days when I had a hard time believing in myself. So, before I close, I'd like to thank the following people for helping to make my dreams a reality. (And yes, in typical Nikki fashion, I'm crying.)
These are not the only people that have helped me along the way. I'd also like to thank my mom, dad and brother for sticking by me throughout everything I've put them through over the years. They're not only my family, they're my best friends. They've accepted me, quirks and all, and I love them for that.
And last but not least I have to thank my sixth grade teacher Ms. Clarrage for encouraging me and for helping me to realize just how much I enjoy writing. When I look back on my school years, she was the best teacher I had, hands down. She made school fun while still teaching us what we needed to know. I know that had I had not had her for a teacher, I wouldn't be where I am. So thank you, Ms. Clarrage, for everything.
Each and every person I've mentioned here has played a crucial part in getting me to this point. I can't thank them all enough for everything they've done.
THANK YOU GUYS!
Here is the 2nd part to Justin Scro's guest blog post.
(WARNING: There is some profanity.)
In case you missed it, part 1 can be found here.
***
BANANA! The film stuff was serious. I took shoddy cinema class my high school offered (run brilliantly by the great Karl Barons), that lead to me taken a serious class at Columbia College (I believe Kubrick's heir apparent Bret Ratner studied there) during the summer between my junior and senior year of high school. It was a great class, three days a week for six weeks and I got to make my own film. This was in the summer of 1997, so know that for me film school was film, cutting, tape, razors, and all that shit. We'll get back around that later.
All the while I was learning about film, I played the guitar at least an hour a day as part of the normal back drop of my life. It comes into play after I graduate high school, go to Southern Illinois University for one year long hallucination, drop out, become a full blown alcoholic, and begin taking music more seriously than anything in my creative life.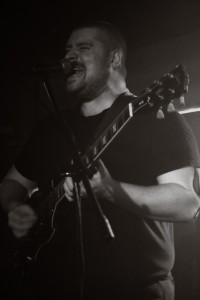 I discover 'jamming' and my life is forever changed. Don't worry, it's covered in Justin Scro and The Jam That Wouldn't End. Anyway, this was the first time I learned that you don't have to mimic or other people's pieces of music or writing or anything else. This took a 13 year old kid that would rewrite The Terminator and Aliens over and over in his own way and turned him into the creative freak show you're stuck to right now! It quickly poured over into my writing and everything else.
I was a keyboard player so I could smoke and drink wine non-stop, but this was the beginning of what would become my honestly acclaimed band Camera.
****cue the person thinking, "edit yourself, mate!" Hey, this is a blog. Does 'blog' sound like a tidy word to you? It sounds like a wordburp to me!
For two years, I would drink all night & day while playing music at the aforementioned 809. I was a drunk, almost as fat as I was as an early teen (I went from 250lb at 14 to 175lb at 16 to 240lb at 20), and I was smoking two packs of Marlboro Lights a day (I started on Newport's, so don't give me any shit about Lights). I was at the gym one day and a stupid poster had all these reasons to run a marathon. The last one was, 'why not?' Screwed. I decided then and there that I would go to Europe to see my friends with nothing for two months and then when I came back I would go clean and sober after my 21st birthday, take a year to train and do it. And I did exactly that.
Going sober wasn't rough at all. I like to indulge, so I indulged in sobriety. A friend introduced me to something that summer. Something I'd never had the chance to get it into, which was weird because I've always been encyclopedic with music and movies…Something that all of you have been into for a long time while I picked my nose…books. FREAKING BOOKS! I didn't read a book from cover to cover for pure pleasure until I was 21 years old! What an ass, I thought. I started reading a book a day during my leisurely summer (I had been a waiter this entire time, from 19-27 with four years in the middle as a 1:1 assistant to exceptional children).
I read High Fidelity by Nick Hornby (first lesson, an okay movie can come from an amazing novel), Brave New World by good ol' Aldo Huxley (science fiction = freedom), and On the Road, a novel that I had read half of as a junior in high school. I shit you not, this is a quote directly from my journal in 1997: "I don't need to read ten pages about how a burrito smells. On the Road says nothing to me yet I just read Howard (who I hate) Stern's bio Private Parts in eight hours straight and loved every second of it."
Why is that so important to say? Because changing your mind about something is the greatest freaking thing in the world. Fuck that. I tell the truth. It's the greatest fucking thing in the world. Sorry for the profanity, but it comes with the profundity. In other words:

After reading the book, I then read the preface (can we fix that shit? Really…) about how Kerouac wrote On the Road on one spool of paper while drinking cough medicine non-stop. Aha! I could be a junky again after all! I had been writing by hand, but my penmanship…well, you can only imagine. I have notes that say things like "Nickoloamm, maybe 9 hjuit? Find out!". We're getting hotter here, I promise. I knew that I needed a typewriter. I would look at my handwriting and every instinct I have new it was the writing of an idiot. Computers, while I never had one, offered way too much editing for me to every get anywhere. Yes, I was the bumpkin asshole who would write instead of download music when I would be near a friend computer when we were hanging out. It amused me. Now, shit. Now it owns me.
I got an IBM Selectric II, my first baby. Three days after reading my third novel, I wrote my first, Waving Not Drowning. My mind was blown. I had always been more of a screenwriter, but that became stupid when I found out you're writing something to ask, 'hey, can I have millions?' With the typewriter, I couldn't edit. I had to push. I would put on headphones listening to Can, Neu!, Buddy Holly, At the Drive-In, and all the new music that I could blast my thoughts away and get rid of that pesky top layer of thought that ruins us all. It worked.
*
Thanks again for stopping. Part 3 will be posted tomorrow.
*If you're interested in writing a guest blog post for my site, please feel free to contact me at nicole@nicoleireland.com or via Twitter @NicoleLIreland. I look forward to hearing from you.
As I mentioned a couple of weeks ago, I'd like to feature guest bloggers on my site on a regular basis. I love the advice fellow authors give, and I love reading about their struggles and all they've overcome to achieve their dreams. I find their stories inspiring.
Recently, I began chatting with Justin Scro, a fellow author and screenwriter, as well as musician, and all around cool guy. The other day I asked him if he'd be interested in writing up a guest blog post for my site. Little did I know, he was going to write a lengthy missive to the tune of 3,900+ words, but that's okay. I found his entire piece fun to read, as I hope all of you will too. Because of its length, I'll be spacing the post out over the next few days, so I hope you'll come back each day and read the next section.
Without further ado, here you go.
FROM MY PARENT'S BASEMENT
The 809 Walden Court
25 miles outside of Chicago
As I near 31, I have my own fully funded online video production company set to launch (November 15th, Slow Graffiti represent!), my Roxy Music meets Nirvana indie band Camera (of ten years) is set to release our debut LP, my four fiction novels are selling like warm cakes on Amazon, my podcast has more listeners than I would imagine (like, 86, but that's a lot to me!), and the amazing Jinan Hamood just found me and asked to represent my screenwriting work…
One year ago, as I neared 30 none of things seemed possible.
This is my dramatic, over italicized trailer for…
Justin Scro
and
The Hewlitt-Packard Laptop of Destiny
Or
The Rant That Drowned Chicago
This is a freakin' Dickensian tale if there's ever been one.  Poor whittle old me, saddled with a pure grip on the human condition and privy nothing more.  I have to use the word 'poor' up there because while I have never been homeless or gone hungry, I am and have been lower middle class my entire life.  I try not to be a class warrior, but it is very important to understand how I had to make mountains out of every molehill I came across in order to create opportunity, not just find it or 'look into it'.
Here we go.
Blah, blah, blah…I started writing around the time you learn how to use pencils, loved to draw but horrible at it, always a big fan of movies and music, and then I turned five.  From five it became stand-up comedy, acting, wanting to work with kids, and baseball.
Then, around the arrival of both Reservoir Dogs and Nirvana's Nevermind my world was blown.  I was between eleven and twelve years old but I wanted to become a film director and a musician immediately.  That's where you get the mixture right here:

I wasn't kidding! During the part that I'm wearing the Red Hot Chili Pepper's BloodSugarSexMajik tee shirt I am guaranteed-dilly 11 years old.  I  didn't put that clip up to try and get hits or to show how shameless and cool I am.  I put that thing up there to show that I was, I am, and I always will be.  That's right.  I'm like pure gangsta philosopher.  The only two books I could buy into as a jaded ass youth were Fear and Loathing in Las Vegas and The Naked Soul of Iceberg Slim (just because Irvine Welsh of Trainspotting fame was quoted on the front and I liked the movie they made out of his book I didn't read…a real culture vulture!).
*It is at this point that I would like to apologize for being a parenthetical nightmare (I blog like I talk.  My novels only glean the best of this style of madness, I assure you!).
** I would also like to point out that we are currently mid-digression from me taking you through my creative life as quickly as possible.  When you read the word: BANANA, we will resume.
Many years later and a full life's education (bumming in Europe, a few true loves, playing the brightest venues in Chicago, living on my own, Billy Zane…), this is the exact same house where I lived only a few days ago.

Why did I take you through all of that before even sticking in the tip of my story?  To let you know you can trust me.  Capice?
(Please stop by tomorrow to read the second part of Justin's post.)
*If you're interested in writing a guest blog post for my site, please feel free to contact me at nicole@nicoleireland.com or via Twitter @NicoleLIreland. I look forward to hearing from you.
Well, color me surprised! My good friend Acadia, one of the head honcho's over at The Superficial Gallery, volunteered tonight to write a post for my site. He's quite the movie aficionado and is always telling me what shows and movies I MUST watch, so please take a moment and read his review of AMC's The Killing. And if you feel inclined, please feel free to leave  a comment on your thoughts on the show. I have not seen it yet, so I'm leaving it up to all of you to decide whether or not I should take the time and watch it.
ENJOY!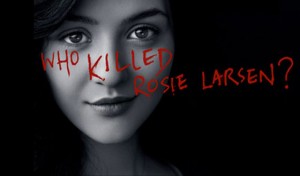 I'm three episodes into AMC's The Killing and I've decided that I'm going to stick with it. That said, I have some issues. Not anything you haven't heard before, probably. "Who Killed Rosie Larsen" (and why), the tag line is pretty much the same as "Who Killed Laura Palmer" from Twin Peaks. It's even set in the same state (Washington). So what's different? Well, without David Lynch, I'm pretty sure that there isn't going to be anyone carrying a log around but there are still a hell of a lot of things that I find too similar to be an accident.
If you want to see what I mean, then do the following.
1: Watch the first hour of The Killing. You can get it at AMC. Now, this might be a spoiler, but the girl in the show dies. And the girl has parents. So at one point, the parents find out their daughter is dead. That scene is one of the most wrenching I've seen in a while.
2: Watch the beginning of Twin Peaks (it's on Netflix Instant). Watch the parents find out that their daughter is dead.
3: Say WTF?!?!?!?!?!?!?
So, now I have to wonder just how similar they will end up. I know that AMC fashions itself as basic cable's HBO, but the spy thing (Rubicon) ended up being so convoluted that people got sick of it, and if people do a little research on Twin Peaks, they would find out that people sort of got sick of wondering about who killed Laura Palmer, too. I have my doubts. Involving politicians and revealing that the victim was up to more than met the eye is a tactic that I sort of saw coming, and I'm no TV genius. So I guess I'm saying they better do something to get me excited really fast. Maybe some Madchen Amick!
I'm not saying it isn't well acted (it is) or that there is no potential (there is) but I'm worried that I'm not going to get something every week to keep me all riled up. And that brings me to what I am comparing the show to: Harper's Island. Remember that show? It was on in the summer and it was a locked room mystery set on an island? And every week someone new got killed until the end when the number of suspects was crazy small? THAT'S how you do a mystery. Don't worry about having to give the characters depth. Just kill them. Nothing enters the plot unless it helps people try to figure it out or it kills someone.
So, as of now I'm giving The Killing three out of five knives. That's based on three episodes. I wish it was called "The Killing of Someone Every Week" but it isn't. So I will continue to watch the somber-faced ginger detective and wallow in the sadness of everyone involved in the case. I will check back with you in a couple weeks to let you know how I think it's progressing. I'd also like to know what you think. Did you see Twin Peaks? Compare them! Or compare it to Wipeout. I don't give a crap. It's not my site. ZING!
Good morning, everyone!
It's a beautiful day here in southern Maine. The sun is shining. The birds are chirping. And I'm outside writing. I couldn't ask for a more perfect day. (Well, the day will officially be perfect this evening when I'm devouring grilled ribs and chicken wings. YUM!)
Anyway, I wanted to share something special with all of you.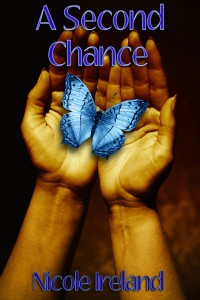 Over the past couple of days, I've been in an internal debate with myself over whether or not to share the cover for A Second Chance with all of you before the story is published. Half of me wanted to surprise everyone with it; the other half was so pleased and excited that it didn't want to wait. I was able to hold off the little kid in me for a few days, but unfortunately, or fortunately, depending on how you look at it, my inner child has won out. So here it, the cover for A Second Chance.
The original cover featured the name Second Chances, but with the name change and new scene additions, the story evolved into something new and beautiful. And as a result, I needed to have a new cover designed. I'm very pleased with how it came out since I feel it truly captures a very special moment in A Second Chance.
Before I close, I must give a special thanks to Jenny for creating the cover art for me.
Jenny, thank you SO much for taking the time to do this. You've been an amazing friend throughout this journey, and I'm truly grateful for all the help you've provided. I wouldn't have reached the point I'm at now without your help and support, so thank you.
Finally, if all goes well this week, I will be posting an excerpt from A Second Chance, so please keep an eye out for it.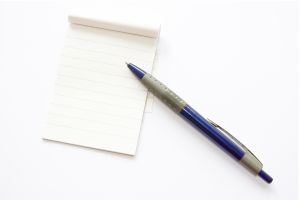 Good morning, faithful readers. It's been a little over two weeks since my last update on A Second Chance. In my previous post, I mentioned that I wanted to get my word count for A Second Chance up to 11,000. Well, guess what? I did it! In fact, I surpassed that amount…by a lot. My final word count ended up being 14,577 words. Honestly, I'm not sure how I made it to that point. I didn't think I'd be able to, but I did it. And I'm THRILLED! (And proud.)
Since Tuesdays of last week, I've sent A Second Chance out to three readers and my editor. My first reader sent me an email yesterday, telling me this:
Nikki,
I just finished and what can I say? I LOOOVE what you did with the story! I love all of the detail you have added. It made me feel as if I were right there and feeling her pain. I also love the twist of her going to heaven to talk things out. That was great! I love that you could FEEL the connection and the love! You must be so proud of yourself! That was a pleasure and an honor to read!! Thank you for allowing me to read it!
(I'm truly glad that my reader was able to feel a connection with the story. That was my goal.)

As for my editor, I can't wait to see what she thinks about the changes I've made. I followed all of the advice she gave me, and I added in some new ideas of my own. Hopefully they meshed well together. If not, she'll tell me, and I'll do what I have to make sure the story works. I won't publish it until it does.
So what comes next, you ask? Well, once my editor is done doing her thing, I'll make any needed changes. From there, her hubby will help me with the formatting needed for publication. But that's not all. I also need to have a cover made for it. After that, it should be ready to publish. *crosses fingers*
Until next time, happy reading.
Guest Blogging Opportunities:
If you're interested in guest blogging here  at The Evolution of Nikki, please feel free to contact me at nicole@nicoleireland.com. I'm open to any suggestions you may have.
It's been five days since my last writing update, and there's definitely been quite a bit of progress.
You may recall that I mentioned in my last post that my editor thought I should try and get my word count for Second Chances up to 11,000, which is about 4,500 more than what I started out with. I actually broke 11,000 just minutes ago. Yippee!
I still have several pages of edits to go through, as well as one more readthrough and edit before sending it back to my editor for another editing session on her end. So, I'm hoping I'll hit about 12,000 words by the end.
Other Changes
One of the ideas I've been playing with for about a week is changing the name of my story. I wasn't sure that was the right move to make, at first, but I finally decided that it was necessary to change the title a tiny bit. I'm changing it from Second Chances to A Second Chance. I think the name change is a more accurate reflection of what the story is about.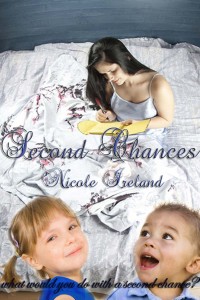 I'm also having my editor create me a new piece of cover art. Some of you may remember the original cover art. If not, it's right here ————->
The reason I'm having Jenny design me a new one is because of the additional scenes I've added to the story. There's one scene in particular that I feel would make a great cover. I have a very detailed image in my head of what I want it to look like, and I'd really like to see Jenny make that happen.
I'm a huge, HUGE fan of Jenny's coverart for her novel The Goblin Market. There's something about it that speaks to me. And I know Jenny will create a new one for me that is just as great as that one. I have faith in her abilities.
One other area that I'm going to be working very hard on is promoting. I've seen what Jenny has done with guest bloggers on her site, as well guest blogging on other fellow indie author's sites. I admire all the hardwork she's put in, and I'd like follow in her footsteps. I'm actually hoping to have some fellow authors stop by here, including Jenny and maybe even her sidekick James. Who knows!
Other News
There are a few other pieces of news that I'd like to share before closing.
As I mentioned in the second half of my interview with Amanda Rosenblatt, I had the chance to talk to Josh Gates on Thursday night. If you'd like to listen to the show, you can find it here.
On Sunday, I made an appearance on a special voicemail edition of Podcaturday. It was a twofer this week. It was my first time stopping by, so I didn't contribute much. However, I did laugh a lot, which is not hard since Jenny, Acadia and James are HILARIOUS! (If you'd like to listen in on Sunday's edition, please visit one of their sites.)
I also had the chance to discuss my conversation with Josh, which is great. I'll jump at any chance to talk about one of my favorite TV personalities.
And last but not, a new Destination Truth post will be up at The Superficial Gallery within the next day or so, so make sure to stop by and check it out.
If you stopped by my site yesterday you most likely saw the first part of the interview I did with Destination Truth Fan Ambassador Amanda. Below is the second half.
Before we get to the second part, though, I'd like send out a personal thanks to Amanda for her fantastic work last night during the DT Live interview with Josh Gates, Ryder and Brad Kuhlman. Originally I was going to ask Josh a question, but time was dwindling down pretty fast, and I knew there were other people who had questions, as well. As a result, I decided not to ask my question because I really wanted Josh to say hi to my 9-year-old daughter who is as big of a fan as I am, if not more. Granted, she was a bit shy and didn't say much, but if the three of them could have seen her face, it would have been very clear how much it meant to her.
As a mom, we love to see our children happy and smiling. When I saw the look on my daughter's face, I choked up because I could tell she was nervous but also EXTREMELY excited. For a kid her age, talking to someone they idolize that much, is a big deal. And I truly believe she won't forget that conversation anytime soon, if ever. And I'm glad Josh, Ryder and Brad were so sweet to her. So not only am I saying "thank you, Amanda", I'm also sending out thanks to Josh, Ryder and Brad. Thank you guys!
And I do want to apologize for sounding like a complete boob on the phone last night. I was nervous all day yesterday. I did practice asking my question, but things changed and what I practiced was no longer relevant by the time I got on the phone. As a result, I felt extremely embarrassed afterwards. But, as Amanda says in this portion of the interview "At least I did it."
Now, on with the show.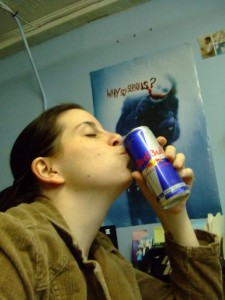 Q: If you could go on an investigation with Josh and the rest of the DT crew, where would you like to go?
A: I'd say any of them, except where they go on cases in extreme cold, but honestly, any of them. It's been talked about, bringing me on the show before, but unfortunately there is a lot of red tape involved in getting anyone on their show, especially a fan who is not affiliated and working for Syfy or NBC/Universal. Someday, though, I hope.
A list of places I'd like to go, internationally in particular since I've never been outside the USA – Australia, New Zealand, Tokyo (Japan), London (England), Dublin (Ireland), Toronto or Vancouver (Canada), South America, & China.
Q: Other than Josh, who's your favorite Destination Truth member, past or present?
A: Another "this is like picking your favorite child" question haha! I'd say my favorites list is Ryder, Rex, Gabe, Ali, Shawn, Sharra along with Ramy since they're married, Brad & Jael. I know there's a few others I'm forgetting, but honestly, Rex stands out to me most because he's offered me personal advice, he's been the most interactive with fans over the longest period of time and we hung out at Comic Con last year, so I know in person that he's as nice a guy as he is on the show and online. I should add that I don't have any least favorite cast members, but there are definitely some who I have tried to and never gotten a chance to talk to; some people do "DT" and enjoy it because it's a job, but they're not into it for the exposure aspect.
Q: Though I joke around about Josh and Destination Truth on Superficial Gallery, the truth is I have an enormous amount of respect for him and what he does. I admire how dedicated he is in his quest for the truth. I also admire his personality. He seems like such a genuine person, unlike many of the celebrities you see these day. It's refreshing to see that he's still down-to-earth. So I was wondering what are your favorite things about Josh? What do you admire about him?
A: What I like about Josh is that he has a vibrant personality, he's passionate, he goes after what he wants, he's obsessed with film like I am (especially movie quotes), and he also makes time for fans when he can. I have also been really surprised about his growing dedication to fan involvement since he and I started talking. To quote one of my favorite singers, when you're in show business, you're no longer doing it for yourself and if you are, you're a selfish person. Josh always makes time for fans when he barely even has time to do laundry when he's home at his apartment and that's what it's all about.
Q: Aside from DT and Josh, is there any other person you would love the opportunity to interview?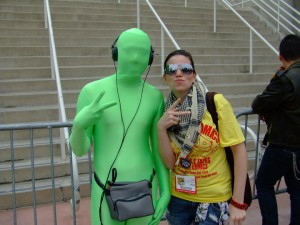 A: Well, one person I always wanted to interview and now I get to because of all of the press work I've done aside from "DT" promotion the past few years is film maker Morgan Spurlock ("Supersize Me", "30 Days"). It's a long story how we started talking, but I'm very excited to get to be interviewing him soon. Aside from him, I would love to interview Lady Gaga because, as my loyal followers know, I am a huge fan of hers and I would love to ask her the questions the main stream press won't ask because they're questions of the heart, not questions of controversy. I think she's fascinating and a big reason I love her is how dedicated she is to her fan base, as well.
Q: Being in the position I'm in, I receive a lot of messages that are crazy and sometimes go quite a bit over the line. I was wondering if you have to deal with that sort of thing and how you deal with it? How do you handle the negativity and not let it get to you? Also, what has been your strangest fan encounter?
A: Honestly, I can't give you great advice on how to deal with negativity. I'm a little infamous for not dealing well with it. I've had everything from simple naysayers to stalkers spreading around my personal info and I don't think first before reacting to them. Even mentioning them probably titillates them, but it's something that is part of my life now that I accept. They do this because this is how they spend their free time – they feel the need to criticize either because they're jealous or they think they're better than me so they feel the need to judge, but live and let live, I guess.
My biggest advice would be to get a good support system around you when this happens – people who understand that you do what you do not for these people, but for those who appreciate your work and because you'd feel empty without doing it. Those are the people who will be there to remind you of this when you get upset.
As far as the fan encounter question, I haven't had any strange ones, but I've definitely had great ones. I've gained many friends, including a pen pal in San Diego (hi Brad!), my friend/coadmin in Japan named Aislynn, and Christiane who used to help me with the pages and has moved on to helping out Syfy's "Fact or Faked" with what she learned from helping me run my fan pages. I've also spoken to wonderful people, including this gal Kellie – she's very ill, so I helped to get her a personalized autograph from Josh and we both talk nearly everyday now. She even asked ME for an autograph, which is so crazy but special to me, so I sent her a letter.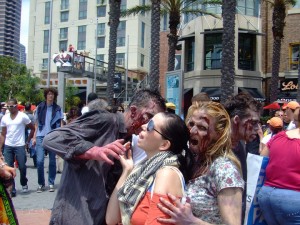 Q: What do you see yourself doing in ten years? Do you see yourself still running the various fanpages? Do you have other goals that you would accomplish?
A: I would like to think I'd be running fan pages for one project or another, but honestly, what I love that I have picked up doing from this past summer is sharing fan stories. I hope that in the next few years, I will be able to make a living either off of social networking (like YouTube's iJustine can), media, radio, film or journalism. I love finding and sharing stories of substance. I'm currently shooting an independent documentary and I would love to stay involved in that field, whether it's through film or meaningful reality shows ("True Life" on MTV is a long running favorite of mine).
Q: As I mentioned in a message to you, I have a couple of friends who would like me to appear on their weekly podcast show called Podcaturday. I've held off doing so because I'm a rather awkward person when I'm being recorded. I'm always worried what people are going to think about me. I know I'm not the only one like that. I know you've mentioned you are, as well, so I was wondering what kind of advice you have for people like us who are a bit more on the awkward side? Do you tips for overcoming it?
A: I still get nervous, yeah. I think what helps me is that I've always been a vocal person, I currently have a job where I'm forced to talk to many different people throughout the day (some of whom aren't very nice), and I grew up in a loud family. My advice is to not only feel like no one is watching/listening to you (which is easy when you're by yourself and not facing your audience), but to remember to say to yourself "at least I did it!" It may sound silly, but if you're considering going into podcasting or vlogging or whatever, start out by doing this stuff alone, whether it's filming vlogs when no one else is home or hosting your first few BlogTalkRadio shows from inside of a closet until you feel comfortable to walk around the room you're in.
I remember one time last year, I was sitting at home one weekend and I get a restricted call – it ended up being Josh! We had a nearly hour long conversation about a lot of things, but mostly about detractors and how he was even still learning to deal with some of the things people say, but in the end, they don't matter. It meant a lot to me that he would do that and though I know the haters will never go away, there are more people who appreciate what I do for "DT", as well as other projects, and they know that I'm only human. I know that without doing this fan work, I would never have gotten to do the things I've done, meet the people I have or learned to be the person I am today, so you take the good with the bad.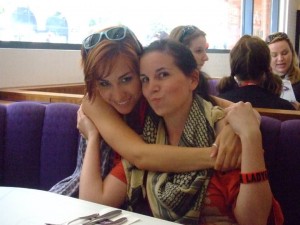 We tend to be a society very heavily influenced by pop culture. I have found role models in a lot of people in the public eye. I very rarely attach myself to anything to the point where I become a huge fan of someone, but in my life – Morgan Spurlock inspired me to want to be involved in documentary style filming, Blink182's music has resonated with me from middle school all the way past college graduation, Josh Gates taught me (personally and theoretically) to go after your dreams no matter what some people may say, Lady Gaga taught me to love my crazy personality, and Nicki Minaj taught me to blow a kiss to my haters because they're mad I'm doing something with my life. I think everything at this point in time is so wonderfully eccentric and nerdy – I honestly couldn't picture my life today without my fan work with "DT".
*
As you can see, Amanda dished out some great advice for those dealing with negativity because of what they do for a job or just for fun (vlogging, podcasting, etc.). I've been dealing with a lot of it myself via my MySpace gig. And at times it gets a little overwhelming. But with each day that goes by, I'm actually able to handle it better. I've definitely grown a thicker skin over the past few months, and what others say about me or to me has gotten easier to handle. I've learned that those that care about me and know me support me and love me no matter what I choose to do. And it's those people I turn to when I need advice or support.
If you're in a position where you do have to deal with naysayers or people that want to tear you down, I think it's important for you to remember that generally speaking people will say things to hurt you and knock you down because it's their way of building themselves up. Or they want company in their misery.
I know this not only from present experiences but from my past, as well. Though it was hard to understand back when I was a teenager, age has brought clarity, and I've learned that people say and do things when they're hurting. It doesn't excuse their behavior, but it does make it easier to understand.
I apologize for going off on a little tangent here, but I wanted to add in my two cents, as well, just in case there are others out there reading this who are struggling with these kinds of issues. You're not alone and there are plenty of us that can understand it. Be strong and believe in yourself.
As many of my close friends know, I'm a bit of a Destination Truth/Josh Gates fanatic. Not to the point where I obsess over him, but enough so that I read whatever I can on JG and the show, as well as blog about both over at the Superficial Gallery.
Yes, when I'm writing at SG, I'm a bit more sarcastic, and I sometimes objectify Josh a little too much, but it's all in good fun because at the end of the day, I truly admire what he does. I firmly believe he has set a really high standard for shows like Destination Truth, and I look forward to watching many more seasons of the show. (You hear that Syfy? RENEW RENEW RENEW!)
I would love to say that I'm as adventurous as he is, but lets face it, if I had to travel to some of the locations he has or experience some of the things he does, I'd probably be paranoid I was going to die. (Seriously, I'm convinced if I ever had to move to California, that would be when the BIG earthquake would happen, and I'd up kissing my butt goodbye.)
In my jaunts across the Net, looking for DT/JG news, I came across a fan page, Singularity: A Josh Gates Fan Page run by DT Fan Ambassador Amanda. Not only does she post related news, she also interacts with Josh and others on a regular basis, which has given her a really great insight into the show and the entire crew. She seems like really a nice person who is passionate about what she does. I admire her, and it's nice to meet someone else besides Jenny who loves the show as much as I do.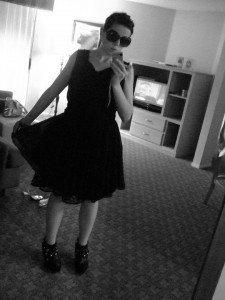 The other day I finally decided to contact Amanda after playing with the idea for awhile. I mentioned interviewing her for my Reality TV Curator gig at MySpace and she jumped at the opportunity. The answers she provided to the questions I sent her are filled with awesomeness. They are so great and detailed that I actually have to split it into two posts. (She was also very gracious enough to provide me with some candid photos, some of her by herself as well as with a couple faces you may recognize.)
This is part one of my Amanda interview. Please read it, comment at the bottom and then on head over to one of her DT/JG pages and say hi. I know she'd love to hear from you.
Q: Many Destination Truth fans know who are, but there are some that don't, so would you please tell everyone a little bit about you and how your Destination Truth/Josh Gates fan pages came about?
A: My name is Amanda and I started a series of fan pages, as well as corresponding media sites, to promote Syfy's series "Destination Truth" and the host Josh Gates. I first knew of Josh from a reality show he did in the early 2000's called "Beg Borrow & Deal" and didn't hear about him again a while. Then I started to get more into the paranormal as I got a little older, which naturally involved becoming a SciFi (now Syfy) fan.
While watching "Ghost Hunters" one night in college, the episode I was watching ended and I guess I was folding laundry or something because I didn't change the channel. From the TV, I heard a very familiar voice and realized it was a much skinnier Josh from "BBD" on a new show! I was then hooked on "DT" from the first season, but it didn't take me until towards the end of Season 2.5 when I realized I wanted to make a fan site. No one else had made any (checked first because I don't like stepping on people's toes), I needed more website/social media experience and I wanted to show my appreciation for this show and it's host. And now, almost three years later, this is where it's gotten to. It's pretty gratifying, most of the time, but definitely cool.
Q: Can you tell us a little bit about the first time you met Josh?
A: Well, other than interacting prior online, he had emailed me one day towards the end of June '09, or the start of July '09 I think, to tell me he was taking part in Comic Con and also the relaunch of the Syfy network in NYC at Imagination Park (a set up they did promoting the channel upgrade at Rockefeller Center). I knew I couldn't make it to Comic Con, but I had some family business I needed to take care of in NYC that summer, so I wrapped a trip around this event, did what needed to be done and went.
I couldn't sleep the night before due to a number of factors, but it was because I was wicked excited, for the most part. I got up very early and headed down to Rockefeller. I got there earlier than necessary, but I had a press pass with access to the set up and it was nice to walk around and observe (took video of it for my YouTube Channel). I was talking to some crew people for NBC and then all of the sudden, I saw people outside of the little barriers set up heading over to a building exit and I saw Josh! I filmed him doing his intro, and press interviews, and then I was introduced.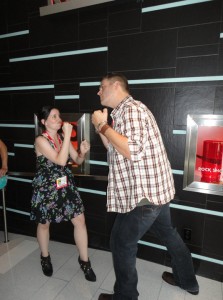 My first time meeting him, I was a little nervous but after a while, he put me totally at ease, was very nice and seemed really flattered a fan had gone out of their way to meet him and promote his show. That experience was great, I got to meet awesome people from the channel and it opened the doors for me to do other things related to Syfy such as the "Ghost Hunters" Alcatraz live audience special and getting to attend a press room for "Warehouse 13" and "Eureka" at San Diego Comic Con.
Q: I'm sure you've answered this before but for those who aren't familiar with your site, could you please tell us what's your favorite Destination Truth episode and why?
A: That's like picking your favorite child, if I had one! Boy, I can't tell you one favorite episode, but my favorite cases are Nan Madol (Season 4), Icelandic Elves (Season 2.5) and the Yeti episode where they find the iconic footprint (Season 2). It depends on what I'm in the mood to watch, really, because I've watched them all more than once, but Nan Madol sticks in my mind because I gave Josh a hard time about showing him vomiting on the show ever since he first revealed the news to me and after I saw it, I felt really bad. It also made me like him more because, I think for the reason other people like the episode, it shows that he too is human and can be taken down from time to time.
Q: If there was one thing you could change about Destination Truth, what would it be?
A: While everyone else would say they wish the crew would stay on cases longer, which isn't possible due to their budget and time spent on the road in general, I'd say it would be the amount of episodes they're given. They shoot months of amazing footage and I feel like there should be an hour episode for each case. That way, the show stays on air longer and, more importantly, there'd be more funny and candid travel moments, which is probably my favorite element of the show.
*
Stay tuned for the second part of this interview which will be posted tomorrow.